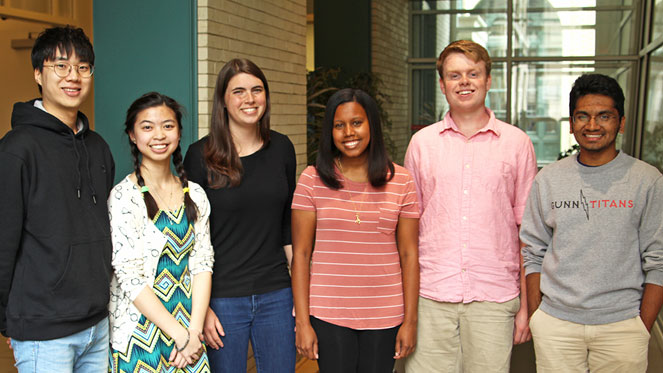 May 08, 2017
Ten Juniors Named Dietrich College Honors Fellows
Ten distinguished Dietrich College of Humanities and Social Sciences juniors will spend the summer working on research and creative projects that span from
how the U.S. federal court system can restrain an "imperial presidency"
to
exploring the future of work through poetry
.
The students' work is funded through the Dietrich College Honors Fellowship, an extension of the college's Senior Honors Program, and gives the fellows a head start on their thesis development.
"This year's cohort of research fellows reflects the high quality and promise of past cohorts, but also has shades of intellectual diversity that we haven't seen before," said Joseph E. Devine, associate dean for undergraduate studies.
The additional time is important to Isabel Bleimeister, who will study subcortical visual processing under the guidance of Marlene Behrmann, the Cowan University Professor of Cognitive Neuroscience in the Department of Psychology.

"I will take these three extra months to develop my stimuli and test a preliminary group of participants to see whether I need to make any adjustments before continuing with testing," said Bleimeister, a neuroscience major with a minor in biomedical engineering.

Bleimeister cited Behrmann as a major influence, but said that neuroscience also appeals to her for personal reasons. In high school, she sought an understanding of Transcranial Magnetic Stimulation (TMS) because her mother had recently started a repetitive TMS program to treat her depression.
Jenna Houston's project also comes from a personal place. She will create a documentary about vulvodynia, a chronic pain condition that affects nearly 16 percent of women.
"I hope that through my documentary I will be able to address both the structural barriers and the personal implications of the condition to raise awareness and break the stigma surrounding it," said Houston, a BHA student who is majoring in gender studies and art. "I'm most looking forward to interviewing other individuals with this condition. I think they will have powerful things to say that will come across best in a filmed interview."
She said the fellowship will be especially helpful to her because artists rarely get support to accomplish large projects. Fellows receive a $4,000 stipend.
"It provides financial ability to not only work primarily on this project, but also the ability to travel to participants, hire other artists to work on music components and cover other project-related expenses that I otherwise wouldn't be able to," said Houston.

Now entering its fourth year, the Honors Fellowship Program has grown steadily since launching in 2014. It is administered by Devine; Brian Junker, associate dean for academic affairs; and Jennifer Keating, assistant dean for educational initiatives.
"The extra time to focus on research and creative work yields great dividends in the students' final theses the following spring, and the intellectual community built through the fellowship experience provides students with mutual support throughout their senior year," said Junker, professor of statistics.
The leadership team is also pleased to see several faculty members step into mentorship roles for the first time. In fact, nine of this year's advisers—including Behrmann—are new to working with honors fellows. The others are Sharon Carver, director of the Children's School; Martin Gaynor, the E.J. Barone Professor of Economics and Health Policy; Laurence Ales, associate professor of economics; Jim Daniels, the Thomas Stockham Baker University Professor of English; Necia Werner, assistant teaching professor of English; Lisa Tetrault, associate professor of history; Geoffrey McGovern, a lecturer in the Institute of Politics and Strategy; and Ross Mantle, adjunct professor of photography. Returning faculty advisers are Vicki Helgeson, professor of psychology, and Kevin González, assistant professor of English.
"This suggests to us that the program has taken firm root in the college's educational culture, and that this opportunity is surfacing with greater regularity in conversations between faculty and students in connection with the Senior Honors Program," added Devine.

The 2017-2018 Dietrich College Senior Honors Fellows:
David Beinhart
Majors: Business Administration, Creative Writing
Project: An Inquiry Into the Future of Work
Adviser: Jim Daniels

Isabel Bleimeister
Major: Neuroscience
Minor: Biomedical Engineering
Project: Subcortical Visual Processing
Adviser: Marlene Behrmann

Kyanna Dawson
Major: International Relations and Politics
Project: The Balance of Powers: The Federal Court System and the Presidency 
Adviser: Geoffrey McGovern

Jenna Houston
Majors: Gender Studies, Art
Minor: Photography
Project: "Vulvodynia: A Documentary"
Advisers: Lisa Tetrault and Ross Mantle
Amber James
Major: Technical Writing and Communication
Minor: Biomedical Engineering
Project: Sustainability and Technical Communications in Global Health Projects
Adviser: Necia Werner

Yong H. Kim
Major: Economics
Minor: Decision Science
Project: What Can the U.S. Learn From the Health Insurance Systems of the Netherlands and Switzerland?
Adviser: Martin Gaynor

Zeyneb Majid
Major: Psychology
Minor: Biomedical Engineering
Project: Understanding Resistance to Communal Coping and Its Effect on Health Outcomes in Young Adults with Type 1 Diabetes
Adviser: Vicki Helgeson

Manvendu Navjeevan
Major: Economics and Mathematical Sciences
Minor: Statistics
Project: Pittsburgh City Programs and Their Impact on Income Mobility
Adviser: Laurence Ales
Ian Sears
Major: Creative Writing
Minor: International Relations and Politics
Project: Exploring Narrative Identity Through Fiction
Adviser: Kevin González

Lauren Yan
Major: Cognitive Science
Project: Facilitating Memory Through Games in Children Aged Three to Five
Adviser: Sharon Carver
_____
By Emily Stimmel
Pictured above (from left to right) are Yong H. Kim, Lauren Yan, Isabel Bleimeister, Amber James, Ian Sears and Manvendu Navjeevan.