September 09, 2020
Transcending Virtual and Cultural Barriers
One Carnegie Mellon University student spent her summer assisting Latinx and Hispanic families within Pittsburgh through an internship with the non-profit Casa San Jose. From translating documents between languages and leading a virtual summer camp, to directly communicating with the very families Casa San Jose serves, each day presented an exciting new challenge to Elizabeth Rodriguez.
Rodriguez, who is pursuing a double major in the Department of English, connected with the internship through the Dietrich College Pittsburgh Summer Internship Program (PSIP). PSIP matches Dietrich College students with an internship at a Pittsburgh nonprofit, government organization or startup to gain experience within their fields.
Kimberly Piatt, PSIP program manager, notes the impact students can have on these local organizations through the program, and how these organizations can likewise change students' perceptions of Pittsburgh.
"[PSIP] was established to give students the opportunity to contribute to the Pittsburgh community in meaningful ways by connecting them to organizations that they may not have previously considered or that may not have been able to financially support an internship," Piatt said. "As a result, our students are not only making a difference but also learning to appreciate the vibrant and diverse community that Pittsburgh has to offer."
The child of Cuban immigrants, Rodriguez felt a personal connection to the missions and goals of Casa San Jose. She believes that having the foundation of such a community was essential to solidifying her work ethic and perseverance.
"I was drawn to Casa San Jose's mission towards unifying the Hispanic/Latinx immigrant community in Pittsburgh having witnessed firsthand the power that the presence of an immigrant community has in giving those in that larger community an unshakable voice," Rodriguez said. "The importance of that voice is undeniable to the advancement of that community."
Diana Carolina Escobar is the youth service director at Casa San Jose. According to Escobar, the mission of the nonprofit is to aid local immigrants through a variety of legal, educational and organizational services.
"Casa San Jose is a community resource center that supports the Latinx community residing in Pittsburgh in the protection of their rights, adaptation to the new life and development of skills that allow them not only to integrate into the community, but also to lead and positively impact from different perspectives," Escobar said.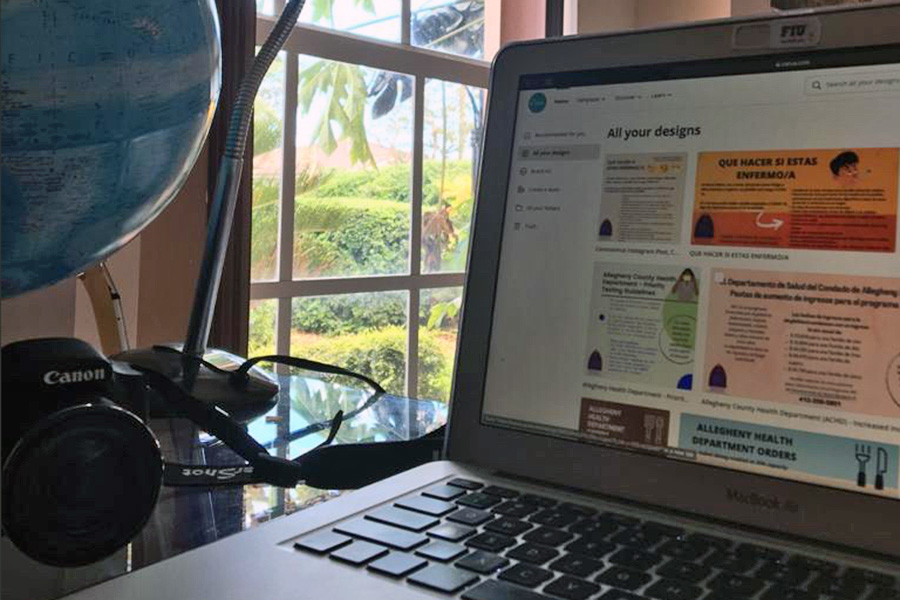 One of Rodriguez's roles in her internship was to compile information about the various youth, emergency response, community advocacy and immigrant connections programs into accessible means. Not only did she have to convey what these programs were to the public, but also between the English and Spanish languages. She also reported any changes to the programs due to COVID-19.
Andrea M. Padilla-Herrera, a communications specialist at Casa San Jose, praised the media work Rodriguez did during her internship.
"By writing brief and catchy captions as well as visually friendly graphic designs regarding COVID-19 related news, Elizabeth Rodriguez contributed to making this information accessible to the Latinx population of Pittsburgh," Padilla-Herrera said. "Elizabeth contributed to Casa San Jose and its mission to provide up-to-date resources to our community during this pandemic."
Rodriguez's internship wasn't limited to managing media ­— she also served as a virtual camp counselor in Casa San Jose's "Campamento Sonrisa" (or "Camp Smile").
José Ochoa, the youth program coordinator at Casa San Jose, describes the summer camp as a secure environment that serves as a place of transition between the barriers children often face.
"Campamento Sonrisa is primarily designed for Latinx children so that they might appreciate more deeply their cultural heritage and continue to speak Spanish so as to strengthen bilingual fluency as well as enjoy and share with other youth in a safe and respectful place," Ochoa said.
Rodriguez supervised the daily camp sessions while guest teachers and speakers joined in to remotely teach students about subjects ranging from architecture to archaeology.
She also had the honor of developing a few lesson plans of her own that highlighted representation of culture in photography. These lessons were taught in collaboration with Joke Slagle, a teaching artist at the Carnegie Museum of Art.
"Having the opportunity to help logistically in designing the camp and having the pleasure of seeing it run so well despite the barrier of physical isolation, I've learned that effective communication between team members is key to any project's success," Rodriguez said.
The experiences obtained through Casa San Jose and the Dietrich College Pittsburgh Summer Internship Program prove to be unforgettable for Rodriguez.
"Understanding the economic and social injustices immigrants face, I strive to contribute in all that I can to providing this community with the support they need to excel for themselves and for their children," Rodriguez said.
She continued, "I longed and still hope to see that kind of cultural unity in the Pittsburgh area; and Casa San Jose is an undeniable force striving towards that vision."