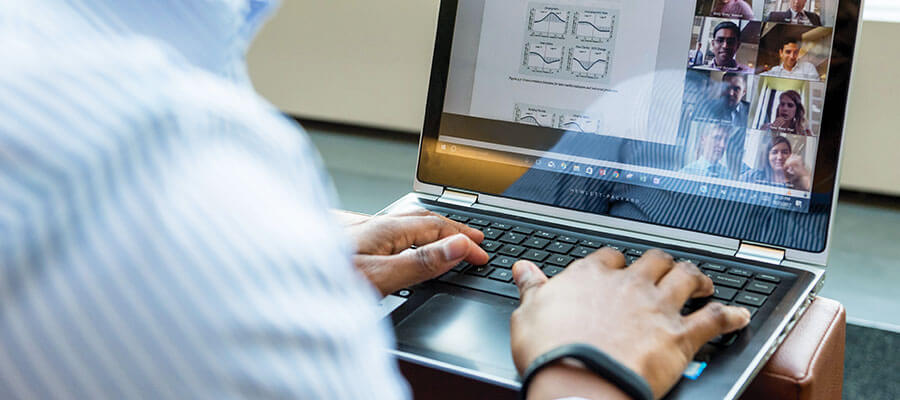 The Tepper Online MBA: Part-Time Program. Full-On Experience.
The Tepper Part-Time Online Hybrid MBA enables you to earn a STEM-designated MBA in a part-time, online format that's laser-focused on the future of business — informed by data, powered by humans.
In this top-ranked online program, you'll work in collaborative teams alongside whip-smart peers with diverse backgrounds and skill sets. Guided by the same dynamic faculty who teach our Full-Time MBA program, you'll pursue an analytics-focused curriculum as you learn to harness emerging technologies and wield data to fuel better decisions.
Our customized, one-on-one leadership coaching cultivates empathy, awareness, and self-reflection. It's where you'll realize your leadership potential. You'll graduate ready to manage people, build networks of influence, inspire others to join in your pursuit of a common goal, and execute that goal with excellence.
Community is a hallmark of the Tepper School experience. During Access Weekends, you'll forge immersive Access Weekends, you'll forge close ties with faculty and alumni, as well as with your classmates.
"Access Weekends really set the Tepper Online MBA program apart. The community is incredibly supportive. These are great opportunities to build a strong network and cultivate relationships that will last a lifetime."
Remi Popoola (MBA 2019)
Partner Technology Strategist
Microsoft
Chart Your Path Toward Admission
We've taken the guesswork out of submitting your strongest application. Follow these seven steps to access essential resources and progress toward admission.
MBA Application Deadlines
Why Choose the Tepper Online MBA?
Identical degree. Flexible format.
In the Tepper Part-Time Online Hybrid MBA program, you can count on the same challenging and rewarding coursework taught by our professors who lead the Tepper Full-Time MBA program. You will graduate with an identical STEM-designated MBA—ready to lead at the speed of change.
Lasting Connections
Complement your online MBA with Access Weekends — immersive opportunities to connect with your colleagues, take classes, and participate in professional development activities. As you tackle team-based projects, you'll soak up diverse perspectives and strengthen bonds with faculty and fellow students that will continue through your career.
Professional Growth
Working with your own leadership coach, you'll create a customized leadership development plan to guide you to greater self-awareness and effectiveness – preparing you to lead tomorrow's workforce with insight and inspire others to join you.
Flexible Format
Not much room in your life for the challenges of a master's degree? Our Part-Time Online Hybrid flexible format is for you. Live, interactive classes meet just two evenings a week and include offline content that you'll complete at your own pace. And if you decide to switch to Tepper's Full-Time MBA program later? No problem — you have that option.
Part-Time Schedule, Full-Time Benefits
Personalized leadership training. Professional career services. More than 40 student clubs. An international alumni community that's there for you. Enjoy all the Tepper MBA advantages as you pursue a flexible Online MBA. No matter how you pace your studies, you get the full Tepper experience.