September 27, 2021
Students Gain Valuable Skills at Pittsburgh Internships
By Kirsten Heuring kheuring(through)andrew.cmu.edu
The Pittsburgh Summer Internship Program (PSIP) connects students from Carnegie Mellon University's Dietrich College of Humanities and Social Sciences with nonprofits, startups or small businesses in Pittsburgh. Students who have not had an internship are given the chance to explore their interests and get job experience.
"What makes PSIP unique is the opportunity for students to gain meaningful professional experience while getting a better understanding of their own talents and areas of passion," said Kim Piatt, manager of the Pittsburgh Summer Internship Program. "By partnering with start-ups and non-profits, students get to engage in a variety of projects and learn more about what interests them. The host site supervisors are committed to mentoring the interns and fostering their career development."
Over the summer, Tim Wang, Emma Reed and Jordan Gilbert all participated in PSIP and worked in a variety of fields, from tech to education. Wang and Reed changed majors and interests over their time at Carnegie Mellon, and Gilbert had limited previous internship experience, but PSIP allowed each of them to develop their interests and find fields they are passionate about.
Creating a New Reality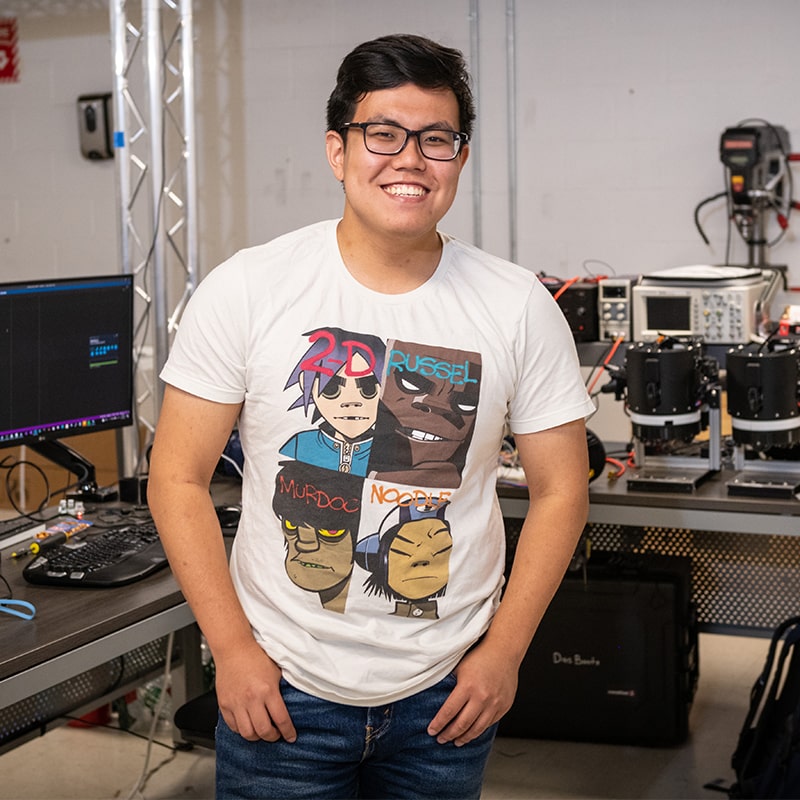 Tim Wang, a junior majoring in information systems with minors in computer science, game design and physics, has spent his summer working for EKTO VR, a startup founded by CMU alumni, creating virtual reality (VR) boots. These boots allow people to walk without moving, like a smart version of a treadmill.
Wang has worked on the code that connects the boots with the VR headset, synching the two elements to compensate for the wearer's movements, which the VR headset registers as walking. 
"My job was to not only make that work but also to make that so that it's intuitive for whoever's using it," said Wang. "Like to make it really just plug and play, where you don't really have to think about it. I actually learned that in an IS class."
Brad Factor (SCS 2017) plans to use the technology that EKTO and Wang have created for industrial training and, in the future, for gaming.
"We're focusing on the future of immersive technology and robotics combined with virtual reality," said Factor. "Really, making fully immersive experiences from industrial training all the way to the consumer side and combining some really exciting new, hot trends in technology together to do that."
Most of Wang's internship was remote, but he spent three weeks at EKTO's coworking space in Pittsburgh. He enjoyed this internship since it gave him a chance to combine his varied interests.
"I chose this internship because I get to work on stuff that I worked on in my major and minor," said Wang. "I think it's about working with something you like, doing something you love, and I think this is coming pretty close to that."
Wang said that he was very focused on his work, only checking the clock when he realized how late it was. He presented his work to clients and consistently participated in team meetings. According to Factor, Wang's enthusiasm for his work was easy to see.
"We put him through the ringer through the interview process, and he consistently impressed us, and that has continued through his time here working with us at EKTO," said Factor.
Both Wang and Factor appreciated the opportunity PSIP offered them.
"We started in the program during the pandemic, so it was a completely off-the-wall situation, but it was great starting there. As things have started to recover, it's been even better," said Factor. "We're very thankful for the program and very thankful to CMU in general."
"Now, I'm just more confident that next year I will be doing fine career-wise," said Wang. "I think PSIP had something to do with that."
Wang encourages other students to take advantage of the PSIP.
"It's a great program," said Wang. "There's also a lot of support for [the application and interview process], too. I think that's the best part of PSIP, and I think that's why people should do it."
Wang accepted an offer to continue his internship with EKTO part-time into the fall.
"I particularly enjoy working with [the team] on the project, and I think it'll be pretty good for me," said Wang.
Teaching New Lessons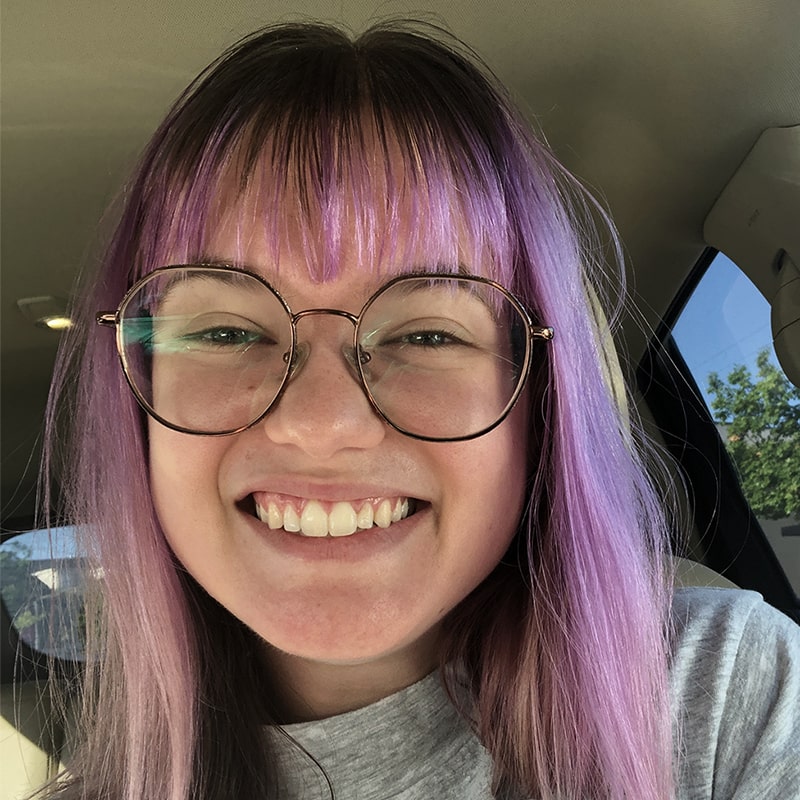 Emma Reed is a senior global studies major with minors in engineering and Hispanic studies. She spent her summer working at Smart Futures, a company that creates online career plans and portfolios for students from kindergarten to high school. The curriculum allows students to learn more about themselves and different educational topics. These videos are used by the Commonwealth of Pennsylvania as part of its Academic Standards for Career Education and Work. 
"The first thing that [Smart Futures] teaches kindergarteners is what is an interest, and it's just beginning of trying to get [kids] to figure out what do they like and what do they not like," said Reed. "So, it feels like it's really simplistic, but I feel like it's really revolutionary for kids."
Reed was tasked with creating videos about a myriad of topics from explaining Smart Futures' resumé builder to multiple intelligences. She did not have a background in most of these topics, but she would research each topic and create a script to explain them to her target audience, no matter what age. She would also edit the videos and do voiceover work to bring them to life.
"I've never done anything like this before," said Reed. "It's not what I pictured myself doing the summer before my senior year of college, but I think it's been a really rewarding experience."
Reed said that her favorite video was on multiple intelligences, which is a way of looking at intelligence through different lenses. Some kids may have musical intelligence, interpersonal intelligence, kinesthetic intelligence or a myriad of other intelligences, and the video explains what each of these intelligences mean. Reed hopes that her work will help children figure out their own interests and what they might want to do as adults.
"I was always really excited about planning for the future," said Reed. "So, I'm trying to sort of pass that onto other kids for their futures."
David Mosey, the executive director of Smart Futures, was Emma's mentor. He has been working with PSIP since the program's inception. 
"We believe that the CMU students who participate with Smart Futures through PSIP are an ideal solution to creating relevant, fun, engaging curriculum modules and to keep them updated and fresh on an ongoing basis," said Mosey. "At their best, CMU students are fearless, willing to take creative risks and apply fresh approaches to creating and delivering learning that will engage young student learners."
Mosey said that he saw the same creativity and excitement in Reed.
"The process [of creating videos] takes a type of creative courage to give herself permission to take a bold approach to delivering learning about topics that are critical for students' personal and professional development." 
Besides learning how to create videos, Reed also appreciated that this internship taught her how to manage her time in a way she has not had to do before.
"In the future I think a lot of work is transitioning to more project-based rather than hours-based, so I think this will be helpful for me," said Reed.
Data Analysis for Health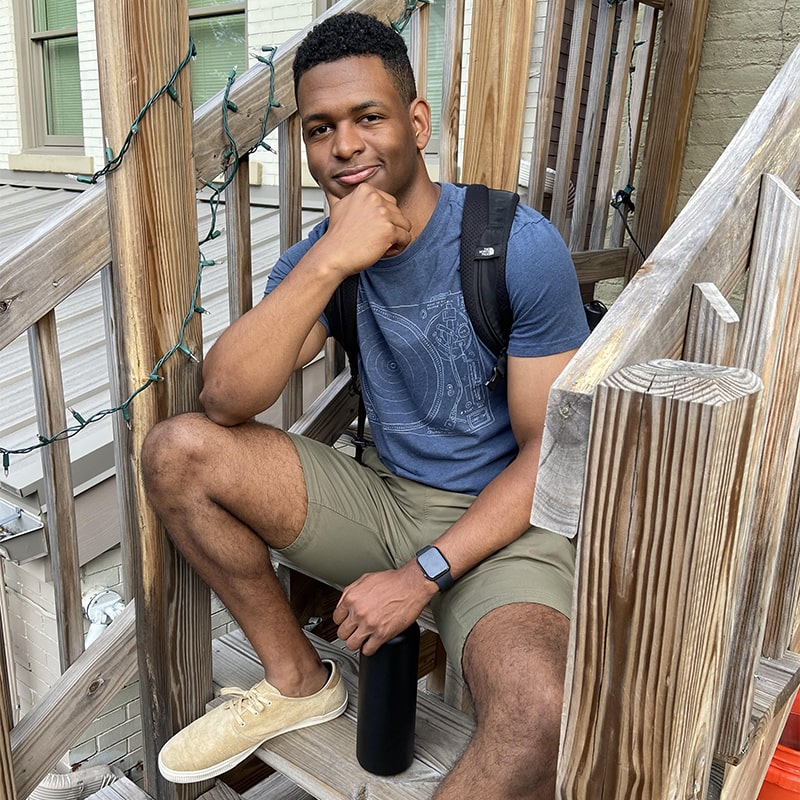 Jordan Gilbert, a junior statistics and machine learning major, spent his summer working for Lifeware Labs, which develops wearable electronics to track people's health. Their designs have the flexibility to monitor patients who live on their own, assess how patients are performing during physical therapy and check vitals during emergency situations, like disaster rescues.
Gilbert focused on processing data that came from a chest-worn patch. Based on that data, he reprogrammed the patch's analysis system to improve how necessary and useful information is displayed. The algorithms he created reduced unnecessary computations, while ensuring the data was accurate. Throughout his internship, he collected data and compared the results from his programming to the equipment that is used in hospitals. 
"I particularly like Lifeware Labs because it was dealing with medical advancement," said Gilbert. "I really like that aspect because this was something I was really interested in doing. I previously sort of wanted to be a doctor, but then I realized that I could still help doctors and the healthcare industry in other ways."
However, the same medical interest that brought Gilbert to Lifeware Labs served as a rewarding challenge. Throughout the internship, he had to develop his knowledge about medical terminology and principles so he could understand which datapoints were valuable and what programs could be improved. 
Besides his coding experience, Jordan also appreciated the chance to develop his public speaking and presentation skills. On Fridays, he would present his work from that week to his coworkers and supervisors.
"Those weekly presentations helped me a lot because I'm pretty reserved, pretty shy for the most part," said Gilbert. "Having to go out there and publicly speak for everyone was sometimes hard, but it was something where I got better the more I did it."
Gilbert was advised by Alexi Charalambides, the Chief Technology Officer and co-founder of Lifeware Labs. Charalambides helped foster the company's participation in PSIP.
"We've participated for the past three years (2019, 2020 and 2021), and they've been wonderful and unique experiences each year," said Charalambides. "Every year we get hard-working and creative individuals who I must say have been extremely easy to work with."
Over the summer, Charalambides worked to prioritize Gilbert's growth and development. They would talk every day about any questions or problems Gilbert and provide constant feedback.
"When Jordan joined, I tried to make it clear that this internship is about [his] experience," said Charalambides. "In my view if [interns] succeed, then Lifeware also succeeds."
"It became a lot easier every time to go over and ask for help, ask for advice or anything like that," said Gilbert. "I think we got to a point where we'll stay in contact even after my internship. [Charalambides] will probably be forever like a mentor of mine and a friend and someone I could talk to when I'm going through stuff later on."