May 22, 2015
Congratulations, Class of 2015!
By Shilo Rea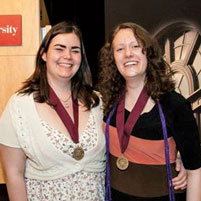 In Alan Alda's keynote speech to Carnegie Mellon University's Class of 2015, he urged the new graduates to "embrace uncertainty" in their various futures.
Commencement weekend was also a time to reflect on everything achieved in the past few years. And, it is quite a long list of impressive accomplishments for the Dietrich College of Humanities and Social Sciences' graduating class of 221 undergraduates and 80 master's and doctoral degree recipients.
Perhaps most telling is that around 60 percent of the college's undergraduates graduated with either college or university honors – or both, leaving Dietrich College Dean Richard Scheines amazed.
"Graduating from Carnegie Mellon in itself is no small feat, and graduating with honors, either college or university or both, is a wonderful accomplishment," Scheines said. "A Carnegie Mellon education is regarded as among the most rigorous in the world, and our graduates are regarded as among the best prepared in the world."
At the Honors Ceremony, Yasufumi Iwasaki, who won the college's top teaching award, congratulated the students on their remarkable success.
"I am a firm believer in the transformative power of education," Iwasaki said. "Although people tend to emphasize education as an agent of change for society and the world, I am more interested in positive changes education brings to each of the students in my courses."
View photos from the Honors Ceremony.
University and College Honors 2015
Economics
Brent Heard (Tepper college honors)
Stanley Krasner (Tepper college honors)
Peter Sadosky (Tepper college honors)
Dae Hyun Shim (Tepper college honors)
English
Marisa Breitfeller
Joshua Claudio
Elana Goldberg
Braden Kelner
Michael Mingo
* Christopher Sickler
Katherine Thomas
Von Wise
Jasmine Xie
History
Emily Etzel
Natalie Giannangeli
Alexandria Hernandez
Kristine Swarts
Information Systems
Raphael Astrow
Lucy Havens
Qatar Information Systems
Aisha Al-Missned
Nihal Fathima
Abdulrahman Takiddin
Modern Languages
Maximilian C. Edmonds (M14)
Philosophy
Marie Avilez
* Christophe Combemale
Colin Shaffer
Psychology
Halley Bayer
Shaquille Charles
Amira Millette
Jaclyn Ross
Ashley Taylor
Anna VandeVelde
Kathryn-Mary Wakim
* Rachel Walsh
Social & Decision Sciences
Catherine Ciriello
Kelsey Dietz
Julia Embody
Christopher Skaggs
Statistics
Keon Woo Kim
Joseph Pane
Quan Zhou
MCS Students who completed Dietrich College (& University) Honors
* Kathryn McKeough
One Hyuk (John) Ra
Luke Serafin
BHA Students who completed Dietrich College (& University) Honors
Charles Burlingham
Talia Levin
Tyler Porten
Minnar Xie
* SHS student
Dietrich College Honors 2015
English
Chloe Lula
Psychology
Zachary Anderson
Social & Decision Sciences
William Misitano
Statistics
Marko Hudak
Stephanie Rifai
Qatar Information Systems
Maryam Al-Fehani
Sarah Mustafa
BHA Student who completed Dietrich College Honors
Nicole Anderson
University Honors 2015
Economics
John Cusick
Zhijun Huang
Radowan Khan
Laavanya Kumar
* Danielle McKinney
* Ian Meeker
Eunhyun Ryu (M14)
English
Jenna Bodnar
Rebecca Cobetto (M14)
Rachel Cohen
Jaime Fawcett
Maureen Meyer
Aubrey Moraif
Phoebe Ng
Gabriela Pascuzzi
Lauren Williams
History
Juan Acosta
Julia Constantine
Kristin Dlesk
Hannah Evans
Jacob Housen
* Erin Kiekhaefer
Emma Livne
Jessica Phoa
Information Systems
Jin Ho Baek (M14)
Sophie Batton
Kathleen Cameron
Robert Carlson
Kevin Chen
Jeremy Chiang
Jia Chin
Jay Chopra
Information Systems (con't)
Ivy Chung
Anthony Corletti
David Demerson
Alexander Egan
Ryan Flood
Julia Harmison
Won Seong Kim
Yun Gi Jung
Sung Kim
Samantha Landen
Jonathan Lazarowicz
Alexander Mark
Allison Min (M14)
Sanika Natu
Chanamon Ratanalert
Kevin Schaefer (M14)
Alexander Stern
Alvin Wang
Mallory Wang
Logan Watanabe
Cindy Zeng
Qatar Information Systems
Noora Ali Al-Mulla
Ghaya Al-Sulaiti
Favio Fenley
Ahmed Hashmi
Sama Kanbour
Noshin Nisa
Omar Shamiyeh
Modern Languages
Edward Wojciechowski
Philosophy
Emily LaRosa
Psychology
Courtney Armstrong
Stephanie Chen
Christina Graham (additional degree in Professional Writing)
Joo Eun Choi
Joheun Lee
Daniel Muller
Brianna Pritchett
Savina Reid
Vira Shao
Social & Decision Sciences
Jessica Benenson
Kelsey Choing
Jordyn Greenberg
Chloe Hawker
Meghan Leach
* Nicole Marrow
Madison Nagle
Molly Shanley
Meghan Steinmetz
Stephanie Stern
Jamison White
Hannah Wirt
Justin Wong
Statistics
Adrian Botta
Rachel Cohen
Nicole Crimi
Nicholas Ettlinger
Ronald Fudala
Christina Graham
Chelsea Green
Oh Hoon Kwon
Hyejin (Jennifer) Lee
Jonghwan Lee
Statistics (con't)
Yifan Mo (additional degree in Mathematical Sciences)
* Lanya Tseng
Yinan Yue (additional degree in Business Administration
Student-Defined Major
Jenna Blake (M14)
* SHS Students
More Commencement Coverage: