February 01, 2023
Moroccan Service Trip Sets Senior's Sights on Medicine
By Amy Pavlak Laird apavlak(through)andrew.cmu.edu
Media Inquiries
Jocelyn Duffy
Mellon College of Science
Veronique Wright stood in the operating room at a clinic in Rabat, Morocco, staring at a scan of a patient's brain. The patient was prepped for surgery, and the neurosurgeon mentoring Wright asked her to identify what was wrong.
Wright panicked for a moment. "He wants me to tell him what is wrong? It was mind-blowing," she said.
But the Carnegie Mellon University student was up to the task.
"Another student and I went through a process of: What looks different? What looks abnormal? We were able to find a cerebral fluid leak in the brain. The surgeon was like, 'Great! Amazing! I didn't expect you to get it, but that's amazing!'"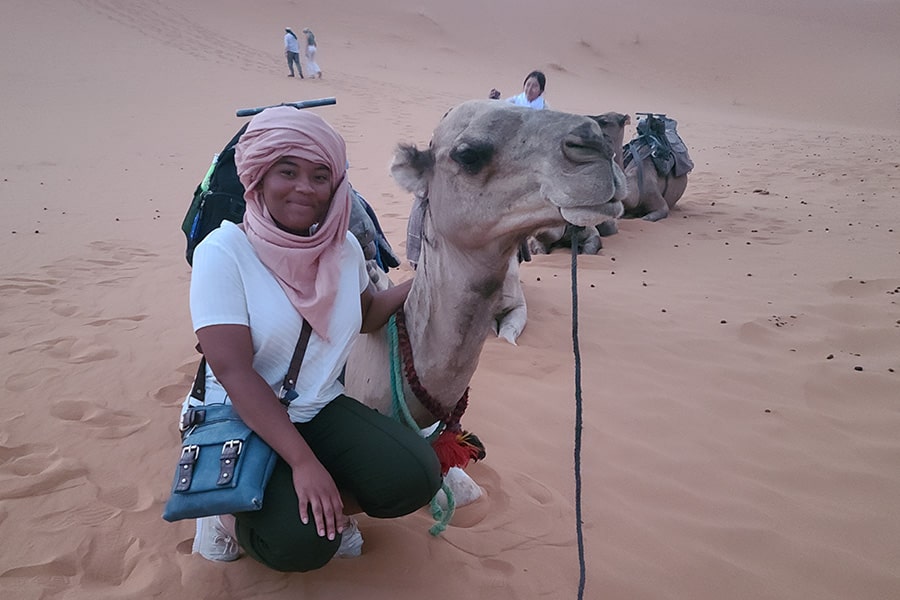 For Wright, a senior pursuing a combined degree in biological sciences and psychology with plans to apply to medical school, volunteering at the Clinique La Capitale brought greater clarity to her future.
"The entire experience solidified why I want to do medicine, more specifically maybe surgery," she said. "After getting this hands-on experience, it is definitely what I want to do. I don't see myself doing anything else."
Wright's Moroccan service abroad experience was funded by the Jennings Family Brave Companions Fund. Established by Carnegie Mellon trustee and alumnus Larry Jennings Jr. and his wife, Katherine, the fund annually provides students financial support to travel to developing countries during their summer breaks to study, travel, conduct research and/or participate in service work.
"I am so grateful to the Jennings," Wright said. "Without the scholarship, it was never a possibility for me to go abroad and do something like this."
Wright spent four weeks in the small clinic in Morocco's capital city. She started in the midwifery unit, where she expected to be a hands-off observer. By the second day, the nurses changed that assumption.
"I am so grateful to the Jennings. Without the scholarship, it was never a possibility for me to go abroad and do something like this." — Veronique Wright
"They said, 'You've seen how it was done yesterday. You can help change diapers. You can help feed,'" Wright said. "It was really, really fun."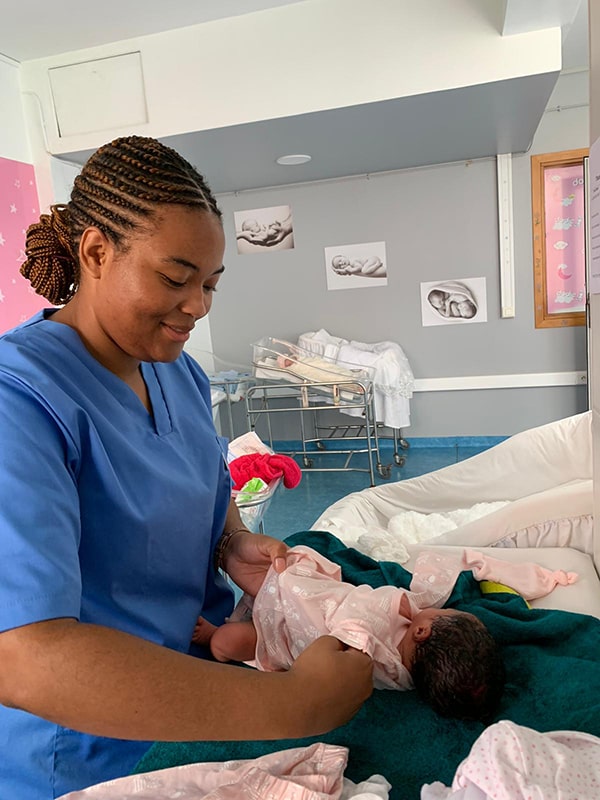 Many of Wright's interactions with the nurses involved hand gestures or modeling because they spoke Arabic and Wright did not. But they all knew a bit of French, so they could communicate haltingly.
When she wasn't tending to babies and new mothers or observing brain surgery, Wright explored Morocco. She traveled to Tangier, Chefchaouen, Tetwan, Marrakesh and the Sahara Desert. Every weekend was packed with a new town or city tour.
"Different aspects of the Moroccan experience were overemphasized more in one place than another. I figured it out by talking to people, and I catered to it because I didn't want to disrespect anyone's culture or religion," Wright said. "Learning how to communicate with different cultural backgrounds can be very useful in a field where you are working directly with people who may not have the same background and perspectives on a lot of things."
In addition to receiving the Jennings Family Brave Companions award, Wright is a Tartan Scholar and a winner of the Mellon College of Science Gilman Award. She hopes to do another study- or service-abroad trip this winter thanks to support from the Gilman Award.