Clinical Interview and Observations (BCS)
Participants were examined daily by the study clinician for three days before and six days after viral challenge, and a daily record was made of the presence and severity of signs and symptoms associated with a clinical cold (See Daily Observation Record and Table 1 below).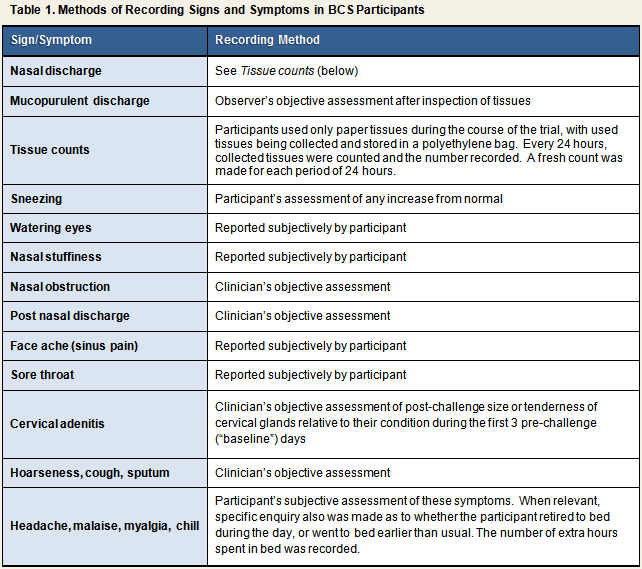 Each sign or symptom (except for extra hours in bed, temperature, and tissue counts; see below) was rated by the clinician as being absent, slight, moderate, or severe and assigned a numeric score based on the algorithm displayed in Table 2.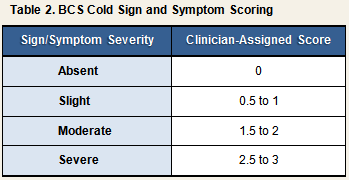 Because hours in bed cannot be rated on a severity scale, clinicians were provided with the guideline of scoring 2 points per extra hour spent in bed relative to what the participant reports as typical.  Temperature ratings were based on presence of fever, with 1 point being scored for each 0.5oC above normal (37oC).  Unlike all other signs and symptoms, fever was scored twice daily (morning and evening).  Tissue counts were given scores ranging from 0 to 12 (higher numbers indicating a greater number of tissues used) as described in the section on Daily Tissue Counts.

Scores for individual signs/symptoms were summed within each day to create daily total sign/symptom scores.

At the end of the trial (post-challenge day 6), in addition to the daily total sign/symptom score, each participant was assigned a clinical grade based on the clinician's overall assessment of the participant's response to the viral challenge1,2:
No cold
Very mild
Mild
Moderate
Severe

Participants infected with the challenge virus were determined to have developed a clinical cold if they received a clinician rating of 2 (mild cold) or higher, and had a symptom score greater than 0 during the 5 days that were used to calculate symptoms (post-challenge days 2-6).

1Tyrrell, D.A.J. (1965). Common colds and related diseases. London: Edward Arnold.

2There is an overall correlation, but no absolute correlation between clinical grades and sign/symptom scores.  A relatively high score may sometimes be attained by a participant displaying considerable mucus production but no constitutional signs/symptoms (e.g., fever, fatigue, malaise, chills), who would be graded "mild" or "moderate".  Conversely, a participant who had marked constitutional symptoms necessitating bed rest would be graded "severe" although his sign/symptom score need not be very high.  The value of the numerical scoring system lies partly in the fact that it can be used when more than one clinical observer must make the observations.