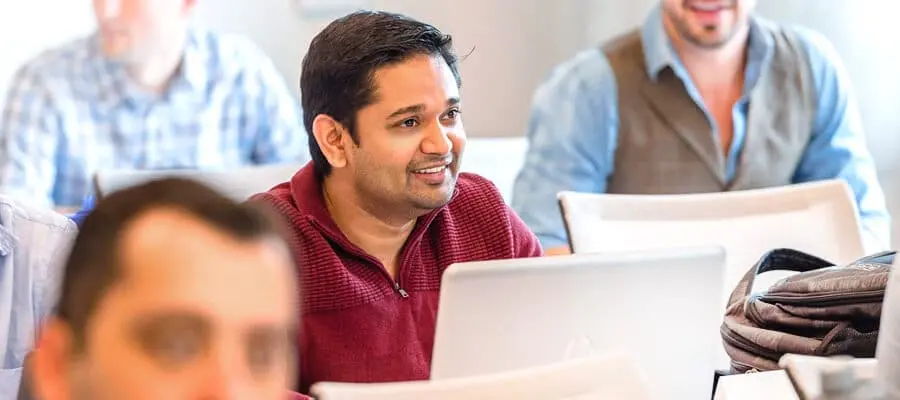 A Part-Time MBA for Pittsburgh Professionals, With Full-Time MBA Advantages
At the Tepper School, you won't trade any full-time benefits for the flexibility of a part-time program.
---
A top-tier MBA program is made up of several components — high-quality faculty, rigorous curriculum, leadership development, access to career services, and networks that last a lifetime. All of these factors contribute to an MBA experience that will position you to succeed well beyond graduation. 
Same Program Advantage
There is only one Tepper MBA. Our part-time MBA is the same as our full-time MBA: same faculty, same curriculum, same MBA. Because the learning is equal across all three MBA formats, you can switch to full time for any reason and you won't miss a beat in the transition.
Flexibility Advantage
We know you're busy. The Tepper School Part-Time Flex MBA was developed with Pittsburgh's working professionals in mind. Six immersive weekends a year are followed by classes that meet twice a week for 75 minutes; each class includes additional offline content that you complete at your own pace. It's a schedule that works for your busy, professional life.
Community Advantage
The value of building relationships with classmates and making connections within your industry cannot be overstated.
Access Weekends bring all of our part-time students together on campus at Carnegie Mellon for a long weekend (Friday-Sunday) to attend in-person classes, take exams, give presentations, visit corporations, and network with alumni and other current students. Access Weekends give you the opportunity to meet your faculty and build strong connections with your colleagues.
In addition, interactive online courses create a classroom experience that encourages personal interaction with faculty and fellow students every week. Learn more about how the program works.
Tepper Roadmap Advantage
Whether you are looking to grow within your own company or make a career change, the Tepper Roadmap will guide you to success. Designed specifically for our part-time MBA students, this personalized professional development plan leads you through a series of activities designed to identify where you need to focus your efforts and how to access the resources to advance your growth.
Leadership Development Advantage
Like our full-time MBA students, part-time students have access to our highly regarded Accelerate Leadership Center.  A team of executive coaches deliver a leadership development assessment, one-to-one coaching, and interactive workshops, and will guide you through the development of a personalized leadership plan.
Career Resources Advantage
Part-time students also have access to the same career resources as our full-time students, such as on-campus recruiting, corporate presentations, career treks to visit employers around the country, and connections to jobs at premier companies. Our top-ranked Masters Career Center provides career coaching from seasoned professionals to help you successfully manage your career opportunities.
You also have access to various campus activities such as student clubs, speaker events, and career treks that will enrich your academic experience and provide opportunities to connect with colleagues, alumni and potential employers.