February 20, 2023
NEH Fellowship Supports Slate's Research on Civil Rights
Highlighting the Highlander Folk School's role in inspiring social change
By Stefanie Johndrow stef(through)cmu.edu
Media Inquiries
Abby Simmons
Associate Dean of Communication, Dietrich College of Humanities and Social Sciences
Just a few months before Rosa Parks kept her seat on a bus in Montgomery, Alabama, she was a workshop participant at the Highlander Folk School in Monteagle, Tennessee. One of few interracial schools in the South at the time, Highlander played a key role in the civil rights movement by creating a space where people could learn how to participate in social change.
Carnegie Mellon University's Nico Slate, professor and head of the Department of History, recently received a fellowship from the National Endowment for the Humanities to support his research on Highlander and the role of education within the civil rights movement. Over the past five years, Slate has listened to hundreds of hours of recordings from meetings at Highlander— recordings overlooked by scholars in the past.
"The recordings offer a unique opportunity to listen in as civil rights activists debate goals and tactics, use role-play to practice nonviolent protest strategies, and learn from each other and from a range of guest speakers from across the country and abroad," Slate said.
Highlander became a subject of interest to Slate when he was teaching his course "Sustainable Social Change." In this course, Slate assigned "We Make the Road by Walking," a book in which renowned educator Paulo Freire and Highlander co-founder Myles Horton discuss the nature of social change and empowerment.
"One of the first lessons Highlander offers us is that the most impactful forms of education often aren't top-down, traditional forms of education where experts lecture people on what to do and how to do it," Slate said. "Instead, Highlander's philosophy of education was based on creating a space in which all people — particularly poor people, African Americans, and others who faced oppressions of various sorts— could come together and learn from each other and believe in themselves and their own power."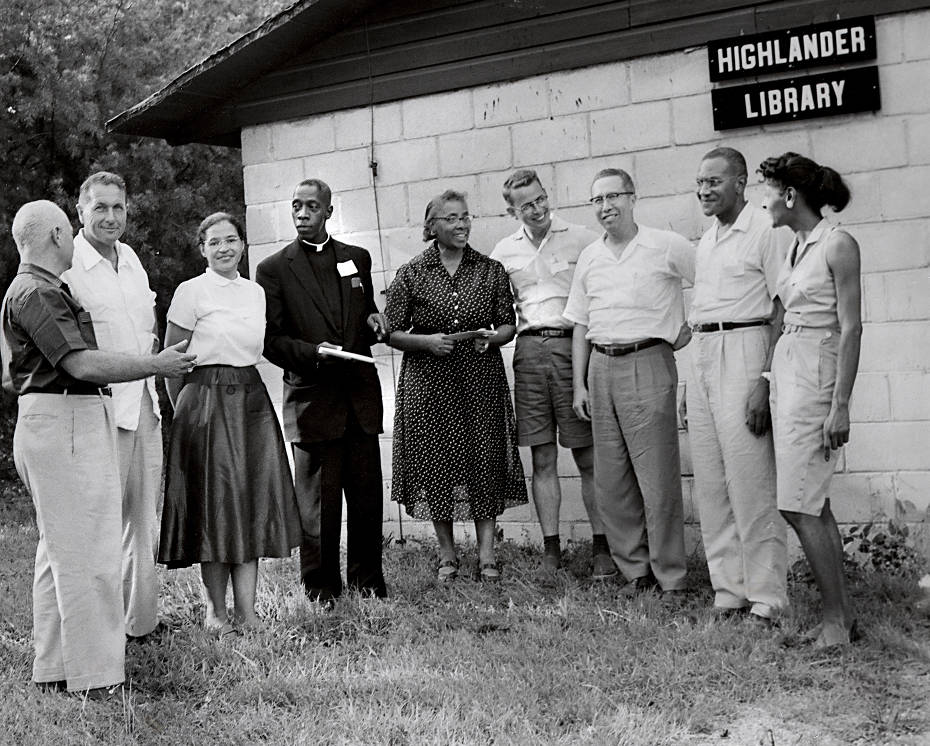 Highlander participants and workshop leaders at the school during its 25th Anniversary on Aug. 31, 1957. Pictured from left to right: Ralph Helstein, Myles Horton, Rosa Parks, an unidentified man, Septima Clark, an unidentified man, an unidentified man, Charles Gomillion and Bernice Robinson.
Slate noted that Parks was an activist for many years before she came to Highlander, but her time at the folk school renewed her hope in the potential for racial equality.
"Coming to Highlander was an opportunity for her to strengthen her faith in the possibility of change and to believe again in the power of what she could do," Slate said. "Similarly, many of the key student activists who helped launch the sit-in movement in 1960 come to Highlander, as did hundreds of other civil rights activists, including Ella Baker, John Lewis and Martin Luther King Jr."
In 1957 Highlander celebrated its 25th Anniversary with a leadership training conference, which closed with an address from King. In it, he applauded Highlander for its "noble purpose and creative work," and contribution to the South of "some of its most responsible leaders in this great period of transition."
In the early 1960s, college students who organized sit-in protests across the South attended workshops at Highlander to explore directions for peaceful protest. They also learned "freedom songs" adapted by Highlander musicians, including "We Shall Overcome."
Highlander also played an important role in establishing "Citizenship Schools," which, under the guidance of Septima Clark, helped African American adults learn to read and gave them the tools they needed to pass voter registration tests. The schools eventually spread across the South to help thousands of adults.
"More than any particular lesson or idea discussed at Highlander, it was the process of learning together that empowered civil rights activists," Slate said. "The variety of ideas debated at Highlander reveals the breadth of the civil rights movement and the many ways it built upon the long and varied history of African American freedom struggles."
Slate noted that Carnegie Mellon's History Department has special strength in African American history. He highlighted the pioneering scholarship of Joe W. Trotter Jr., Giant Eagle University Professor of History and Social Justice; Associate Professor Edda Fields-Black; and Assistant Professor Ezelle Sanford III. "I am grateful to be working alongside Joe, Edda and Ezelle," Slate said, "and in a department where many scholars grapple with questions of race and social change."