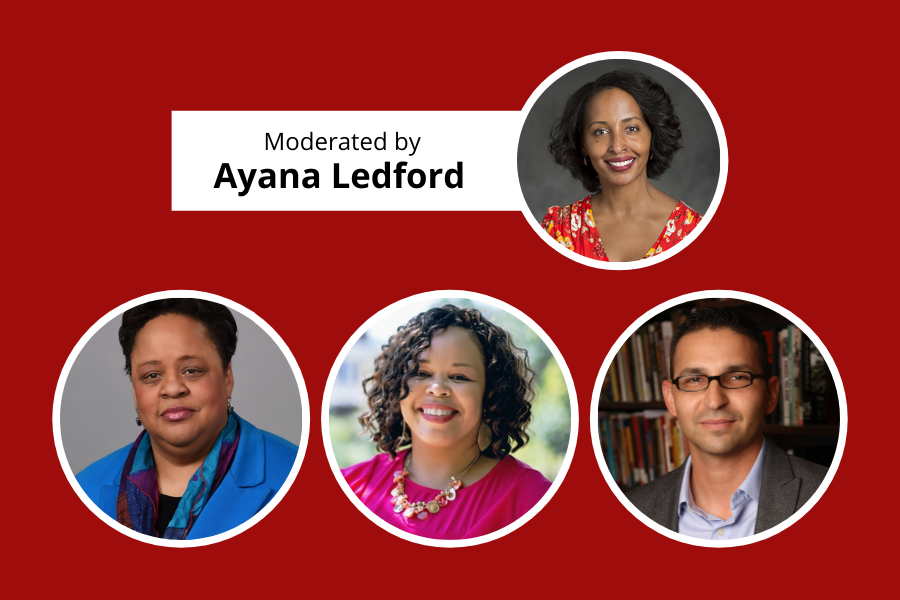 May 24, 2021
English Department Hosts Virtual Panel on Mentoring and Advising Minority Grad Students
By Sarah Voorhees svoorhee(through)andrew.cmu.edu
On Friday, April 30, 2021 the Department of English and Dietrich College of Humanities and Social Sciences hosted a virtual panel on mentoring and advising minority graduate students in the humanities. Panelists Audrey J. Murrell, Tamika Carey, and Jerry Gonzalez encouraged attendees to meet the individual needs of their students and to embrace a "wraparound" mentorship model that begins in the department and extends throughout the university.
Inspired by Dietrich College's commitment to diversify the pool of PhD candidates, professors Richard Purcell and Stephanie Larson turned their attention to retaining present and future cohorts of underrepresented graduate students. Purcell and Larson, Co-Chairs of the Department of English DEI Task Force, teamed up with Dietrich College's Director of Diversity and Inclusion, Ayana Ledford, to assemble a group of expert panelists for a virtual summit. Murrell, Carey, and Gonzalez all "have expertise in researching, writing about or running mentorship programs aimed at underrepresented minorities," said Purcell.
Murrell is a professor of business administration, psychology, and public and international affairs at the University of Pittsburgh; Carey is an associate professor of English at the University of Virginia; and Gonzalez is an associate professor of history at the University of Texas at San Antonio. 
According to Purcell, the panelists stressed that "while good mentorship transcends race, class, gender and sexual orientation, it is incredibly important to meet your students where they are." The speakers also encouraged their audience "to intentionally acknowledge, rather than run away from, our history of subpar recruitment and retention of underrepresented minorities as well as the fact that they are enrolling in a predominately white institution," said Purcell.
Purcell urged his colleagues who did not attend the event to reach out to someone who did attend and ask them questions. He stressed that this is not a "one and done" panel. Ledford, Purcell, and Larson plan to organize a follow-up event to address more specific aspects of mentoring and advising underrepresented students.