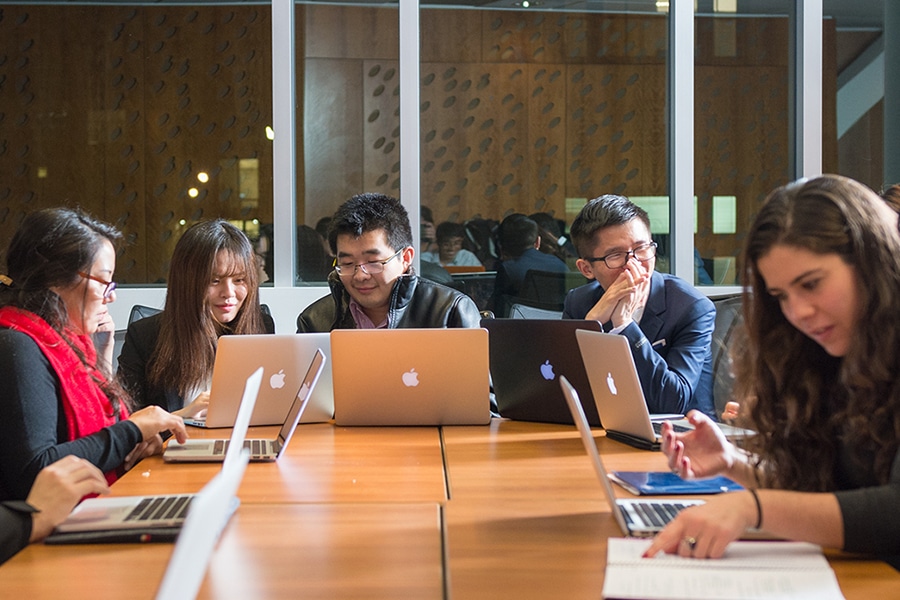 Careers and Placement for Professional Writing Masters Graduates
As digital media and global communications continue to grow, so does demand for qualified professional writers: those who can clearly convey an organization's image and messages, both internally and externally for stakeholders and members of the public.
The M.A. in Professional Writing (MAPW) program has a 90%+ placement rate in communications jobs across corporate, government and university sectors.
Recent Jobs (2009 - 2019)
Technical Writer/Editor, Ball Aerospace 
Content Writer & Researcher, Mondato
Technical Writer, ServiceNow 
Ebook Production Assistant, W. W. Norton & Company, Inc.
Technical Publications Specialist, ProActive Technologies, Inc.
Consultant/Instructional Design, TiER1 Performance
Writer (Office of Communications), New York University 
Marketing Associate, NBS Scientific USA
Legal Writer (Immigration Law), May Law Group
Technical Writer, Salesforce
Technical/Proposal Writer, Advanced Software Systems, Inc. (ASSYST) 
Technical Writer, Ferguson Enterprises
Copywriter and Social Media Specialist, Beyond Spots & Dots
Technical Writer, Thermo Fisher Scientific 
Communications Assistant, Genetics Society of America
Digital Product Manager, PNC
Senior Communications Specialist, PNC
Product Content Strategist, Sentric, Inc. 
Technical Writer, Aurora Tech
Technical Writer & Project Support Specialist, J.P. Systems, Inc
Communications Specialist, Covestro
Technical Publications Professional, Bechtel Plant Machinery, Inc.
Technical Writer, High Fidelity, Inc.
Senior Technical Writer, Salesforce
Marketing Coordinator and Sanction Screening and Reporting Analyst, Strategic Management Services, LLC 
Marketing Content Specialist, Clearview Federal Credit Union
Head of Brand Marketing, Jumprope 
Lecturer and English Language Specialist, University of Maryland
Senior Strategy Analyst, UPMC
Project Manager, PowerTrain
Legal Writing Specialist, Hudson Legal
Communications Marketing Specialist, Allegheny Health Network 
Technical Writer, Oracle 
Senior Technical Writer, Autodesk
Portfolio Manager and Analyst, Corry Capital Advisors
Technical Writer and Professional Communicator, Epic Systems
Associate News Editor, Captivate 
Investment Analyst, 36kr.com
Writer/Editor & Project Manager, Association of Community Cancer Centers
Customer Success Manager, dapulse 
Marketing and Public Relations Director, Ashtabula Arts Center
Internal Communications Senior Specialist, Aon
Corporate Communications Specialist, Industrial Scientific
SEO Stategist, Fathom
Visual Designer, Cloudberry Creative
Marketing Copywriter, Kripalu Center for Yoga & Health
Poetry Editor, LIght: A Journal of Photography and Poetry
Assistant Editor, HarperCollins Children's Books
Content Strategist, Highmark Health 
Senior Technical Editor, Federal Reserve Board
Journals Assistant Editor, Genetics Society of America
Technical Publication Professional, Bechtel Plant Machinery, Inc.
UX Writer and Content Strategist, Red Hat
Lead Technical Writer, Salesforce
UX Writer, Spotify
Senior HR M&A Communications Specialist, Intel
Law Clerk, JONES DAY 
Communications Coordinator, Catholic Charities Eastern Washington 
Senior Technical Writer, LinkedIn
Senior Corporate Communications Analyst, Highmark
Senior Technical Writer, Kaiser Permanente
Lead Associate (Communication and Change Management),  Willis Towers Watson 
Multiplatform Editor, The Washington Post
Quality Assurance, Epic
Employee Communications Specialist, Port Authority of NY & NJ
Coordinator (Global Marketing & Communications),  Deluxe Entertainment Services Group 
Writer and Content Strategist, Direct Energy Business 
Program Content Writer (Security Awareness Training), Proofpoint
Marketing Specialist, ErieTec, Inc.
Associate Director of Communications, Smarter Balanced Assessment Consortium
Games Content and Brand Writer, Hasbro
Technical Editor, Cole Engineering Services, Inc.
Technical Writer, Turnitin
Risknet® & Cybersecurity, The Ackerman Group LLC
Technical Writer, TerraSim Inc.
Sr. Technical Writer, Workday