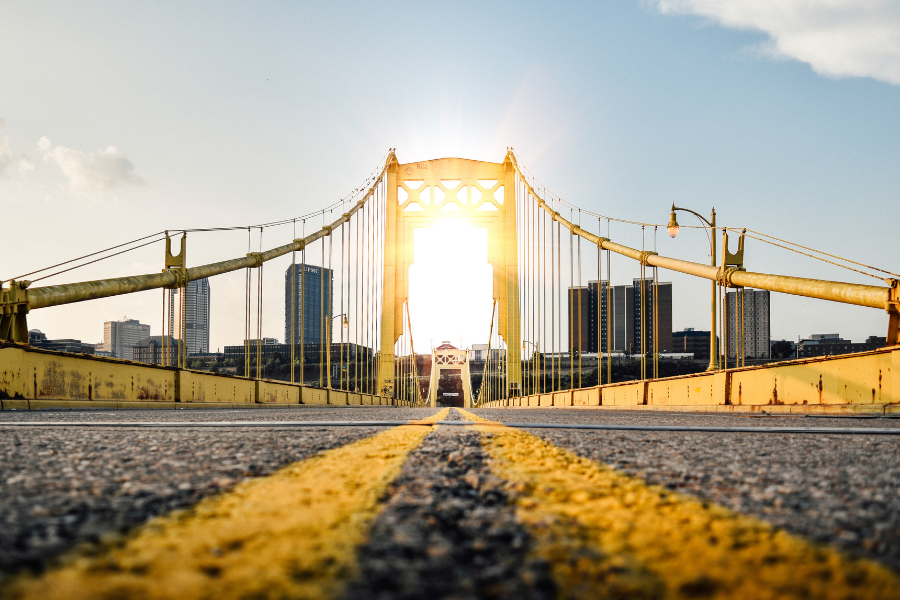 June 01, 2021
English Department Graduate Students Host "Bridges and Borders" Virtual Conference
By Sarah Voorhees svoorhee(through)andrew.cmu.edu
On Friday, April 23, 2021, the Department of English Colloquia presented "Bridges and Borders: Navigating Problems and Possibilities in Language and Culture," a virtual conference for graduate students. The conference featured 49 presenters, including many international scholars. Jasbir Puar, professor and graduate director of Women's and Gender Studies at Rutgers University, delivered the keynote speech.
"In a department meeting at the beginning of last fall semester, Jon Klancher mentioned that, because of COVID, students were missing out on professionalizing opportunities, like going to conferences," said Sarah Hancock, a Literary & Cultural Studies Ph.D. student and conference co-chair. "We wanted to create an event that would bring us together as a department [and] connect us with a wider academic community."
Hancock explained that the bridges and borders theme came naturally. Pittsburgh is home to 446 bridges—more than any other city in the world. "This is a city where we all must literally cross bridges to get from place to place," Hancock said.
But more than that, the theme represented the mission of their conference. "We have such a diverse department: Rhetoric, LCS, and MAPWs, Master's students and Ph.D. students. We wanted to create an event that could explore the connections between our different research topics as well as approaches," Hancock said.
With this mission in mind, Hancock and her peers extended the conference invitation to graduate students and young academics from around the world "to build bridges between cultures, careers, and places."
Hancock considers the event a great success. 147 people registered for the conference, and each session had between 20 and 40 attendees. "I was so impressed by the kind of community we were able to foster with such a diverse group of presenters and presentation topics," she said. Faculty members from the Rhetoric and Literary & Cultural Studies programs led "lively discussions" in each panel session.
In her keynote speech, Puar addressed ways that academic research participates in social movements. She encouraged the audience to think about how their research can engage the broader community.
"In a year that felt so isolating, it felt incredible to work together as a team to create an event that brought so many people and ideas together," Hancock said. According to Hancock, the team has already discussed making the Bridges and Borders conference an annual or biennial event with remote components to make it accessible to international participants. 
For a full list of the organizers and the conference sessions, please visit the
Bridges and Borders website.