Sheila Liming Wins Graduate Student Teaching Award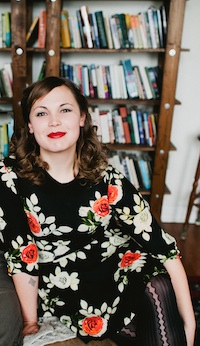 If you think courses like "Punk and the Politics of Subculture" and "Living Social in the Age of Social Media" would be interesting to take to satisfy CMU's undergraduate writing requirement, you can thank Shelia Liming for creating them.

For those creative innovations and many other examples of excellence and dedication to teaching, Liming, who is finishing the Department of English's Ph.D. program in Literary and Cultural Studies, has received the 2014 Dietrich College of Humanities and Social Sciences Graduate Student Teaching Award. The annual award is given to a graduate student for going above and beyond as an instructor.

Liming received a B.A. in English and Women's Studies from the College of Wooster in 2005 and an M.A. in Literary and Cultural Studies from CMU in 2007. She then immediately enrolled in the English Department's Ph.D. program and, in addition to her rigorous dissertation and doctoral studies work, has developed and successfully taught eight sections of the university's writing requirement for undergrads, "Interpretation and Argument," as well as three upper-level literature courses, "Film and Media Studies: Based on the Novel by…The Politics of Adaptation;" "20th Century American Literature: American Women Writers and the 'Century of Struggle (1848-1940);'" and "Introduction to Gender Studies."

"My teaching focus varies," Liming said. "My research into the late 19th and early 20th century American writers bleeds into the introduction to writing courses, but I design them to interest a large group, so I use things like punk rock and social media. I also teach upper-level English courses, but they still have a wide focus range, which keeps things interesting."

When it comes to teaching inspiration, Liming traces her first understanding in the differences in effective instruction to when she was young and taking bagpipe lessons.

"I realized someone could be a world famous bagpipe expert but not be a good teacher," she said. "And, vice versa, someone who was just competent at the instrument could be a really good teacher. It's all about connecting with people."

At CMU, Liming looked up to faculty members who managed to create demanding classroom settings that also allows students to be proud of the work they're accomplishing while being exposed to a vigorous classroom experience.

"Kristina Straub is a good example – she's a fantastic teacher who can make you become interested in something you never knew you would be interested in," Liming said.

Roxanne Hiatt (DC'14), an English major with minors in psychology and history, thinks Liming's approach to encouraging class discussions contributes greatly to her success as a teacher.

"The topics and questions Professor Liming proposed were insightful and promoted class conversations, not just back and forth question and answer between her and one student," Hiatt said. "She also always put an emphasis on historical facts and events that were relevant to the books we read or the issues we discusses. She was open about her personal life and told anecdotes that were relevant to our discussions. It made me and other students feel more confortable sharing our own stories."

One thing that surprised Liming about teaching CMU students is their broad range of curiosity and knowledge.

"Teaching a required undergraduate class made me one of the few teachers to seriously encounter students from all over Carnegie Mellon," she said. "I had a preconception on how certain students would respond to literature classes. For example, I would think 'A humanities student will know this,' but a computer science student ended up leading the class discussion."

Outside of teaching, Liming's research focus is on American women writers in the late 19th century and early 20th and their interactions with science. Particularly, how women novelists responded to published science papers and studies by writing novels in fictional settings.

"I'm finding that many theories were circulating that sought to define the intelligent female, and the novels were being used to disprove those theories," Liming said.

After she finishes her Ph.D., Liming hopes to stay in academia.