Doug Cloud, Ryan Miller Win Dietrich College Graduate Student Teaching Awards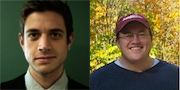 Each year the college recognizes one of its graduate students for excellence, dedication, and innovation in teaching. English Department Ph.D. candidate Doug Cloud and Modern Languages Ph.D. candidate Ryan Miller have been selected as 2013 co-winners of the Dietrich College Graduate Student Teaching Award.
Doug Cloud (left) received a B.S. in Journalism from Ohio University in 2007. He entered the M.A. program in Rhetoric at Carnegie Mellon in Fall 2007 and received an MA in Rhetoric in May 2008. He then entered the Carnegie Mellon Ph.D. program in Rhetoric. A central part of the Ph.D. experience in this program is the opportunity and challenge to develop both as a course designer and classroom instructor, and Cloud has filled these roles superbly. In the university's required undergraduate writing course "Interpretation and Argument," Cloud has designed two topics, each of which engaged students with issues that are critical to society and that are aligned with Carnegie Mellon's strategic goals of educating students who appreciate diversity and understand global cultures: "Voices from a Pandemic: Global Responses to HIV/AIDS;" and "Is Gay the New Black?" At the same time that Cloud is teaching students how to engage deeply with controversial topics in a respectful way, he keeps the focus on scaffolding and deepening their skills in interpretation, as well as their oral and written communication skills.
In addition, the Department tapped Cloud to develop an elective course, "Non-Profit Advocacy: Genres, Methods & Issues," for professional writing majors and M.A. students in professional writing. As noted in the strategic plan, Carnegie Mellon is committed to being a contributor and productive partner in the vitality of our region, with a goal to transfer our intellectual and artistic production to enhance society in meaningful and sustainable ways. Cloud's course contributes to this goal by partnering with non-profit organizations in the Pittsburgh region while enabling students to work on real-world communications. As his nominating letter concludes: "Doug has developed into an extraordinary educator by connecting effectively with his students, his colleagues, and his community and by dedicating himself to improvement in his technique and practice."
A 2000 graduate of the University of Michigan (B.A. in Linguistics & German), as well as of Michigan State University (M.A. in Teaching English to Speakers of Other Languages [2009]), Ryan Miller (right) came to Carnegie Mellon in 2009 as a candidate for the Ph.D. in Second Language Acquisition. Miller has worked closely and extensively across two departments (Modern Languages and English) in multiple ways that demonstrate the effective intersection of his research and teaching interests and talents. As his nomination letter states, "(t)he word 'bridge comes to mind to describe Ryan's unique profile." Through his teaching and other educational activities Miller has supported international students' learning in "Reading and Writing for an Academic Context," and more generally their transition to the rigors of academic life at Carnegie Mellon. He has played a key role in strengthening links between the Departments of Modern Languages and English and between our Pittsburgh and Doha campuses, and he has organized and facilitated important connections and exchange among students and faculty in the field of second language acquisition.
"In sum," concludes Modern Languages Head Susan Polansky in the nomination letter, "it is indeed fortunate for our undergraduates as well as for many of us in our university and professional communities that we have enjoyed the benefits of Ryan's teaching talents, scholarly contributions, and generous service."
The winners' respective home departments will present these awards at a time and place to be determined later this semester.