Rebecca Nugent Wins Dietrich College's Teaching Award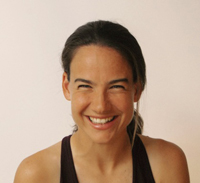 Rebecca Nugent, associate professor of statistics, has won the 2012-13 Elliott Dunlap Smith Award for Distinguished Teaching and Educational Service in the Dietrich College of Humanities and Social Sciences.
Nugent, who joined the Department of Statistics in 2006, has established a reputation at Carnegie Mellon as a distinguished instructor and caring mentor. She has developed and revised several upper-level courses by introducing modern statistical topics, data sets and methodologies.
In a letter announcing Nugent as the winner of the college's top teaching award, Dean John Lehoczky and Associate Dean Joseph E. Devine wrote, "Students flock to her for advice, both academic and personal, and extol her ability to engage and support them both in and out of the classroom. Without question, her influence has helped fuel the growth of the undergraduate major in statistics from a program with fewer than a dozen majors when she arrived to one which now stands at over 70 primary majors and several additional majors and minors."
When asked about the growth of the statistics undergrad major, Nugent said, "We put in extensive effort to ramp-up the undergrad statistics program to be one of the best in the country and to better reflect how powerful statistics is for all industries."
She continued, "With the explosion of data and the need for quantitative training, statistics skills are becoming increasingly sought after. The high quality of the CMU's Statistics Department – long a world leading graduate program – has trickled down to the undergraduate level."
For more information on Nugent, visit
http://www.stat.cmu.edu/~rnugent/
.