Jeria Quesenberry Wins Distinguished Teaching Award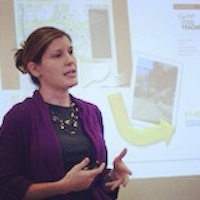 Jeria Quesenberry, associate teaching professor of information systems, has won the 2013-14 Elliott Dunlap Smith Award for Distinguished Teaching and Educational Service in the Dietrich College of Humanities and Social Sciences.
Quesenberry, who joined the Information Systems (IS) Program in 2007, has become a key member of the IS faculty and has been intimately involved with all critical aspects of the program's development and expansion both in Pittsburgh and Qatar.
In a letter announcing Quesenberry as the winner of the college' s top teaching award, Dean John Lehoczky and Associate Dean Joseph E. Devine wrote, "Jeria brings extraordinary skill, energy, professionalism and enthusiasm to the pedagogical art, both in and out of the classroom. She is engaging and enthusiastic in lecture-style classes with large numbers of students, in meetings with small student project teams and in face-to-face interactions with individual IS students and project clients."
They continued, "In spite of substantial teaching loads and large classes, Quesenberry continues to be accessible, approachable and available to students. She is particularly exceptional as adviser and coach to IS project teams. Her goal is always to see each student – and each student on each team – achieve their full potential. The results have been impressive. Teams she has mentored have developed projects among the very best the program has ever produced."
Through her leadership and work with student project teams that create software solutions for nonprofit organizations, Quesenberry has become a shining example of service learning at Carnegie Mellon.
For example, for the past five years, Quesenberry has been an adviser for students working with the Best of the Batch Foundation's "In the Pocket" annual fundraiser. The charity, founded by former Pittsburgh Steelers Quarterback Charlie Batch, holds an event featuring Batch and other Pittsburgh celebrities playing friendly games of ping-pong, pool and poker to raise money for reading and computer literacy programs. IS students transformed the event that initially ran completely on paper – they designed and created an event scheduling and scoring system that registers and checks-in players, updates schedule changes and displays live results on a large projected scoreboard.
Each year, the students are presented with a new problem or enhancement. Quesenberry has said that the project has been a huge success.
"In 12 weeks, the students meet with the foundation's leadership and deliver a customized and reusable application," she said. "A similar commercial software solution would have cost the foundation several thousands of dollars each year, so by working with us, they are able to improve their event without spending money that could otherwise impact the lives of children. And, our students are able to take their classroom knowledge and apply it in a real world setting."
Last month, Quesenberry also helped organize the fourth annual Undergraduate Conference in Information Systems, which was held for the first time in Pittsburgh. The conference attracted nearly 50 of the world's brightest students as well as internationally renowned experts and was designed to highlight how technology can best be used to improve an organization's business models.
More information on Quesenberry