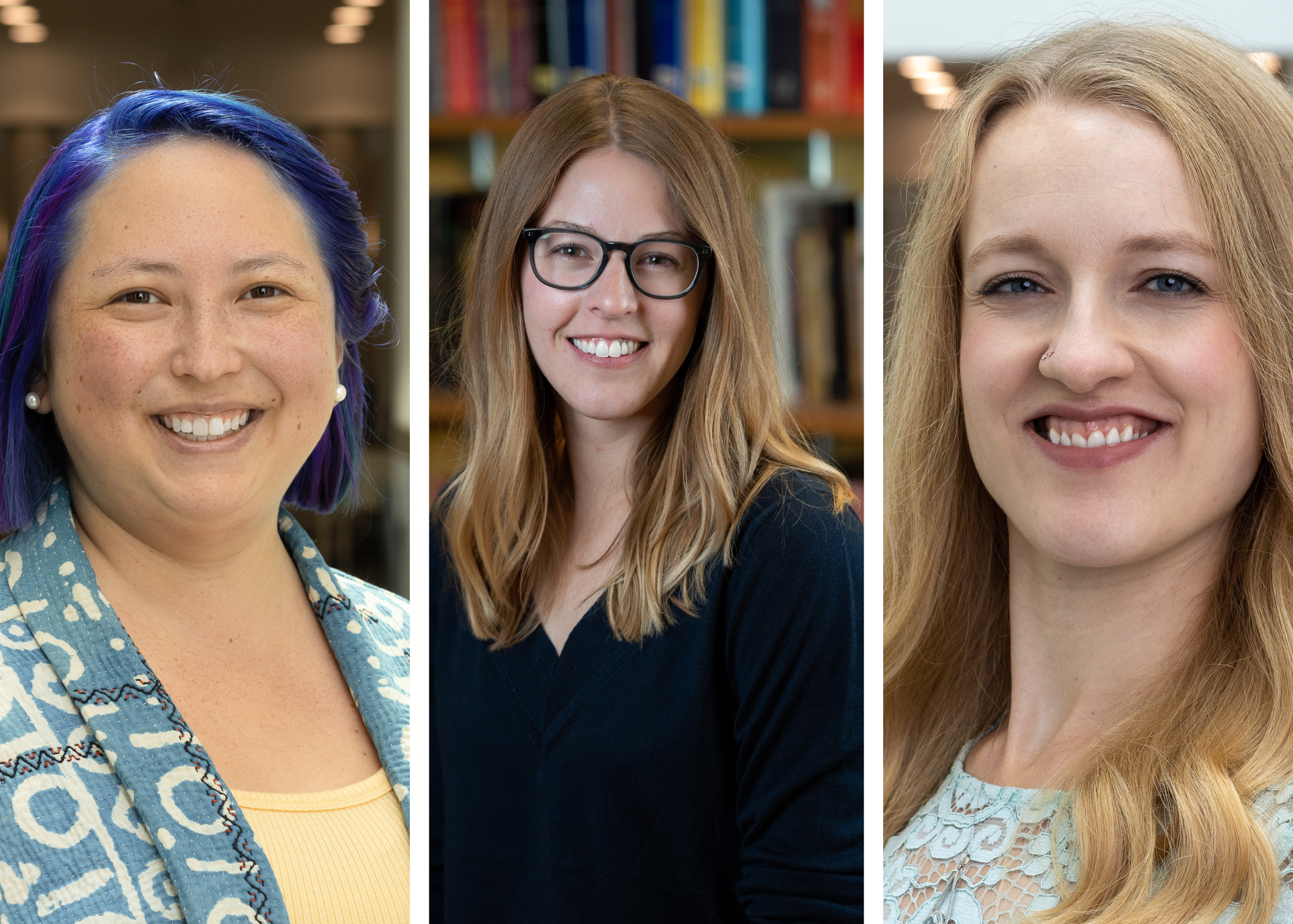 December 05, 2022
Womxn in Academia: Panel Hosted by Department of English's DEI Committee
By Maria Ferrato mferrato(through)andrew.cmu.edu
On Thursday, November 10th, 2022, the English Department's Diversity, Equity, and Inclusion Committee hosted a panel about how the Dobbs v. Jackson Women's Health Organization decision has impacted research and teaching within the department.
The panel featured three PhD candidates from the Department of English: Julie Kidder, Pearl Nielsen, and Laura McCann. Each of the panelists were asked to share how Dobbs v. Jackson impacted their research and teaching approaches.
The panel began with Kidder, a fourth-year doctoral candidate in the rhetoric program. Kidder teaches Writing about Public Problems, an introductory composition course. While her class already included fruitful conversations about divisive topics like reproductive justice, she said that Dobbs v. Jackson emphasized the need for "disagreement without dehumanization" during classes.  
Kidder's legal background (she received her JD from Georgetown University) helps inform her research interests, including the policing of procreation and relationships, particularly regarding mixed-race individuals and interracial partnerships. Dobbs v. Jackson beckoned her to integrate philosophy and existentialism into her research lens. "Hope isn't inevitable," Kidder explained, "Hope isn't working right now. Progress isn't promised." This sentiment shapes the future of her research, exploring other changes that might be bubbling under the surface as Dobbs v. Jackson was for decades.
"Let this radicalize you rather than lead you to despair," Kidder said, quoting Mariame Kaba, and concluding her portion of the panel with a call for vigilance regarding incessant socio-legal changes.
The next panelist was Nielsen, a fifth-year doctoral candidate of literary and cultural studies. Nielsen teaches Narratives of Health and Medicine, a class that uses feminist and accessibility lenses to analyze works from patients' and doctors' points of view in addition to engaging with scholarly criticism. The class interrogates healthcare policies and medical practices by reading both fictive and non-fictive pieces.
Dobbs v. Jackson did not change the content of the course, but it did intensify the exigency. One of this course's topic areas is medical gatekeeping and emphasizing the need for better medical advocacy; thus, living in a post-Dobbs world, where healthcare is exclusive, makes the class feel especially pertinent.
Nielsen's research is akin to the class. Her dissertation examines patient subjectivity, challenging the western view of the "passive, naïve patient" and instead pushing for the "cared-for-subject being helped by the ethical caregiver." Dobbs v. Jackson, similar to the effect on her class, makes Nielsen's research pertinent and relevant; indeed, her research resists policies that infringe on patients' rights, including decisions like Dobbs v. Jackson. Moreover, she is exploring the erasure of abortion from our shared history—something the rhetoric of Dobbs v. Jackson worked to do.
McCann, a fifth-year doctoral candidate of rhetoric, wrapped up the panel. McCann focused primarily on her research, which investigates the differences between the rhetoric of public narratives and the rhetoric of lived experiences regarding reproduction. In other words, her research explores the dissonance between publicly-held ideas or assumptions about infertility and loss and the actual lived experiences. To access public opinion and personal narratives, she utilizes social media.
Dobbs v. Jackson furthered McCann's research interests, expanding her focus into the linguistic choices of the two discourses she studies. In particular, she investigates the diction around a particular kind of pregnancy loss, TFMR (Terminated for Medical Reasons), looking at how social media users engage terms like loss, grief, disability, and decision-making in their personal accounts.
One example is the new emerging rhetoric of "access to healthcare," which includes abortions and pregnancy loss like TFMR.
The panel concluded with breakout small-group discussions tackling two main questions: What actions have you taken to protect reproductive rights? How do we approach controversial topics in class?
DEI Events
All 2022 – 2023 DEI events were/will be framed around the Dobbs decision, tracing the implications of the ruling within academia, Pittsburgh, and the world-at-large.
This particular panel extends prior groundwork laid by Literary and Cultural Studies Associate Professor Marian Aguiar  (in-person; low-stakes conversational panels; feminist-inclusive lens), who started the series pre-pandemic. It certainly will not be the last. If you have any ideas or topics for a panel, reach out to Richard Branscomb, Richard Purcell, or Stephanie Larson.