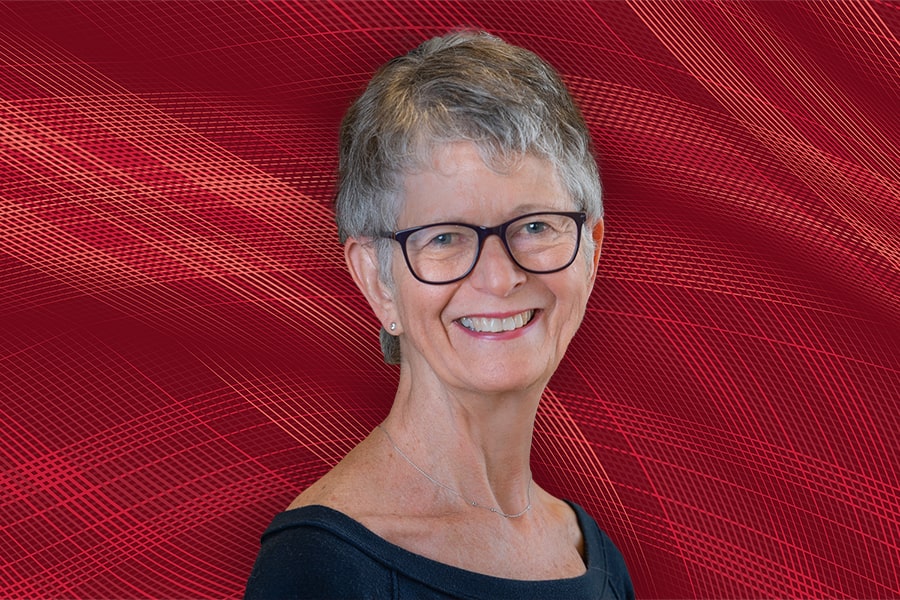 April 27, 2021
Kristina Straub Wins Dietrich College's Elliott Dunlap Smith Award
By Stefanie Johndrow stef(through)cmu.edu
Kristina Straub, a professor of English in Carnegie Mellon University's Department of English, has won the 2020-21 Elliott Dunlap Smith Award for Distinguished Teaching and Educational Service in the Dietrich College of Humanities and Social Sciences.
"This honor from my students, former students and colleagues is a huge and welcome surprise," said Straub.  "I will remind myself of their beautiful words of appreciation whenever I need an ego boost in this life." 
Straub's teaching and research areas include the study of gender, sexuality, theater, and 18th-century British literature and culture. She is the author of three books — "Domestic Affairs: Intimacy, Eroticism and Violence Between Servants and Masters in Eighteenth-Century Britain," "Sexual Suspects: Eighteenth-Century Players and Sexual Ideology," and "Divided Fictions: Fanney Burney and Feminine Strategy" — and dozens of articles. In 2016, Straub co-curated the exhibit "Will & Jane: Shakespeare, Austen, and the Cult of Celebrity" at the Folger Shakespeare Library with University of Texas at Austin's Janine Barchas. The exhibition examined the literary afterlives of William Shakespeare and Jane Austen.  She has also contributed to the classroom experience of many students of Restoration and 18th century theater by co-editing two collections of plays with contextual materials for Routledge Press. 
Straub joined Carnegie Mellon in 1988. In her time at CMU, Straub contributed to the development of the gender studies minor and directed it for over 20 years. Straub was also the director of the English Department's Literary and Cultural Studies program when she spearheaded the creation a new major — literature and culture — to replace the university's English major. As an associate dean at Dietrich College, she led in the creation of the Humanities Scholars Program and a new General Education program, as well as contributed to the reorganization and improvement of Dietrich College advising.
In addition to enhancing the academic experience, Straub is a devoted mentor to her students. In her nomination letter, Robyn Rowley, a PhD candidate in the Department of English, explained how Straub has shaped her experience as a graduate student.
"Her mentorship has helped me feel a sense of belonging within my department, and even in my chosen field of study," wrote Rowley, a first generation student. "Over the years she has guided me in understanding and navigating the norms of graduate school, and provided input that has helped me tackle difficult decisions. Her example is to me a model of professionalism, leadership and excellence that I sincerely admire and hope to emulate."
Straub has enjoyed teaching many undergraduates in Dietrich College — and in every other college at CMU — who have written warmly of the personal attention and care, as well as the effectiveness of her teaching.
"Reading through Kristina's nomination packet taught me a lot that I'd not known about her as a scholar, mentor and classroom instructor," said Joseph. E. Devine, associate dean for undergraduate studies in the Dietrich College. "On these bases alone, she is a worthy selection for the Elliott Dunlap Smith Award. My main association with Kristina was in our respective roles as associate deans in Dietrich College from 2002 through 2012, when she quietly but steadily became a veritable 'force' in curriculum and program development and oversight. She was especially effective in her overhaul of the college's core curriculum, launch and development of the Humanities Scholars Program, and mentoring the team charged with academic advising in the college. She transformed the role of associate dean for academic affairs into an indispensable one for the college's leadership team, and in this respect left behind a priceless legacy."
This spring, Straub also received the American Society for 18th Century Studies Graduate Student Caucus Excellence in Mentorship Award. The award was established to honor faculty who have taught, led and motivated graduate students in the study of the long eighteenth century.