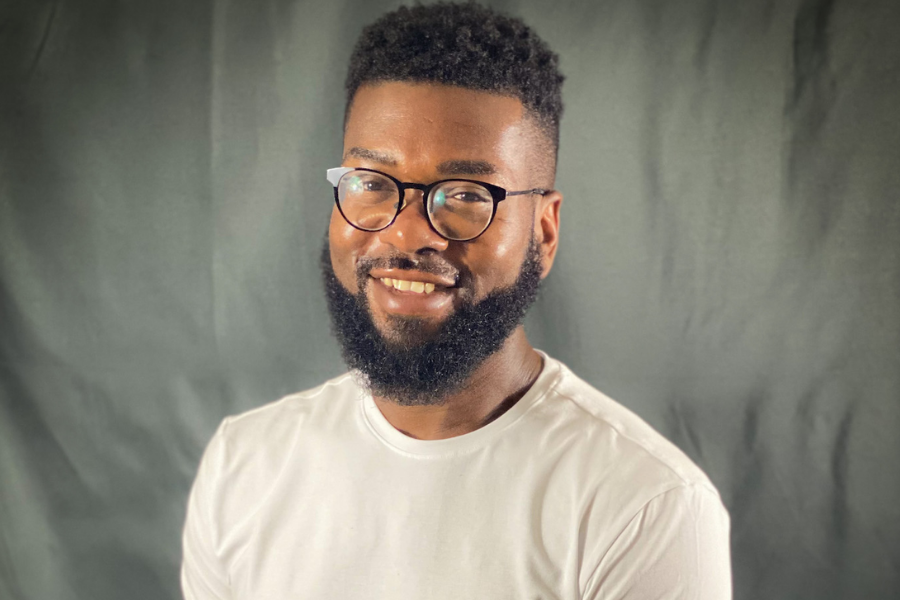 October 07, 2021
Don Holmes Teaches Students to Find Their Own Voice
By Emma Pabst epabst(through)andrew.cmu.edu
Don Holmes is bringing his own unique perspective and knowledge to encourage students that it's okay to be curious, write about what they want, and find their own voice. Holmes joined the department in August as a Lecturer in the Writing & Communication program. He arrives with expertise in rhetoric, particularly early African American rhetoric, which underscores his teaching about how our past informs our present. 
Holmes is a first-generation college student from rural Mississippi. He earned his Bachelor's degree from the University of Southern Mississippi with a major in English and minors in Black Studies and American History. He then went on to earn his PhD in English and Comparative Literature at the University of North Carolina at Chapel Hill. 
In his academic research, Holmes focuses on 18th and early 19th century Black rhetoric and literature. During his undergraduate career, Holmes was introduced to and became fascinated with the writings and life of Phillis Wheatley. "I had never heard of these interesting and invigorating people who I felt said so much about American society at the time that we knew absolutely nothing about as a general population, and so I became even more invested in 18th century Black writing, Black rhetoric, and Black literature, particularly around the 18th century Black lived experience," Holmes says. 
In his current work, Holmes is writing an article that centers around Phillis Wheatley's poem "On Being Brought From Africa to America." In the future, Holmes hopes to expand this article into a book about Phillis Wheatley's legacy. "I want this book to be about Wheatley's legacy because I have this desire to show how so many generations of Black writers would continue to use some of the same rhetorical strategies and methods that Phillis Wheatley perfected," Holmes states. One of his goals is to show the tremendous impact that Wheatley had on the African American literary tradition and highlight how African Americans have always been "arguing for these natural rights to just simply be human," as Holmes explains. 
One of the reasons Holmes was drawn to teaching was because of the lack of diverse representation that he saw in higher education. In his undergraduate career, Holmes noted how there were "so few Black faculty members at a college where 40% of the students were Black, and I thought that was absolutely remarkable. I felt that there was a space for me in higher education, and I began to pursue that goal in order to amplify and increase the number of Black faculty that we have teaching in these traditional fields like English and History." 
In his classroom, Holmes is passionate about engaging with his students and encouraging them to find their own unique voices and research interests. "It helps them determine what makes them curious, and thus, what gives them more liberty to write about particular topics," Holmes says; "I want them to create really good work, and one of my most important goals is that students walk out of the room understanding that writing is a process and that everyone who is a writer is always enhancing and expanding their skills and relearning things and learning new things along the way."
In his first-year writing course (76101), themed Black Social Justice Rhetoric, Holmes encourages students to think about how African American rhetoricians and speakers throughout history use and have used language to argue that Black Lives Matter. "In the 18th century there was a lot more accommodating going on, in the 19th century there was a lot more respectability politics, but the essence, the cause of the larger discourse, has been that my Black life is important and has value, I am not inferior," Holmes explains. 
Holmes also places extreme importance on student input; he has a desire to know about how students learn best so that he can accommodate all of his students in the ways that they need. Danielle Wetzel, the Director of the Writing & Communication Program, says that "Don Holmes is one of the most open, curious professors I have ever met. In his interview, he asked questions about the students and how they respond to different types of instructional approaches. He asked about linguistic diversity and shared strategies that he uses to teach his international students. At every turn during the interviewing process, it was clear to us that Don's deepest commitments are to teaching."
In addition to the care he has for his students, Holmes is passionate about supporting first-generation college students. As a first-generation college student himself, Holmes seeks to encourage other first-gen students at CMU that not only are there certain faculty members on campus that can have a very similar experience or background, but that they can always reach out to faculty or other resources on campus if they are struggling in any way. "I am always willing to work with students from diverse backgrounds and provide support. So, helping students find a sense of usefulness here at CMU is something that I'm also interested in."
Below are CMU resources for first-generation college students. Please feel free to reach out if you are in need of support, or if you just want to get involved:
https://www.cmu.edu/student-diversity/programs/first-together.html