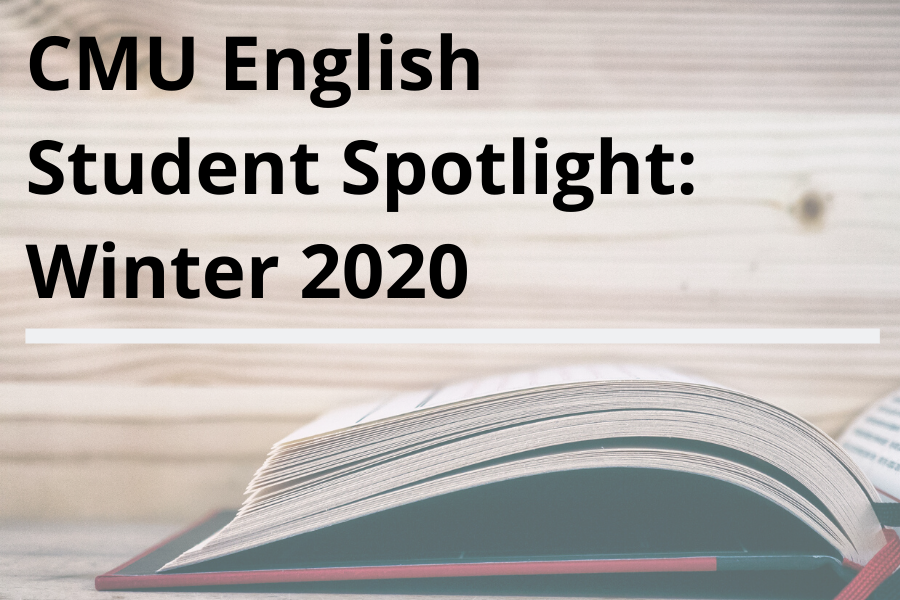 February 05, 2020
Spotlighting CMU English Students: Winter 2020
By Angela Januzzi ajanuzzi(through)andrew.cmu.edu
Spring semester has just started, and English students at Carnegie Mellon University have already accrued a range of accomplishments in the 2019-2020 academic year. CMU English undergraduate and graduate students continue to make headlines, earn academic society inductions, and publish their research for the wider world.
Two English undergraduate students were included in the 2019 Andrew Carnegie Scholars, out of the eight seniors chosen from Dietrich College. Olivia Olshevski is a double primary major in Technical Writing & Communication and Chemical Engineering, pursuing additional majors in English (now Literature & Culture) and Biomedical Engineering. Marika Yang is a primary major in Professional Writing, pursuing additional majors in Creative Writing and Social and Political History, and is a minor Film & Media Studies. Olshevski is a member of three honor societies: Mortar Board, Phi Kappa Phi and Sigma Tau Delta. Yang is also a recent first place fiction winner of the Department of English's Adamson Student Writing Awards. Additionally, Yang is working on a creative non-fiction piece for her senior honors thesis, which analyzes cultural identity through the lens of food.
Also highlighting English undergraduates, CMU's chapter of the Phi Beta Kappa Society (PBK) inducted two English students in Fall 2019. Jacqui Fashimpaur is a minor in Film & Media Studies, with programs now housed under the Department of English; she is also a primary major in Computer Science and a minor in Media Design. Isabel Yoon, minor in Creative Writing, is majoring in Neuroscience.
Creative Writing additional major Kendra Adegbesan made interdepartmental news for her neuroscience research. "My double major is the perfect way for me to make a positive impact as a neurosurgeon while keeping my roots in creative writing," she said. Earlier this year, the Mellon College of Science covered how her scientific research on Parkinson's disease and her English studies inform one another.
English graduate students, both M.A. and Ph.D., have earned broad accolades over summer, fall, and winter of 2019. Recent M.A. Rhetoric alumna Laine Weatherford ('19) made Dietrich College headlines for her nine law school acceptances. (She ultimately chose the University of Texas at Austin School of Law.)
This past summer, several graduate students presented at the ACH conference July 23-26, 2019, held in Pittsburgh. Department of English attendees included: Ph.D. students Steve Gotzler, Laura McCann, Hannah Ringler, Calvin Pollak, Pierce Williams, and Avery Wiscomb (from Literary & Cultural Studies and Rhetoric); and Chloe Perry, M.A. alumna (Literary & Cultural Studies) and current Predoctoral Fellow at the Laboratory for Social Minds. Literary & Cultural Studies faculty members Christopher Warren and Stephen Wittek also attended. More on their work and presentations here.
Ph.D. student in Literary & Cultural Studies Kitty Shropshire teaches a regular course in the Department on banned books, along with Professor Kathy Newman. During Banned Books Week, September 22 - 28, Shropshire was featured in an NPR WESA interview on the topic, here.
Also a Ph.D. student in Literary & Cultural Studies, Pierce Williams worked with Professor Chris Warren on authoring their historic "Print & Probability" paper: identifying the previously unknown, original printer of Milton's 375-year-old classic work "Areopagitica." 
Rhetoric Ph.D. student Maria Poznahovska Feuer's article "Scaffolding Feedback Between Cowriters With Different Levels of English-Language Proficiency" was published in the "Journal of Business and Technical Communication," in December 2019. The piece researches strategies to better facilitate feedback and collaboration when cowriting among different proficiency levels.
Steve Gotzler, Ph.D. student in Literary & Cultural Studies, had two pieces published in recent issues of "Lateral: Journal of the Cultural Studies Association": "1956—The British New Left and the 'Big Bang' Theory of Cultural Studies" and "Review of Second World, Second Sex: Socialist Women's Activism and Global Solidarity during the Cold War by Kristen Ghodsee (Duke University Press)".
Finally, congratulations to the graduate student-produced podcast re:verb. The show is continuing its second season this academic year! Started in Spring 2018, "re:verb" is focused on how rhetoric, communication and language shape contemporary politics and culture. The show is also partially inspired by its predecessor, the English graduate-run blog The Silver Tongue. For upcoming episodes, "re:verb" is accepting ideas here.
-----
https://www.cmu.edu/dietrich/english/news-and-events/2019/graduate-spotlight-spring-2019.html
https://www.cmu.edu/dietrich/english/news-and-events/2019/undergraduate-spotlight-spring-2019.html