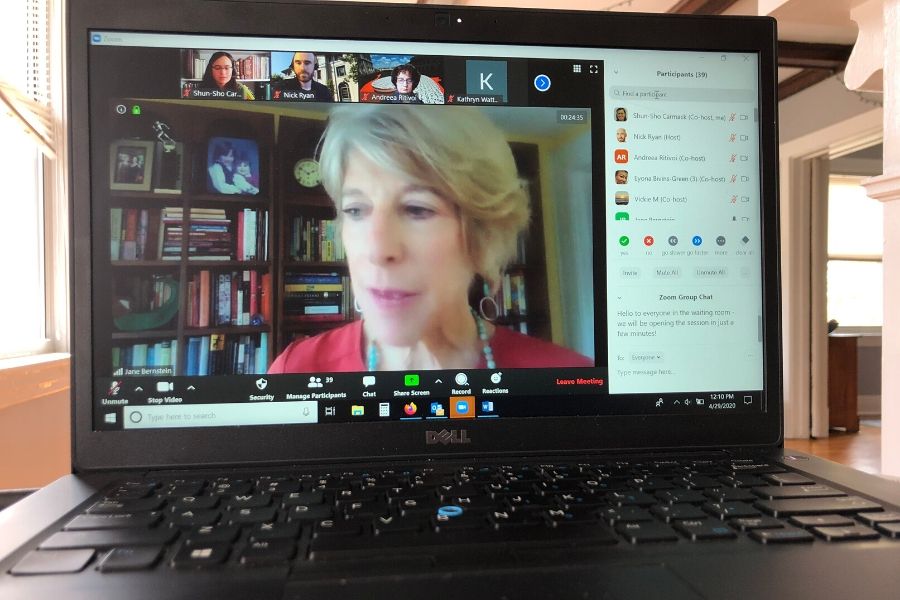 May 06, 2020
Spring Book Salon 2020 Leverages Virtual Space to Gather Community
By Shun-Sho Carmack shunsho(through)cmu.edu
The Department of English held its Spring 2020 Book Salon on April 29, in virtual format. An established department tradition, the Book Salon welcomed a virtual audience using the Zoom platform, and reached over 40 individuals who gathered synchronously from around the world with participants joining from Jerusalem, California, the greater Pennsylvania and Pittsburgh region and various CMU communities.
In spite of the physical distance, many participants commented on the sense of connection experienced during the session. Andreea Ritivoi, professor and head of the English Department, who hosted and moderated the event, expressed this feeling of community succinctly:
"It was great to have these few moments to look at each other's faces and greet each other," said Ritivoi.
Jane Bernstein, professor in the Creative Writing Program at CMU English, was this year's featured presenter. Bernstein gave a nuanced reading and discussion of her most recent book "The Face Tells the Secret" (October 2019; Regal House Publishing). A novel at least ten-years in the making, the book marked a departure from Bernstein's previous work, which includes several memoirs. The author discussed the process of writing, the ways she drew from personal experiences, and how working in different genres has shaped her craft. More of Bernstein's process can be read about in the November 2019 article "Jane Bernstein, Creative Writing Professor: On Fiction's "Dream" Life and Her New Novel".
The Book Salon serves as a forum to celebrate new faculty publications and connect with the university and broader communities. With an emphasis on discussion, each event provides a platform to engage people with the substantive topics tied to each showcased work.
 -----
Order a copy of "The Face Tells the Secret" here.
Readers can sign up for Jane Bernstein's newsletter on her website here.