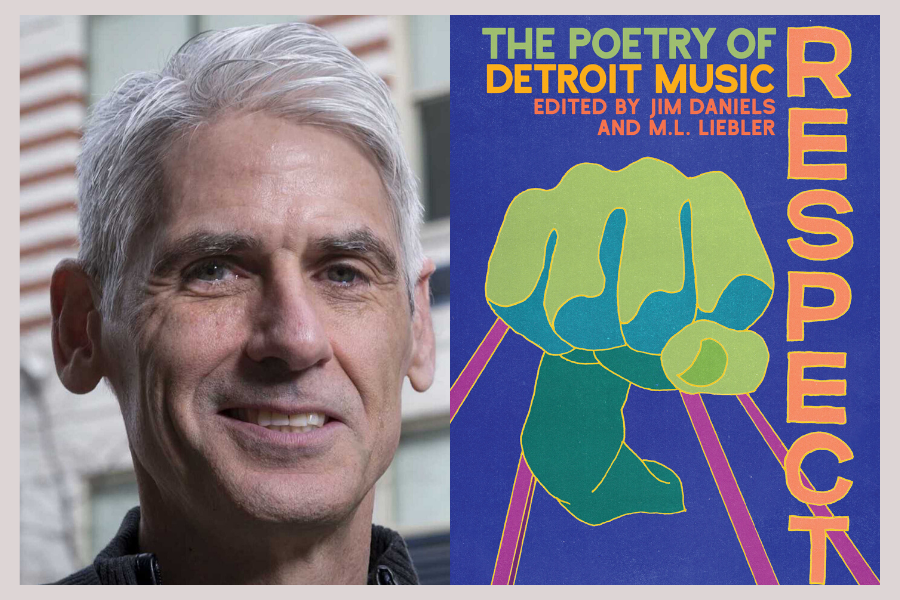 February 02, 2020
Jim Daniels Releases Anthology "Respect: The Poetry of Detroit Music"
By Angela Januzzi ajanuzzi(through)andrew.cmu.edu
"Poetry was an oral art form before it became a written one. It was music first," noted Jim Daniels, Thomas Stockham Baker University Professor of English, when discussing his recent book release, "Respect: The Poetry of Detroit Music" (Michigan State University Press, 2020). The work is the first anthology of its kind to celebrate the poems and lyrics of Detroit's singular artistic and musical history.
Daniels, originally from Detroit and still deeply connected to the city, co-edited the collection with M.L. Liebler. The unique work covers numerous genres including jazz, blues, doo-wop, Motown, classic rock, punk, hip-hop, and techno. The prolific list of contributors is as impressive as the array of writing. Detroit music and literary icons offered their work to the book, such as Eminem, June Jordan, Fred "Sonic" Smith, Rita Dove, Jack White, Robbie Robertson, Paul Simon, Nikki Giovanni, Philip Levine, Sasha Frere-Jones, Patricia Smith, Billy Bragg, Andrei Codrescu, Toi Derricotte, and Cornelius Eady.
"Music is one of the things that sustains Detroiters," said Daniels. "On the surface this book might seem like just a fun project, but it also tells the history of Detroit through music. Some of the music could have only happened in Detroit, and Detroit helped it happen. Techno parties were held in abandoned car factories. Iggy Pop (of Stooges fame) says he tried to echo the loudness of factories, and you get the repeated factory rhythms in a lot of punk, too. Then of course Motown included people involved with migration north to work in car factories, bringing music with them, and seeing how work and the place transformed it."
On December 1, a packed launch event was held at Detroit musician Jack White's Third Man Records. Twenty contributors read, with even more in the audience. The event's atmosphere also seemed to embody the richness of the collection's variety, too. As described in the press release: "The range of contributors speaks to the global impact of Detroit's music scene—Grammy winners, Pulitzer Prize winners, Rock and Roll Hall of Fame inductees, and poet laureates all come together."
For Daniels, the "Respect" collection has been a heartfelt gratifying work for many reasons. Just as the book weaves together genres and talents across a diverse, talented city's history, Daniels was able to personally experience these connections. "There's been such a sense of community of meeting all these poets I'd never met and only read," said Daniels. "We don't see it as a regional book; Detroit's influence on the global music scene is enormous for a city of its size. It's a very diverse anthology in just about every aspect. You just hope work like this is eventually all connecting and funneling down in a positive way."
Furthering poetic interdisciplinary work and community-building, Daniels' upcoming projects include: an interactive poetry-sculpture piece created with local artist Dee Briggs and Mark Baskinger, Carnegie Mellon University School of Design faculty member, to be installed in the Tepper Quad in 2020; a poetry workshop with Tepper Business School students; and poetry contributions to the MoonArk project set to launch into space in 2021. Daniels is also the founder of the Martin Luther King, Jr. Day Writing Awards for western Pennsylvania students, now entering its 22nd year. The "Respect" anthology also was featured at the Miami Book Fair in 2019, and several other launch events are forthcoming in early 2020 across the country.
Find photos and video of the book launch party below, at Detroit's Third Man Records.
https://www.facebook.com/Writer.l.Bush/media_set?set=a.2498928126811328&type=3
-----
Related story: https://www.cmu.edu/dietrich/news/news-stories/2019/april/jim-daniels-the-perp-walk.html