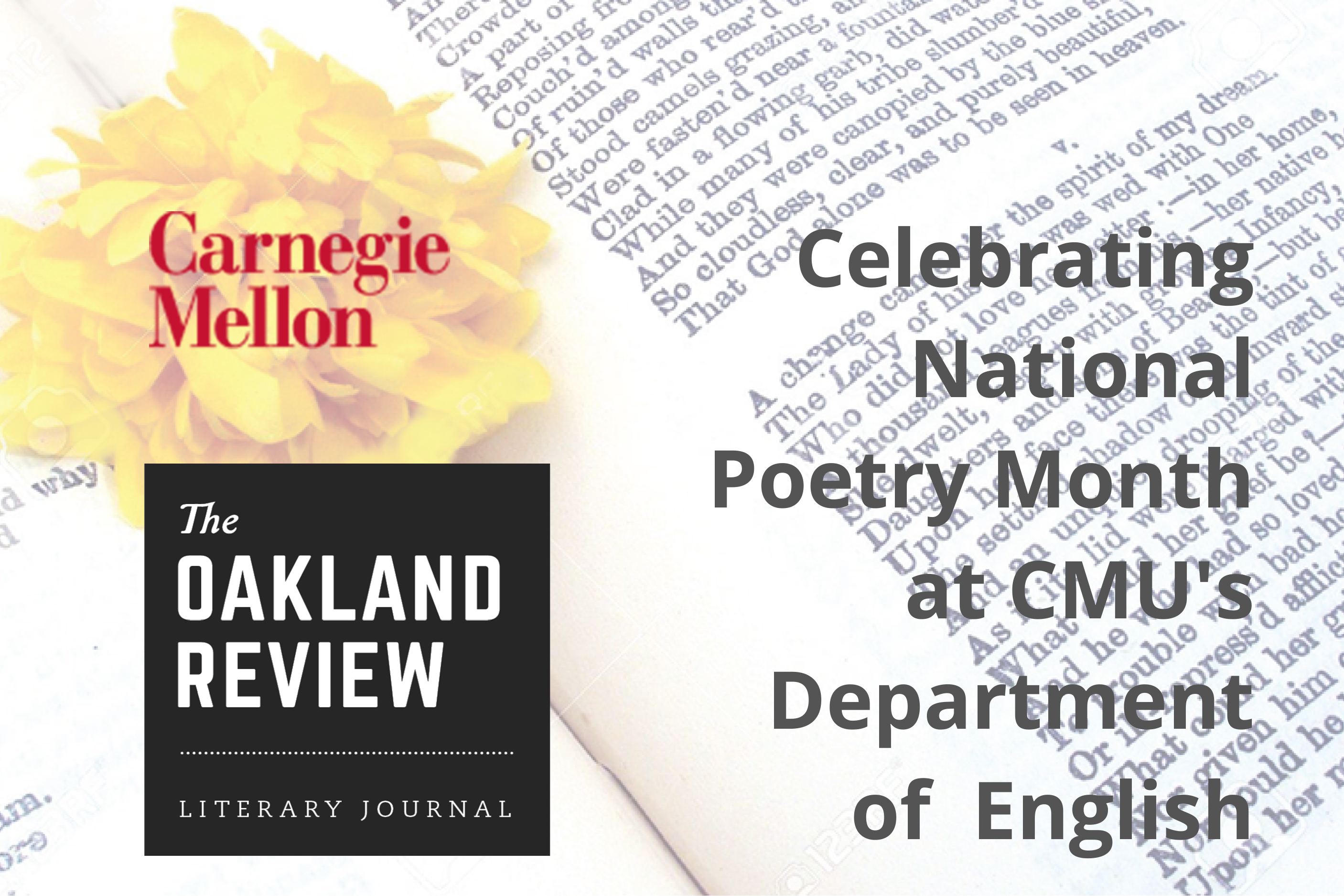 April 30, 2019
CMU English Celebrates National Poetry Month: Spotlight on Carnegie Mellon University Press and The Oakland Review
By Angela Januzzi ajanuzzi(through)andrew.cmu.edu
April is celebrated as National Poetry Month across the U.S., drawing attention to the multi-faceted values of poetry in daily life — the social, political, educational, and of course the artistic. Carnegie Mellon's Department of English is fortunate to house two institutions upholding the value of that work: Carnegie Mellon University Press, the school's independent book publishing press (established in 1975), and The Oakland Review, the Creative Writing Program's national literary journal edited and managed solely by CMU students (established in 1969).
Professor Gerald Costanzo has been teaching in the Creative Writing Program since 1970, but is also the Founder and Director of Carnegie Mellon University Press (CMU Press), which publishes prize-winning poetry, fiction, plays, non-fiction, memoir and history, and also re-prints otherwise out-of-print works. Originally started as Three Rivers Press, Carnegie Mellon University Press took its current name in 1975, under the auspices of then President Richard Cyert. With a current staff of technically under three employees, it has remained an independent entity within Carnegie Mellon University ever since, now housed under the auspices of the Department of English.
"We publish 14-18 books a year, and since our existence have won a Pulitzer Prize [for Rita Dove's "Thomas and Beulah"], and we have started the careers of several poets who have gone on to become Pulitzer Prize-winners with commercial presses," said Costanzo. Among those ranks are the aforementioned Rita Dove, as well as Stephen Dunn, Franz Wright, Ted Kooser and Peter Balakian.
When asked about a recent fall 2018 news headline that poetry readership is increasing, especially among readers of college age and in no small part due to social media, Costanzo added that he is also seeing this shift in his students. "Collectively we have gone from mind to the heart. And my students, if there's validity to this news about poetry readership, seem to be picking up on that," he said. "It's a matter of focusing on obsessions, and we all have those, and making art out of those obsessions…it's not just a matter of having something to say, but also of inventing. Poetry slows the trivia of daily life."
Lauren Shapiro, an assistant professor in the Creative Writing Program and Faculty Advisor of The Oakland Review, never ceases to enjoy the experience of students discovering the "liberating idea that so many things can be poems. People have a misconception of what poetry is. Many still believe that t has to be this rhymed, metered, boring old thing. In my 'Survey of Forms' poetry class I see students discover that poetry isn't just a cryptic puzzle that has to be solved."
She added, "There are also more opportunities online for poetry to be shared, and a movement to amplify the voices and experiences of women and minorities. Multimedia poetics (including poetry comics and videos) and documentary poetics are also enlarging the way poetry is consumed and understood."
The Oakland Review was founded in 1969 as a student-run literary journal, but until last year the publication was open exclusively to CMU students and alumni. Over 2018 and 2019, Shapiro helped guide students in broadening the review's reach to national status. For the first time in its history, The Oakland Review is now open to writers across the world (via the platform Submittable), and boasts a new website and Twitter handle. This past March,  several senior staff members of The Oakland Review traveled to the major writers' conference AWP (Association of Writers and Writing Programs) in Portland, Oregon, making their debut alongside the long-standing attendee CMU Press.
"Having The Oakland Review at AWP is a welcome addition to what we're doing with Carnegie Mellon University Press," said Costanzo. "They made contacts and solicited manuscripts for us. Their help was welcomed wholeheartedly."
When asked what makes poetry important outside these circles — beyond classrooms and conference centers, scholars and social media followings — Costanzo noted that it provides what few experiences of any kind can: "Poetry is documentation of what it's like to be alive emotionally, now."
To submit a manuscript for consideration to Carnegie Mellon University Press, visit the Press' site here: https://www.cmu.edu/universitypress/submissions-guidelines/index.html
If you are a CMU student interested in becoming a reader or board member of The Oakland Review, please contact Professor Lauren Shapiro.