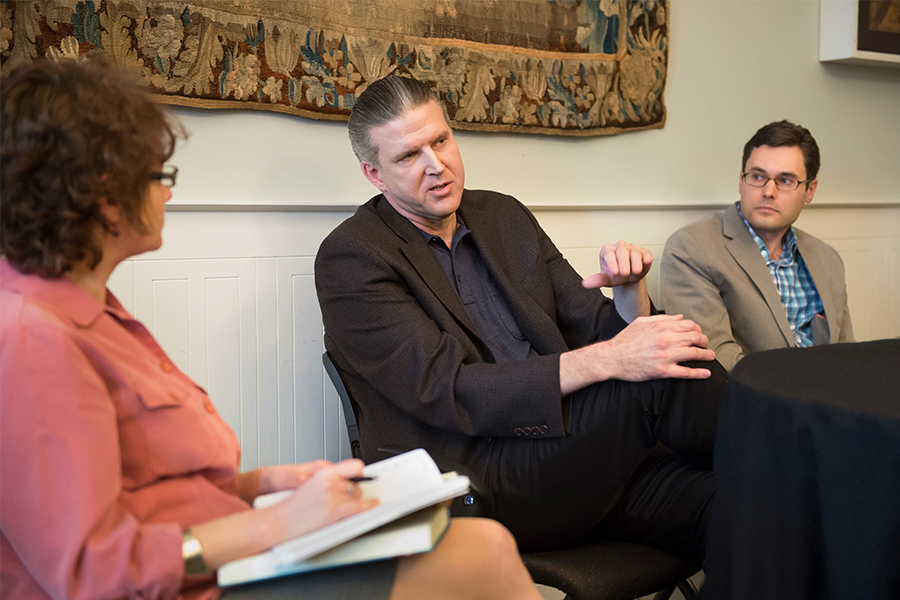 April 25, 2018
English Professors' Research Tackles Race and Citizenship
By Ann Lyon Ritchie
Media Inquiries
"Ideas with a spine" is the motto for a new series of events from Carnegie Mellon University's Department of English. They are designed to focus on topics of substance and timely social questions tied to new faculty books as well as engage the university and broader communities.
The first event, Book Salon: Race & American Progress, was a roundtable format and drew a crowd of students, faculty and staff from multiple departments. Andreea Ritivoi, professor and head of the English Department, and Kathy M. Newman, associate professor of English, moderated the discussion. Doug Coulson and Gregory Laski sat for a conversation on topics related to their recent publications, both of which investigated racial themes in the nineteenth and early twentieth centuries.
Coulson, assistant professor of English, wrote "Race, Nation, and Refuge: The Rhetoric of Race in Asian American Citizenship Cases," published by SUNY Press. Laski, visiting assistant teaching professor, authored "Untimely Democracy: The Politics of Progress After Slavery" from Oxford University Press.
"Based on the attendance, the event successfully reached out to others in the various disciplines at CMU. It's important in the English Department—as well as in the humanities in general—that faculty let others know about our work when it clearly has a broad audience," said Rich Purcell, associate professor of English.