June 12, 2017
Dress Is A Work From The Heart
Carnegie Mellon University added some high-tech light to the bright lights of Broadway during the 71st Annual Tony Awards on Sunday, June 11.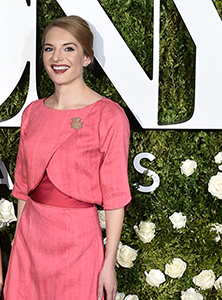 The university, known as one of the top theater arts conservatories in the world, showed an additional dimension when a "wearable tech" dress made its debut on the red carpet at Radio City Music Hall.The top and skirt ensemble, designed and created by CMU alumna Sophie Hood, includes strategically placed LED lights and laser-cut graphics to represent the number of students at CMU and the way students blend various fields in different colleges and schools in their educational experience. The lights respond to the wearer's heartbeat and are controlled by a thistle-shaped broach that represents CMU's Scottish heritage.

Carnegie Mellon alumna Brit McCandless, a 2008 graduate of the Dietrich College and a digital producer at CBS' "60 Minutes," will wear the dress. Red carpet watchers will see the jewel-toned creation inspired by a 1960s silhouette featuring an "elegant, simple shape with a modern fling to it," Hood said.