May 10, 2017
Peggy Knapp To Retire
Beloved English Professor Leaves Legacy Through Her Students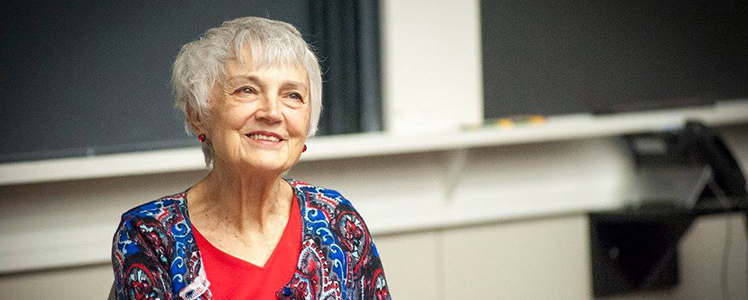 For the past 47 years, one constant has been Carnegie Mellon University English Professor Peggy Knapp riding her bike to work every day. 
Her dedication to her students is another. Through her engaging courses, Knapp has changed the way students learn.
"As Peggy so wisely knew, it was better to live it than to study it," said Stan Muschweck (B.A. English and Creative Writing, 1974). 
Muschweck was one of Knapp's 20 students who experienced "The Medieval Semester" at CMU, one of Knapp's early courses and best memories. Students spent the semester learning the reality of the medieval era: How people dressed, ate and they even conducted exorcisms, which Knapp remarked as being rather boring. The exciting part for Knapp was how engaged students became with what they were learning.
 
"Two of the young men tonsured their heads, meaning they shaved off the hair on the tops of their heads. Every Friday we would have a medieval meal until the very end we had a feast in the old university center, and about 200 people came," Knapp said.
 
The Medieval Semester is an example of what Knapp believes in most important as an educator—sharing her knowledge with students of all backgrounds. Another way Knapp has continued to impart this passion is through her Shakespeare course, which brings students from across campus.
 
One of these students, Richard Gu is a sophomore majoring in computer science. Gu recounts an inspired moment he had during class and the validation of his ideas Knapp offered.
 
"I brought up a point that she herself had never considered about a scene in Hamlet, in which an actor acts out part of the Aeneid for Hamlet," Gu said. "But the details aren't that important. What is, though, is that Peggy really embraced this idea of mine, to the point that she encouraged me to incorporate it into my final paper for the class. It takes a rare kind of teacher to not only inspire students to do great work but also push them to take that work further. And Peggy is just that."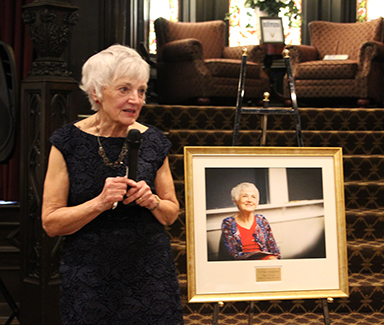 Shakespeare: Tragedies and Histories started as a two-semester course with former faculty member and current director of the Folger Shakespeare Library Michael Witmore, and, still to this is one of the most popular English classes.
 
"It was such a great thing to work with Michael," Knapp said. "What really made this a highlight is we had graduate students working, so I got to know all of these wonderful graduate students and witness them lecture, every one of them has been wonderful. They're not just assistants they're collaborators and that has been my chief responsibility to graduate students."
 
Knapp received CMU's Ryan Award and the Dietrich College of Humanities and Social Sciences' Elliott Dunlap Smith Award, both of which recognize distinguished teaching. She has also served as president of the Faculty Senate.
 
"Peggy has been a model citizen, serving on virtually all the committees that make academic life possible," said Andreea Ritivoi, head of the English Department. "From several terms on the university promotion and tenure committee, to being chair of the Faculty Senate, member of the University Education Council, the Trustees Alumni Committee, the University Committee on Academic Integrity, and even the Environmental Action committee—and this is actually a small sample of her service work." 
 
Ritivoi continued, "There simply aren't enough superlatives or awards to recognize Peggy's talent and commitment as an educator. But I would like to emphasize that she has also been an incredibly generous mentor to junior faculty: she has encouraged and strengthened us, by reading our work, knowing- and on occasion holding- our children, and most importantly, by making us feel like her intellectual equals from our first days in the English department when we were still just babes in the woods."
 
Knapp writes on topics ranging from medieval sagas to current novels, and has published four book, with her fifth in press, nine volumes of "Assays: Critical Approaches to Medieval and Renaissance Texts," more than 50 academic articles, and almost 20 reviews. Through it all her inspiration has been the intellectual companionship from her husband, Jim, and her children.
 
And still, Knapp's proudest accomplishments lie with her students.
 
"What's kept me at Carnegie Mellon is the students," Knapp said. "I remember them. I can tell you something impressive they've said during class, even if that was 30 years ago. That's how impressive they are. They were impressive from the beginning, and they're impressive now."
 
Knapp is retiring this spring and relocating to Chicago with her husband.
 
View what Knapp's fellow faculty members and former students had to say about her impact.
 
View photos from Knapp's retirement celebration.
--