March 13, 2017
Days of Welcoming Receives Admitted Graduate Students to Campus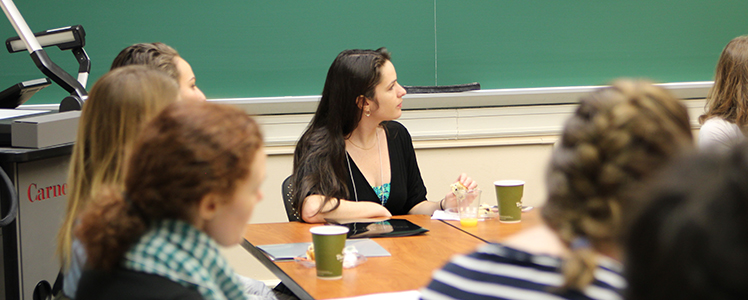 Twenty students from across the country— everywhere from New York to California and even right here in Pittsburgh— traveled to Carnegie Mellon's Department of English for the annual Days of Welcoming.
 
Days of Welcoming is the department's two-day spring open house for students admitted to the department's graduate programs, which include masters degrees in literary and cultural studies, professional writing and rhetoric, and PhD programs in LCS and rhetoric. The visit invites students to get to know the English Department by allowing them to sit in on classes, meet faculty, pick the brains of current graduate students and get to know the campus and city.
 
"Days of Welcoming provides a great opportunity for students to see a program close up, meeting people, talking with students as well as faculty and staff, and simply seeing the things that Pittsburgh offers," said Jeff Williams, director of graduate studies. "It's one thing to look at schools online, reading about professors and courses. But it's much more telling to actually visit a school."
 
Accepted into the MA in rhetoric program, Sophie Dean spent her time on campus getting an up-close look at CMU English.
 
"I loved getting to see the English side of things, talking to faculty and exploring the beautiful architecture on campus," Dean said.
 
Dean's visit with the department included lunch with the director of the rhetoric program, Suguru Ishizaki, and dinner in the city with faculty, staff and current students, who also hosted a "Q&A" session with the prospective students.
William Goldby, who will graduate from University of California at Berkeley this spring, took advantage of one of these telling opportunities by sitting in on four classes during his two-day visit.
Interested in pursuing an MA in professional writing, Goldby most enjoyed "Science Writing" with instructor Mark Roth, of the Pittsburgh Post-Gazette. The course teaches students how to write about science, technology and health topics for a general audience. 
"'Science Writing' gave me a good idea of what I'd be getting into with my career and at Carnegie Mellon," Goldby said.
 
For Christine Danner, the one-on-one time with faculty members made her experience.
 
"It's been really cool getting to meet all of the different faculty and actually getting to talk to them," said Danner, who applied for the MA in professional writing program. "I feel like I have a good sense of the community and the program. I'm really excited about it."
After an eventful two days, Ali Faraj reflected on the sense of community within CMU English.
"In a nutshell, I would say that the honor of being accepted into the PhD in LCS program at CMU is in fact coupled with the honor of being well received and most heartwarmingly welcome and loved by its people, by its family," Faraj said.
--