September 08, 2016
English Department Students Went Worldwide This Summer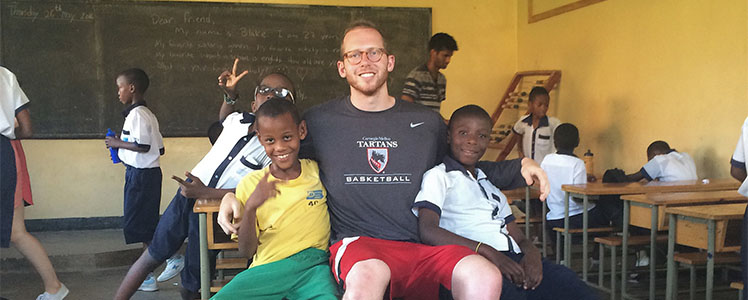 From Sri Lanka to London to Houston, students of Carnegie Mellon University's English Department spent their summers researching, writing and working across the globe. Here's a sample of what just a few of our students were up to this summer…
 
Blake Chasen, a fifth year scholar with bachelor's degrees in business administration and creative writing, volunteered with CMU's student-run initiative, Project Rwanda. For three weeks, he taught fourth and fifth grade Rwandans the basics in drag-and-drop programming and storytelling lessons he learned from the creative writing program.
 
"I taught character, setting, plot, and how to bring each of those things together to tell something meaningful," he said.
 
In London, Charlie Rock, a creative writing and professional writing major, worked as a visual effects assistant on the movie "Life." Rock worked on set alongside actors Jake Gyllenhaal and Ryan Reynolds making sure the footage was saved and properly named.
 
"It felt really cool to be a part of the film and to get to see all the talented people on the project bring it to life," said Rock.
 
Meanwhile, as the Events and Internal Communications Intern at Emory Saint Joseph's Hospital in Atlanta, Andy Sharfman had the opportunity to build and manage the organization's intranet and work on the hospital's wellness campaign—among other exciting communications tasks.  
 
"I learned about the unique role of corporate communications in a hospital setting, and how to communicate on various platforms for a diverse audience," said Sharfman, a graduate professional writing student.
 
"Our students keep busy during the summer, but they manage to combine their passion with work in a way that always impresses us," said English Department Head and Professor Andreea Deciu Ritivoi. "These rich summer experiences explains why they always come back in the fall with such fascinating stories and a renewed excitement for learning."
 
Interested in learning more about our students' summer adventures? Check out the list below.
Undergraduate Students
 
Resident Journalist for Camp Korey
Autumn Armega-Finger
Professional Writing / Global Studies
 
Marketing Intern at TapReason in Israel and Technion-Israel Institute of Technology Participant (Supported by CMU's Buncher Entrepreneurship Award)
David Beinhart
Business Administration / Creative Writing
 
2016 Summer Undergraduate Research Fellowship Awardee
Joshua Brown
Technical Writing and Communication / Creative Writing
 
Public Policy and International Affairs Junior Summer Institute Fellow
Melanie Diaz
English / Global Studies
 
Government and Public Policy Intern for the National Council For Adoption
Emily Giedzinski
Art / Professional Writing
 
Consumer Products Intern for DreamWorks Animation
Sandra Kirshon
Professional Writing / Decision Science
 
Scientific Editorial Assistant for the Scientific Publications Department of The University of Texas MD Anderson Cancer Center
Erin Nielsen
Technical Writing and Communication

2016 Summer Undergraduate Research Fellowship Awardee
Paloma Sierra
Creative Writing / Professional Writing
 
Developer Intern for Jane Street
Ariel Tian
Computer Science / Creative Writing (minor)
Robotics Instructor at the International School of Geneva
Kristina Wagner
Technical Writing and Communication / Human-Computer Interaction
Intern for W.W. Norton & Company, Inc.
Cullen Wells
Ethics, History, and Public Policy / Creative Writing
 
Graduate Students
 
Digital Humanities Summer Institute Participants
Mary Glavan, Jessica Harrell and Susan Tanner, Ph.D. in Rhetoric Program
Pierce Williams, Ph.D. in Literary and Cultural Studies Program

Reading Session Co-chair at the annual Institute on Culture and Society
Steven Gotzler and Natalie Suzelis
Ph.D. in Literary and Cultural Studies Program

Technical Writer Intern for Google New York
Caroline Liu
M.A. in Professional Writing Program
English as a Second Language Instructor in NY
Maria Poznahovska
Ph.D. in Rhetoric Program
Presenter at the National Communication Association Doctoral Honors Seminar
Garrett Stack
Ph.D. in Rhetoric
English Instructor for CMU-Q
Presenter at the 2016 Keystone Digital Humanities Conference
Susan Tanner
Ph.D. in Rhetoric
Disaster Capitalism Researcher in Sri Lanka
Pavithra Tantrigoda
Ph.D. in Literary and Cultural Studies Program
Communications Intern for the National Institutes of Health
Lindsay Westervelt
M.A. in Professional Writing Program
 
Learn more about the opportunities the Department of English offers for students.

Related Article:
Creative Writing Major Improves Young Rwandan's Technology Literacy
___
By Amanda King
Top Photo: Creative Writing student Blake Chasen traveled to Rwanda this summer as part of CMU's Project Rwanda.