December 09, 2016
Former Faculty Member Gives Back to CMU Students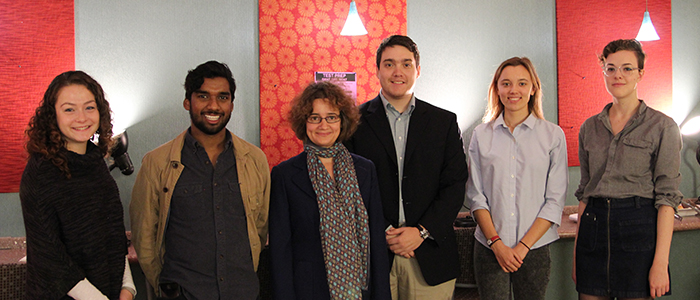 Working with clients such as New York University, NPR and the Lupus Foundation of America, former Carnegie Mellon University adjunct professor Alan Siegel is busy these days. However, he's managed to find the time to give to CMU students.
A pioneer of Plain English movement in the 1970s and a co-founder of Siegel+Gale, Siegel, who now runs a brand identity consultancy Siegelvision, gifted CMU English's Alan and Gloria Siegel Award for Professional Writing.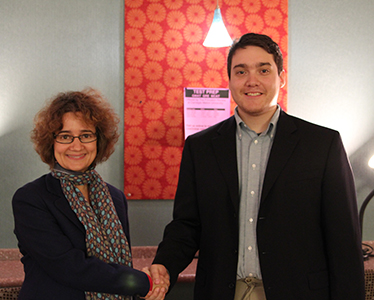 "Alan Siegel is one of the most important practitioners and researchers in the field of professional writing and visual design," said English Department Head Andreea Ritivoi. "To have a writing award endowed by, and named after him, is a great honor. We can make the most of it because we have such talented students and dedicated faculty."
The Siegel Award is open to undergraduate students in the English Department. Students must submit a sample of writing that falls into the professional writing genre (e.g. proposals, marketing plans, informational materials, etc.).
Senior Emmett Eldred (CW, PW) took home this year's first-prize for his piece on Siddhartha Srinivasa's "Formalizing Human-Robot Mutual Adaptation via a Bounded Memory Based Model." Under the instruction of Associate Professor John Oddo, Eldred wrote a revision of the article using principles of style to enhance clarity.
"I was pretty surprised to learn that I won first prize," Eldred said. "I know most of the other finalists, and I can personally vouch that they are all excellent writers."
Eldred interned in Washington, D.C. for a member of Congress during spring semester, and he anticipates returning to the nation's capital post-graduation to work for another member of Congress, an advocacy or political organization, or a nonprofit.
2016 Alan and Gloria Siegel Awards for Professional Writing winners:
First Place: Emmett Eldred, senior, CW, PW
Second Place: Autumn Armega-Finger, junior, PW
Honorable Mention: Sarah Gutekunst, senior, PW
Honorable Mention: Erin Nielsen, junior, TW
Honorable Mention: Kristina Wagner, senior TW
Honorable Mention: Dhruva Krishna, senior, PW
--
by Stefanie Johndrow
Top Photo: Sarah Gutekunst, Dhruva Krishna, Andreea Ritivoi, Emmett Eldred, Kristina Wagner, and Erin Nielsen pictured at the 2016 Alan and Gloria Siegel Awards for Professional Writing.
Right Photo: English Department Head Andreea Ritivoi congratulating this year's winner Emmett Eldred.