October 04, 2016
I'm Not the Person You Know But the Guy That You See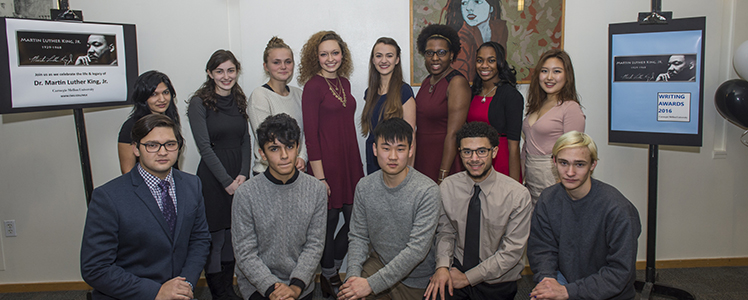 It is safe to say that Carnegie Mellon University senior electrical engineering major Kevin Lee did not expect to become an award-winning poet during college, but that is exactly what has happened.
Lee won first place in the 2016 Martin Luther King, Jr. Writing Awards college poetry category, and he had only started writing poems a few months earlier. The awards program encourages high school and college students to write poetry or prose pieces about their personal experiences with race or cultural differences and discrimination.
Lee recently sat down with CMU's English Department, one of the sponsors of the writing awards, to talk about his experience.
What was winning first place in a poetry contest like?
My poem winning first place in the 2016 MLK, Jr. Writing Awards last year was an unreal experience. As an ECE major who had just started writing poems that semester for an elective class, I had no expectations of placing, let alone winning first place and reading my poem on live TV. It was extremely gratifying to see something come from my decision to take a class that I truly enjoyed rather than taking a so-called "easy class." Coming to CMU to study ECE, I never would have imagined placing first in a poetry awards. It was also great having the opportunity to bring attention to Asian-Americans, who are often left out of discussions about race in our country.
As an engineering student, how did you become involved in the MLK, Jr. Writing Awards? Do you plan to submit again this year?
I became involved in the MLK, Jr. Writing Awards last year through Professor Lauren Shapiro. I always had an interest in poetry but never had the opportunity to explore this interest with my busy ECE schedule. Fortunately, Survey of Forms: Poetry fulfilled a College of Engineering Writing & Expressions requirement, so I was able to take Professor Shapiro's class. It ended up becoming one of the best decisions I have made at CMU. Through the class, I was able to create a portfolio of my own poems and develop a greater appreciation for a form of art that I have always admired. "Sushi at Yunioshi's" was a spoken word piece I had written for the class that Professor Shapiro suggested I submit. 
Although I don't write poems as often as I used to, I definitely plan on writing more and submitting again this year.
Explain the process behind writing your poem "Sushi at Yunioshi's." What did you hope readers would take away from it?
"Sushi at Yunioshi's" is a poem inspired by my own experiences and the invisibility of Asian-Americans in our society. Growing up as the only Asian kid in a predominantly white suburb in New Jersey, I was treated differently than my peers because of the way I looked. The expectations others had for me were based on stereotypes, Kung Fu movies, and yellow-face supporting roles. In my poem, I tried to capture the frustrations of being treated based on what you look like rather than who you are as a person experienced by myself and other Asian kids growing up in the United States. The title itself is a play on "Breakfast at Tiffany's," my favorite movie of all time, and its character Mr. Yunioshi, a stereotypical, bucktoothed Japanese landlord portrayed in yellow-face by Mickey Rooney. Although, many now criticize the role in the film, which may have inspired stereotypes that people have applied to me, I understand the historical context of role and look at it as something we should learn from while moving forward.
What I hope readers take away from "Sushi at Yunioshi's" is that they should try to get to know someone before making any assumptions about who they are based on their appearance. This applies for people of all colors and not just Asian-Americans. Based on my looks, you might assume that I spend my free time smoking Marlboro Gold's in a Canada Goose jacket and that English is my second language, but that's only partially true. Yes, I own a Canada Goose jacket, but I was born in Queens, English is my first and only language and I don't smoke cigarettes. What you wouldn't know just by looking at me is that my mother raised me to believe Naughty by Nature is the greatest hip hop group of all time, one of my favorite singers is Dean Martin, and that I consider Puerto Rican rice and beans to be my greatest comfort food. I invite my readers to get to know the real me and think twice before letting racial stereotypes to get in the way of meeting new people.
Why do you think students should enter the MLK, Jr. Writing Awards?
I think people should enter the MLK, Jr. Writing Awards to engage in discussions about race in America more actively and to explore their own identity more critically. Martin Luther King Jr. paved the way for civil rights in America and fought for the society that we are able to live in today, but there's still work to be done. We see this not only in the news and through the media but also through the experiences of our fellow Carnegie Mellon University students. By expressing your experiences in writing, you're forced think more about race and you can start to become a part of the discussion. It's easy to tell yourself that you don't see color or that you don't have to do anything because you may think we're moving towards a post-racial society, but we need action for things to change and race is not something that we can just ignore. I encourage all students to share their experiences with race in writing and enter the MLK, Jr. Writing awards as well as the discussion on race.
Kevin Lee, front row center, poses with other winners from the 2016 Martin Luther King, Jr. Writing Awards.
--
Winning entries will be published, and students will be invited to read their work at CMU on Martin Luther King, Jr. Day (Monday, Jan. 16, 2017). Cash prizes will be awarded.
Interested students may submit their poetry or prose entries online as separate Microsoft Word attachments (.docx preferred). Entries should be no more than 2,000 words, double-spaced. Students may submit up to two poems.
The deadline to enter is Friday, Nov. 25.
The Martin Luther King, Jr. Writing Awards are sponsored by CMU's Dietrich College of Humanities and Social Sciences, Department of English, Division of Student Affairs and the Office of the President.
Read last year's winning entries.
Related Links:
_____