May 12, 2016
English Department Student & Alumna Receive Fulbright Awards To Study Abroad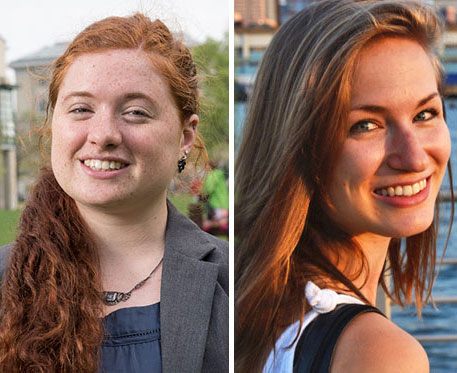 Carnegie Mellon University's four Fulbright award winners for 2016 will research, study and report across three continents. One student and one alumna from the English Department are among the new recipients.
"Our Fulbright candidates have crafted distinctive academic experiences that align well with their existing skill sets and foster continued growth and development as scholars and cultural ambassadors," said Joanna Dickert, assistant director of undergraduate research and national fellowships. "Our cohorts are quite diverse, drawing bachelor's, master's, doctoral and alumni applicants from all disciplines. Laura, Daniel, Chelsea and Lauren exemplify this depth and breadth, and we are very proud that they will be representing Carnegie Mellon."
CMU's Fellowships and Scholarships Office provides support to students who are interested in applying for nationally competitive fellowships and scholarships.
Congratulations to Laura Berry and Lauren Mobertz who received Fulbright awards for 2016!:
Laura Berry | Class of 2016, Bachelor of Arts in Creative Writing and Japanese Studies
Berry will travel from her hometown of Ridgewood, N.J., to Japan on a Fulbright Study/Research Grant. She plans to explore literature written by women during the economic slump of the 1990s, known in Japan as the "Lost Decade." She will continue her language studies and audit courses at Hokkaido University in Sapporo.
Lauren Mobertz | Class of 2012, Bachelor of Arts in Professional Writing
Mobertz, who resides in New York, received a Young Professional Journalist Award to report on the work experience of Millennials in Germany and the current state of labor in the country. She plans to cover mental health taboos in the German workforce, internships and job placement for recent high school and college graduates, and work options for young refugees.
Learn more about this year's awards winners.
Photo: From L-R, Laura Berry, a senior double majoring in Creative Writing and Japanese Studies, and Lauren Mobertz, a professional writing alumna, received 2016 Fulbright awards.