September 12, 2016
What English Department Faculty Did This Summer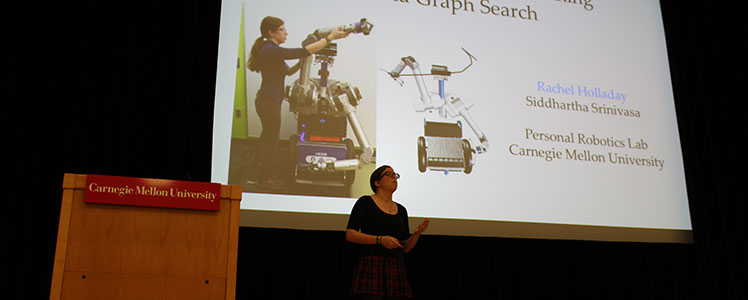 Our faculty may not have had teaching duties at Carnegie Mellon University this summer, but they sure were busy writing, presenting research and speaking at events worldwide. Take a look at what they were up to:
Summer school
This summer, Professors Jim Daniels and David Shumway embarked on adventures in a familiar space:  The classroom.
Daniels, the Thomas Stockham Baker University Professor of English taught the 'Advanced Poetry Workshop' at Chautauqua Institution and a workshop in Antioch University's MFA in Creative Writing Program in Los Angeles. Daniels also spoke at a storytelling event and fundraiser for the Oakland Planning and Development Corporation in Pittsburgh.
A Professor of English, Shumway taught at Carnegie Mellon University in Qatar and participated on a panel titled "Cultural Studies and Policing Crises Now" at the Cultural Studies Association Conference in Philadelphia.
Final drafts
Meanwhile, a few of our instructors took pen to paper (or, fingertips to keyboard, more likely) to complete a few pieces of writing.
Assistant Professor of English Doug Coulson worked on final edits to his forthcoming book titled "Race, Nation, and Refuge: The Contested Racial Classifications of Asian Immigrants in American Citizenship Cases," which will be published by SUNY Press. His book traces the rhetorical strategy of foregrounding out-group threats in the discourse surrounding provisions of the United States naturalization act that limited eligibility for naturalized citizenship to certain racial groups before 1952. 
English and Linguistics Professor Barbara Johnstone began writing a new series that examines the different facets of the local dialect "Pittsburghese" for the online magazine "The Glassblock."
The Mellon Distinguished Professor of English David Kaufer co-authored a paper with Professor Suguru Ishizaki on "Technologies for Writing Analytics" and presented it at a preconference workshop titled "Writing Analytics, Data Mining, & Writing Studies" prior to the International Conference on Educational Data Mining in NC. He also worked on finishing his manuscript on "Lincoln and the People's Presidency," which will be published by Penn State University Press in early 2017. As Co-Chair of the "University-Wide Simon Committee for Technologically Enhanced Learning for Writing and Communication," Kaufer and committee members met with each Carnegie Mellon college to discuss its needs and desires for writing and communication instruction within their curriculum.
Instructor Rachel Mennies Goodmanson worked on finishing her second collection of poetry, a book about a teenage girl's coming of age and women's sexuality.
Grants, Technology Enhanced Learning
In order to kick start new projects, Professors Jane Bernstein, Ishizaki and Necia Werner received ProSEED grants.
An English Professor, Bernstein received a ProSEED/Crosswalk Seed Grant that will support her upcoming course and winter exhibition, "The Museum of Broken Relationships." Bernstein also revised a novel, wrote several essays and collaborated with writer and daughter Charlotte Glynn and illustrator Chance Bone on a children's book titled "Gina, Émigré Dog" that is set to publish next summer.
Professors Ishizaki and Werner received a second Simon ProSEED Grant that supports a project aimed at helping understand students' motivations to use certain technology-enhanced learning (TEL) tools. Using a TEL course they created and deployed via CMU's Online Learning Initiative as a basis for their investigation, the team is employing design-based research methods to gain deeper insight into students' perceptions, usage and valuation of TEL tools that teach visual communication skills. 
A new technology-enhanced learning project "Improving Writing Instruction" is being led by the English Department's Danielle Wetzel, Werner, Ishizaki and Kaufer. Along with Xizhen Cai from the Statistics Department, the group is working on developing a computer-aided learning tool that will allow students to notice and reflect on their composing decisions and help them become more self-aware and reflective writers. The project is supported by a Simon ProSEED Grant. Learn more about "Improving Writing Instruction."
Collaborative projects
Many faculty members took the summer to team up and find new successes.
Professor Ishizaki and Associate Professor of English James Wynn presented their work at the Keystone Digital Humanities Conference. Ishizaki presented on a collaborative project with the Pittsburgh Supercomputing Center that uses the text analysis tool DocuScope, which he co-developed with Professor Kaufer. Wynn presented on his current project, e-thos, an analytical platform designed to identify appeals to expert ethos. Associate Professor of English Christopher N. Warren's collaborative "Six Degrees of Francis Bacon" project was also showcased at the conference.
English Professor Peggy Knapp chaired a session at the 20th Biennial Congress of the New Chaucer Society in London. The session, which Knapp co-organized was titled "Sweetness: The Possibilities of Pleasure." Knapp, along with her husband James Knapp, put finishing touches on their forthcoming book, "Medieval Romance: the Aesthetics of Possibility." She also geared up to teach her collaborative course 'Why Stories Matter' with English Professor and Department Head Andreea Deciu Ritivoi by reading work from novelist Marcel Proust. 
Necia Werner, Special Faculty Member Jennifer Keating- Miller and the Global Communication Center's Nisha Shanmugaraj teamed up with CMU's Undergraduate Research Office to deliver five communications modules to 100 students on campus conducting undergraduate research. In the "Speak Up! URO Communications Seminar," students developed and sharpened their communication skills as a speakers and writers. The trio also collaborated with CMU's Career Professional Development Center, the Carnegie Institute of Technology and other campus units on campus for this new effort, which Werner describes as "the first big cross-unit communications effort of its kind at CMU designed to support undergraduate researchers."
Global 
With destinations such as Washington D.C., Venezuela and Ireland, it may seem as though these last faculty members went on dream vacations this summer, but we can assure you, they were working hard.
English Professor Kristina Straub and University of Texas at Austin English Professor Janine Barchas open their much-anticipated exhibit, "Will & Jane: Shakespeare, Austen, and the Cult of Literary Celebrity" on August 6 at the Folger Shakespeare Library in Washington D.C. The free exhibit runs through November 6. "Will & Jane" is part of "The Wonder of Will," the library's celebration of Shakespeare and his extraordinary legacy. In June, Straub wrote about the film "Love & Friendship" and celebrity culture for the library's Shakespeare & Beyond blog.
CMU-Q Teaching Professor of English Dudley Reynolds gave an invited presentation on issues for research raised by multilingual writers at the 50th Anniversary Dartmouth Institute and Conference. Reynolds keynoted the inaugural Ecuadorian Association of Teachers of English to Speakers of Other Languages (TESOL) Conference and the 34th Annual VenTESOL National Convention in Venezuela.
Warren completed a month-long fellowship in Ireland where he worked on his new digital humanities project called "Distant Reading the 'Oxford Dictionary of National Biography (ODNB).'" Warren was one of seven May 2016 Moore Institute Visiting Fellows. Read more about his new project in a recent CMU news story.
Learn more about the Department of English faculty and their work.
Chris Warren Completes Ireland Fellowship Dedicated To Digital Humanities Project
LCS, Rhetoric Programs Present Research at Prestigious Conferences
English Department TEL Project Receives Simon ProSEED Grant
__
By Amanda King