June 17, 2015
Obituary: Hilary Masters Was an Acclaimed Writer and Beloved Professor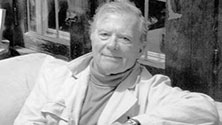 Hilary Masters, an acclaimed writer and beloved professor at Carnegie Mellon University, died Sunday, June 14. He was 87.
Masters joined CMU's Department of English in 1983 and spent the past 32 years inspiring students. A mainstay in the Creative Writing Program — one of the oldest undergraduate programs of its kind— Masters taught courses, such as Survey of Forms: Fiction and the Personal Essay Writing Workshop, most recently as last semester. Among his numerous awards and honors, he received the American Academy of Arts Award for Literature in 2003.
"Our undergraduate creative writing majors were fortunate to have the opportunity to learn from a consummate writer who was also an extraordinary teacher and mentor," said Chris Neuwirth, head of the Department of English in the Dietrich College of Humanities and Social Sciences.
Masters career as a writer and teacher followed his work as a journalist, Broadway press agent and photographer. He authored 10 novels, the first, "The Common Pasture," was published in 1967. His last novel, "Post: A Fable" in 2011, is a mystery, environmental elegy and futuristic tale about ruining things that we love. He also wrote short stories and essays, and much of his work focused on themes of abandonment — physical, spiritual and moral — in contemporary America.
However, it was the personal essay genre that Masters was most known for — a form that he called his favorite. He published three collections in this style, including the book-length essay "Shadows on a Wall," which portrayed a meeting between the Mexican muralist Juan O'Gorman and E. J. Kaufmann, the "merchant prince" who built Fallingwater.
His 1983 family memoir, "Last Stands: Notes from Memory," has been republished many times and is considered to be the gold standard for the genre.
"As a colleague he will be incredibly missed. His wit and grace were evident in every aspect of his friendships and mentorships with all of us in creative writing," said Sharon Dilworth, associate professor of English and Creative Writing Program director. "I loved returning in the fall to see Hilary wearing his yellow socks — he wore yellow socks every day after turning 50 [because] he said, 'You have to do something with this aging thing.' The first thing he would ask [each fall] was, 'Type anything good this summer?'"
Dilworth continued, "He cared about writing, he cared about stories. He would entertain us with anecdotes about his life, his years at Brown and his trips to France where he often rented a car and drove the blue roads, stopping at truck stops for incredible meals. Most of all he cared about students learning the craft. He wanted them to appreciate the world of fiction, the difficulty of the business but the joy of getting a piece exactly as they first envisioned it."
Masters was a dedicated professor who often mentored his students well past their time at Carnegie Mellon. He used the essays of Montaigne to teach students that their own personal lens was the perfect trigger for any piece of writing. He gave them the confidence that their experiences, however unsophisticated, however limited, had incredible value.
"Since I first met him at CMU about 30 years ago, Hilary Masters was my friend. His office door was wide open for his students, with whom he was very patient, kind and generous, and I went there often," said Jonathan Barnes, a 1993 CMU graduate, who majored in professional writing and creative writing and is now a journalist and freelance writer.
"I remained in touch with him after graduating because like many writers, I craved encouragement. For years I felt like I didn't measure up as a writer since I haven't published any books, but Hilary never made me feel that way. 'Don't be so hard on yourself,' he said to me the last time I saw him, months ago... Always encouraging, he believed in the craft of writing and he believed in his students, and he believed in me," Barnes said.
"I have now published thousands of newspaper and magazine stories, but one of the biggest thrills for me always was having Hilary compliment me on a piece. Words cannot express how much it meant to me to have his faith in me," Barnes added.
Masters is survived by his wife Kathleen George, a playwright and novelist, and three children: Katherine, John and Joellen.
The family has established the Hilary Masters Fiction Award Fund in Master's honor. Contributions can be made to the CMU English Department specifying the Hilary Masters Fiction Award Fund.
The Department is also planning to hold a memorial for Masters later this fall and will dedicate the 2016 Adamson Student Writing Awards in his honor.
Read these tributes to Masters:
___
By: Shilo Rea and Amanda King
Photo: Hilary Masters earned numerous honors and awards, including the American Academy of Arts Award for Literature in 2003. (Photo courtesy Pittsburgh Post-Gazette)