March 23, 2015
Andreea Deciu Ritivoi To Lead Carnegie Mellon's Department of English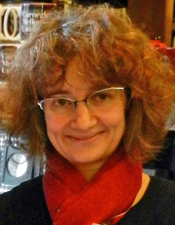 Andreea Deciu Ritivoi has been selected to lead Carnegie Mellon University's Department of English, a renowned leader in professional, technical and creative writing as well as rhetoric and literary and cultural studies. Effective July 1, Ritivoi, professor of English, will succeed Chris Neuwirth, who has served as department head since 2009.
"Professor Ritivoi will be a wonderful leader. She is fully credible in all three areas in our English Department: creative writing, literary and cultural studies and rhetoric," said Richard Scheines, dean of CMU's Dietrich College of Humanities and Social Sciences. "She has begun to branch out into digital humanities, a nationally growing field in which Carnegie Mellon is poised to be a natural leader, and she has already done excellent work on globalization and identity, as well as the role of art in social controversy. Andreea is an interdisciplinary scholar in the finest tradition of Carnegie Mellon."
Scheines praised Neuwirth for doing an excellent job in transforming the operational infrastructure of the department, re-invigorating the department's connection to its large alumni base, improving the graduate programs, and making many other improvements in the department and college.
The English Department has 32 core faculty members. It is credited for helping to found the field of technical communication, and its programs in professional writing, creative writing and rhetoric are among the oldest and most reputable of their kind in the country. Its graduate programs in literary and cultural studies are well known for theoretical depth and social and political relevance.
In line with CMU's approach to the humanities, which focuses on teaching and learning and developing useful, practical skills, the English Department's faculty often cross disciplines to examine intellectual issues and solve real world problems. For example, one professor created a social networking tool to improve education, and it is now being used by tens of thousands of students all over the world. Another developed a big data and digital humanities tool to recreate the early modern social network.
The department's award-winning creative writing faculty publish in many genres from fiction and poetry to film. And, the entire department plays crucial roles in the Dietrich College and university-wide interdisciplinary efforts such as the Humanities Center, Center for the Arts in Society and many others.
Ritivoi joined Carnegie Mellon in 2001. Her research interests include rhetorical theory, narrative, globalization and migration, politics and controversy.
In her latest book, "Intimate Strangers in American Political Discourse," Ritivoi analyzed foreigners' perspectives on American politics — and the critical challenges they face. Using four respected intellectual exiles as examples — Hannah Arendt, Herbert Marcuse, Alexander Solzhenitsyn and Edward Said — Ritivoi explored the benefits of their "stranger ethos" in order to inspire changes in political systems and address societal problems.
The National Endowment for the Humanities (NEH) awarded Ritivoi a 2015 research fellowship to investigate how the concept of "captive nations" emerged in early Cold War political discourse and made the "liberation" of other countries appear as an American responsibility. Her project, "Captive Nations: American Democracy in the Cold War and the Politics of Rescue," began earlier this year.
As department head, Ritivoi's main goal will be to help faculty and students continue to succeed.
"English faculty at Carnegie Mellon are among the most prominent scholars in their discipline, nationally and internationally, and they train students who become leaders in the field. My priority will be to further enhance the reputation of the department, to make us even more competitive, as well as to support our faculty and students to succeed as individual scholars," Ritivoi said.
Specifically, Ritivoi hopes to further cement the department's connections across campus and create new ones. She also sees big opportunities in digital humanities and globalization.
"It's an interesting time in the humanities because we're being asked all the time to explain our relevance, which makes us more publicly accountable than ever before. But, this also creates an immense amount of opportunities for us. In English at Carnegie Mellon, we are uniquely situated to connect our knowledge of language and literature with technology, science and the arts, to develop ideas in digital humanities, explore creative writing in new media, study argument strategies used in public discourse addressing the latest challenges in science communications, political communications, and incorporate big data and text mining into our studies," she said.
For more information on Ritivoi, visit http://www.cmu.edu/dietrich/english/people/faculty/bios/andreea-deciu-ritivoi.html.
Related Articles:
Andreea Deciu Ritivoi Receives NEH Fellowship
Andreea Deciu Ritivoi Analyzes Foreigners' Perspectives on American Politics in New Book
Andreea Deciu Ritivoi (pictured above) joined Carnegie Mellon in 2001. Her research interests include rhetorical theory, narrative, globalization and migration, politics and controversy.
By Shilo Rea / 412-268-6094 / shilo@cmu.edu