Undergraduate Spotlight: Sarah Abrams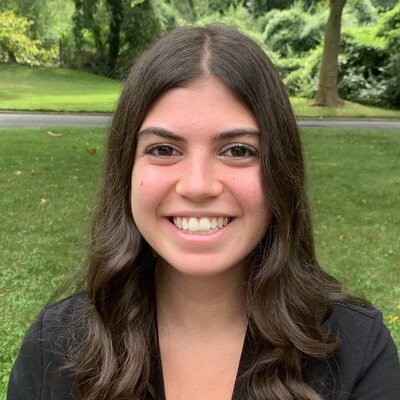 Sarah Abrams is a junior (Class of '24) with a primary major in Technical Writing and minors in Business Administration and Societal & Human Impacts of Future Technologies (SHIFT).
Have you had an internship related to your major in English?
Yes! I am working at Salesforce for the Einstein Bots team, which is their Artificial Intelligence platform. The ability to write helpful user documentation for such a cutting-edge product has been incredible. I am getting to learn more about writing and technology, an intersection studied heavily by technical writers, firsthand through this experience. I've had the ability to meet so many great mentors and writers, many of whom are CMU alums themselves! I love the sense of community Salesforce offers for writers and CMU students. It has truly been an unmatched experience.
What have you learned from other students here at CMU?
Say yes. This is the time to chase your dreams, seek out opportunities, expand your passions, and say yes to exploring the unknown. I first came into Carnegie Mellon interested in Creative Writing, then pivoted to Professional Writing, and now I'm declared as a Technical Writing & Communications major. I love that Carnegie Mellon offers so many opportunities for me to get involved in research I never thought possible. I'm currently a Technical Writer for MoonRanger, the world's first autonomous lunar rover, which is led by Dr. Red Whittaker. From this experience, I've had the ability to draft documentation and chronicle blogs along with other technical writers. I am so grateful to be surrounded by such motivated and ambitious students at CMU, all with diverse interests. It's when we all say "yes" together that true innovation can arise!
Tell us something you're involved in here at CMU (clubs, tutoring, etc.).
I am the Swartz Center's first humanities Innovation Scholar since 2016. As part of the program, I give and receive hands-on mentoring, network with other entrepreneurs, participate in an Entrepreneurial Leadership seminar, and attend an annual Silicon Valley trek. Through this experience, I am learning so much about what it means to be an entrepreneur in the English industry. I am also learning what the future of the English industry can look like. This program has allowed me to combine my love for English with technology and business… it's been so exciting to explore!
What has been your favorite English course and why?
My favorite English course is News Writing (76-372). The professor, Steve Twedt, was amazing and insightful. As one of the first in-person classes I took after quarantine, I really appreciated the current events angle of the course. We engaged in long discussions about the media, but even delved further, asking "how does the media's language perpetuate a certain bias?" and "how does the style of the text lead you to a certain conclusion?" I also gravitated towards the course's written assignments. From writing movie reviews, to interviewing experts, describing a scene, and more, I truly loved the variety of the course. I wish I could take it again!
You can see more of Sarah on CMU's Instagram stories, via her weekly video series, Sincerely, Sarah.