Literary and Cultural Studies Alumna Publishes First Book, "Sex and War on the American Stage: Lysistrata in Performance 1930-2012"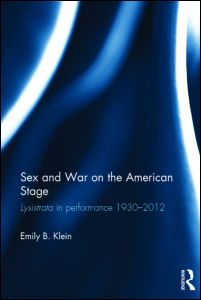 A new twist on Aristophanes, the Greek comedy writer and playwright, is the topic of Emily B. Klein's (DC'10) first book, "Sex and War on the American Stage: Lysistrata in Performance 1930-2012."
In it, Klein, who received her Ph.D. in Literary and Cultural Studies from Carnegie Mellon's Department of English, examines stagings and appropriations of Aristophanes' most popular comedy from the last 80 years, "Lysistrata."
Although Aristophanes' oeuvre has been the subject of much classical scholarship, "Lysistrata" has received little attention from feminist theatre scholars or performance theorists. In response, Klein's book maps current debates over "Lysistrata's" dubious feminist underpinnings and uses performance theory, cultural studies, and gender studies to investigate how new adaptations reveal the socio-political climates of their origins.
"The subject of the book grew out of a chapter from my Ph.D. dissertation," said Klein, currently an assistant professor of English and Modern Drama at Birmingham-Southern College and will become assistant professor of English and Drama at Saint Mary's College in California this fall.
The 2005 CMU School of Drama production of Lysistrata provided Klein with initial inspiration to write about it.
"Former CMU professors Michael Chemers and J.A. Ball wrote an original adaptation with its own raunchy puns and Letterman-style top tens lists that got me thinking about the play's complex and often ironic treatments of sex and gender," Klein said. "Professors Kristina Straub, Barbara Johnstone, and [former professor] Stephanie Batiste gave me some of the theoretical tools I needed to examine the relationship between language, gender, and performance in the show."
Published by Routledge, "Sex and War on the American Stage" takes readers back to a play notable for its outspoken female hero and anti-war message. Originally performed in classical Athens in 411 BC, "Lysistrata" is a comic romp of one woman's mission to end the Peloponnesian War. Lysistrata persuades the women of Greece to orchestrate a sex strike to force their husbands to end the war.
"I was lucky enough to stand in for Kathy Newman, Emily's dissertation adviser, at a time when I was learning the field of performance studies, and I can honestly say that I learned more from Emily than she from me," said Straub, professor of English. "We shared a foundation in feminist theory and a love for theater, so it was a fun and mutually supportive learning experience."
Starting with the play's first mainstream production in the U.S. in 1930, Klein explores the varied iterations of "Lysistrata" that have graced the American stage, page, and screen since the Great Depression. These include the Federal Theatre's 1936 Negro Repertory production; the 1955 movie musical "The Second Greatest Sex;" Spiderwoman Theater's openly political "Lysistrata Numbah!;" Douglas Carter Beane's Broadway musical, "Lysistrata Jones;" and the international Lysistrata Project protests, which updated the classic in the contemporary context of the Iraq War.
"Working with Professor Kathy Newman helped me frame my approach to the American theatre's rich activist and political history," Klein said.
"I was thrilled when Emily chose American adaptations of Lysistrata as the subject of her book," said Newman, associate professor of English. "In 2003 I was part of a global movement of activists who staged performances of Lysistrata to protest the impending Iraq war. I thought Emily was really smart to choose something that is a revered classic but that still has contemporary political impact."
Klein's work has also appeared in "Women and Performance," "Frontiers" and "Political and Protest Theater After 9/11: Patriotic Dissent (Routledge, 2012)."
For more information on "Sex and War on the American Stage," visit
http://www.routledgementalhealth.com/books/details/9780415812153/
.