An Education in Leadership
By:
Melissa Silmore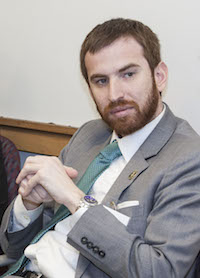 Daniel Gilman (DC'04) has always been committed to making a difference through politics. Now a City Council member for the 8th Council District of Pittsburgh, the former Carnegie Mellon University student body president credits his CMU experience with helping him get there.
"As student body president, I saw firsthand the ability to bring about change in a community," said Gilman. "I combined that with internships on Capital Hill and City Hall and loved the ability to positively impact people's lives."
As an undergraduate, he chose the Dietrich College and his major with a purpose.
"I wanted a well-rounded liberal arts education," Gilman explained. "The Ethics, History, and Public Policy major provided me with the flexibility to take courses from across the University and truly take advantage of the inter-disciplinary nature of Carnegie Mellon."
The Andrew Carnegie Society Scholar went on to spend 10 years as Chief of Staff to prior City Councilman (and current Mayor) Bill Peduto, before election to his current position.
Through that time, he was integral in improving his district, including work on more than $1 billion in economic growth and numerous legislative accomplishments such as authoring the city's campaign finance reform law and its green building incentive program.
Recently, Gilman was back on campus to serve as a panelist during the Dietrich College's annual 'Under Construction: Building Your Future' event, a daylong gathering in which alumni assist current students in navigating career-related choices.
It was one of many CMU activities that have had Gilman returning to his alma mater, including participation on the Alumni Association Board, the Sigma Phi Epsilon Alumni Board, and speaking to student groups throughout the year.
"Carnegie Mellon gave me invaluable experience and I want to be sure that I give back in any way that I can," he stressed.
And he's working to ensure current students gain those same instrumental experiences.
"Carnegie Mellon taught me the fundamentals of success – hard work, strong writing skills, and most importantly how to critically think and problem solve," Gilman noted.
"I was able to combine strong academics, a close relationship with faculty and staff, and time for a well-balanced extra-curricular life," he added. "Carnegie Mellon provided me with the perfect undergraduate experience to succeed in any field."