2018 Year in Review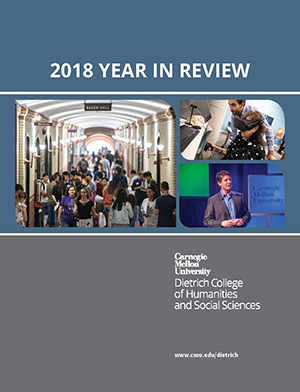 At Carnegie Mellon University, the Dietrich College of Humanities and Social Sciences is the home for research and education focused on humanity.
Our faculty and students take on problems that are important to the world. At the Dietrich College, faculty conduct foundational and deep disciplinary research, collaborate across disciplines, and share a passion for innovation in both research and teaching. Our students emerge from their experience at CMU able to communicate, think, learn and understand the world in ways that will serve them for the rest of their lives.
This "year in review" is a sample of stories about the students, faculty, staff and alumni in the college that appeared on CMU websites, in the local press or the national media in 2018. In this publication, you can learn more about our newly launched Pittsburgh Summer Internship Program, our faculty members' advocacy for the humanities in Washington, D.C., and research on autism risk-factors. The year was also full of milestones for our talented alumni, who now include a member of U.S. Congress and an Emmy Award winner.
I am continually impressed by the contributions and accomplishments of our community, and even more so as we begin to reflect on the Dietrich College's 50th anniversary, which we will celebrate in 2019. Whether you are a member of our faculty or staff, a current or former student, or someone curious about what is happening at the Dietrich College, I invite you to learn more in the pages that follow.
Richard Scheines
Dean, Dietrich College of Humanities and Social Sciences
Professor of Philosophy