Submit an Event
Dietrich College students, staff and faculty are encouraged to submit events for inclusion on the Dietrich College Events Calendar. All events are subject to approval.
Never submitted an event before and looking for a step-by-step guide? Curious about how to write descriptive text to make your event images accessible? Review our simple instructions.
How To Submit Events
Step 1: Enter Your Contact Information & Event Title
Click the Go to Event Submission Form button on this webpage to enter your event information.
Start by providing a contact name and email address. You'll also have the option to add a private note for the Dietrich College communications team. If your event will repeat, this is a good place to provide that information. Once you've added your contact information and any private notes, enter a title for your event.
Note: You'll see a checkbox asking if you want to add a button linking to the event website, as well as fields for entering keywords and tags. You do not need to provide this information, so feel free to skip those sections.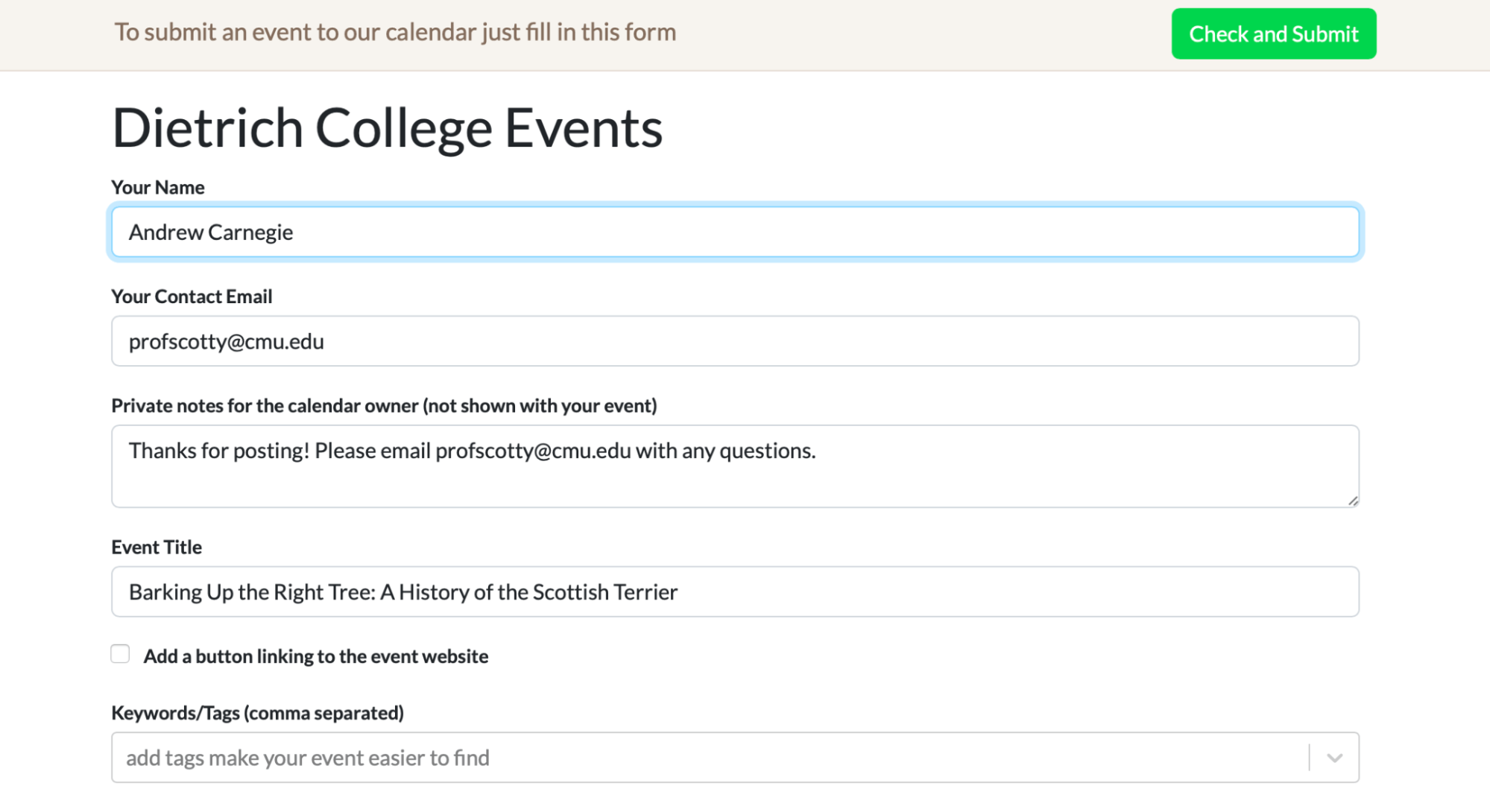 Step 2: Provide a Date, Time & Event Description
Next, you'll enter a date and time for your event. You'll also be asked to provide a description. Be sure to include: 
The name of the department or group hosting the event. 
Information about who is invited: will the event be department-level, college-wide or university-wide? Is it open to the public or for the university community only? 
Is there an admission fee? 
Is an RSVP required? If so, which email address should it be sent to and what is the deadline?

Step 3: Add an Image & Descriptive Text (aka Alt Text)
Now you can upload an image to accompany your event. Remember to enter a description of your picture into the Image Alt Text field. Alt text provides image descriptions to people who use screen readers and those whose devices don't display images. Alt text should be brief - the length of a tweet or shorter - and should give the user a sense of what is going on in the picture. 

Step 4: Enter Location Information
Once you've added your event description and image, you can enter location information. You have the option to enter information for virtual, in-person and hybrid events. If the event will be virtual or hybrid, be sure to provide a video platform link and any relevant registration or log-in information. If your event is in-person, be sure to provide an address in the Street Address field.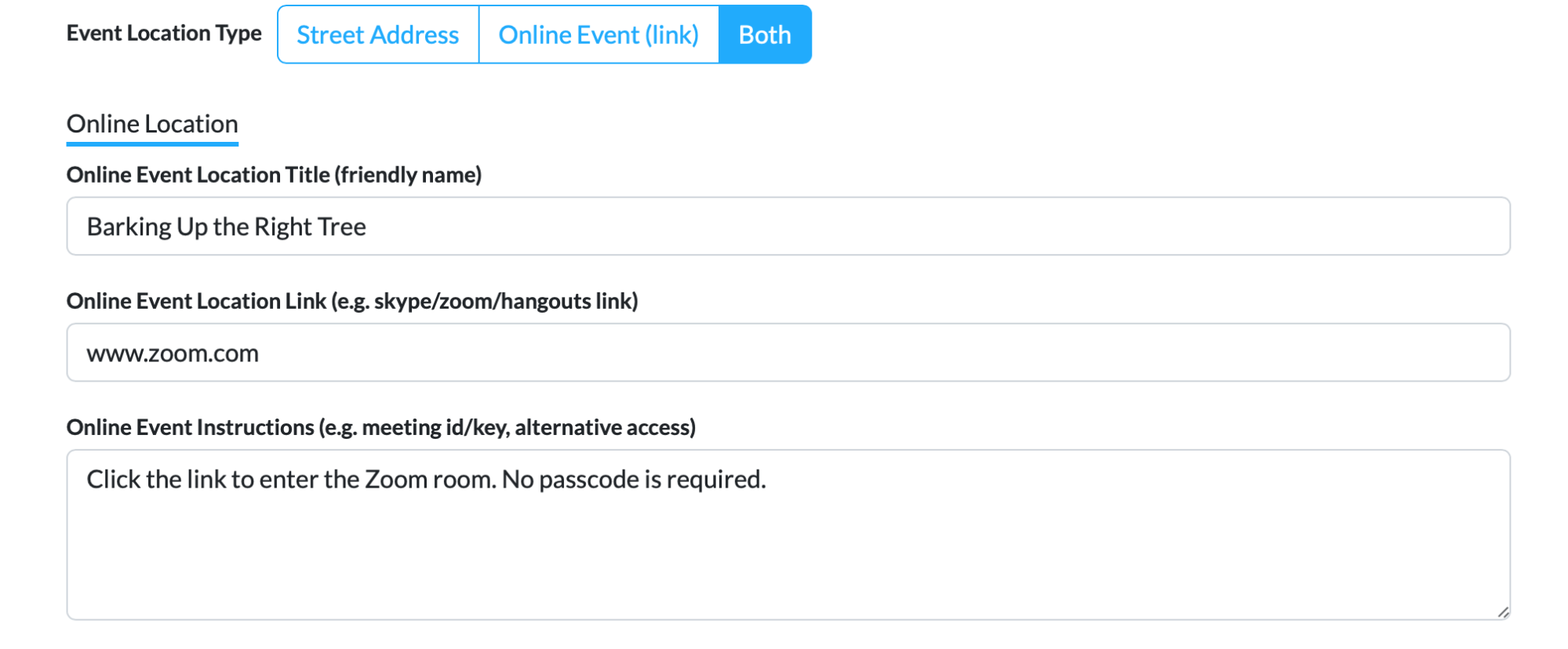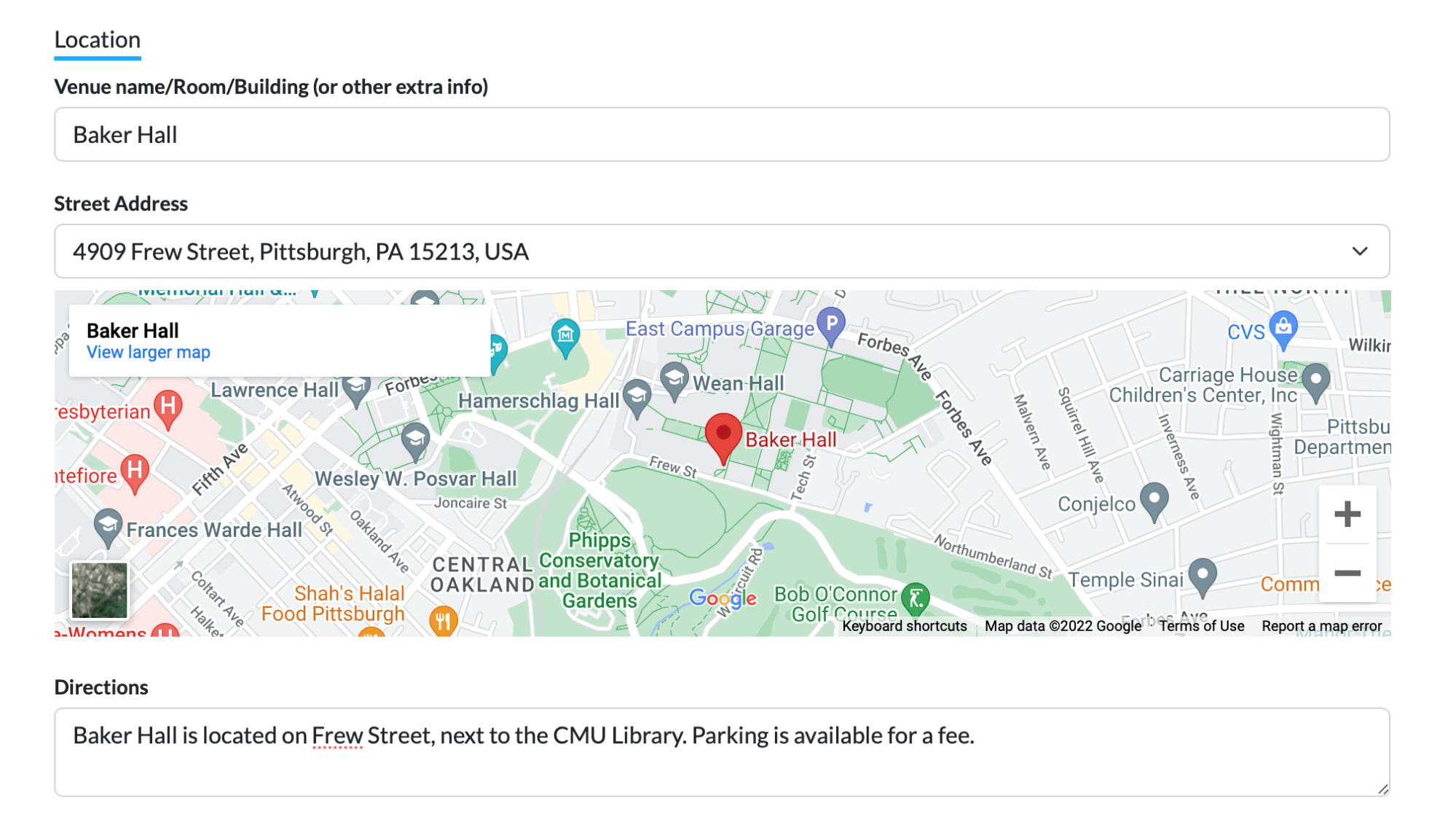 Step 5: Check Your Content & Submit
Once you've entered all of your information, click the Check and Submit button on the upper right corner of the screen.

You'll be taken to a preview of your event. Double check all of your information to ensure it is correct. If you need to make chances, click the Back to Editor button in the upper right corner. If the event looks good, click Submit Event.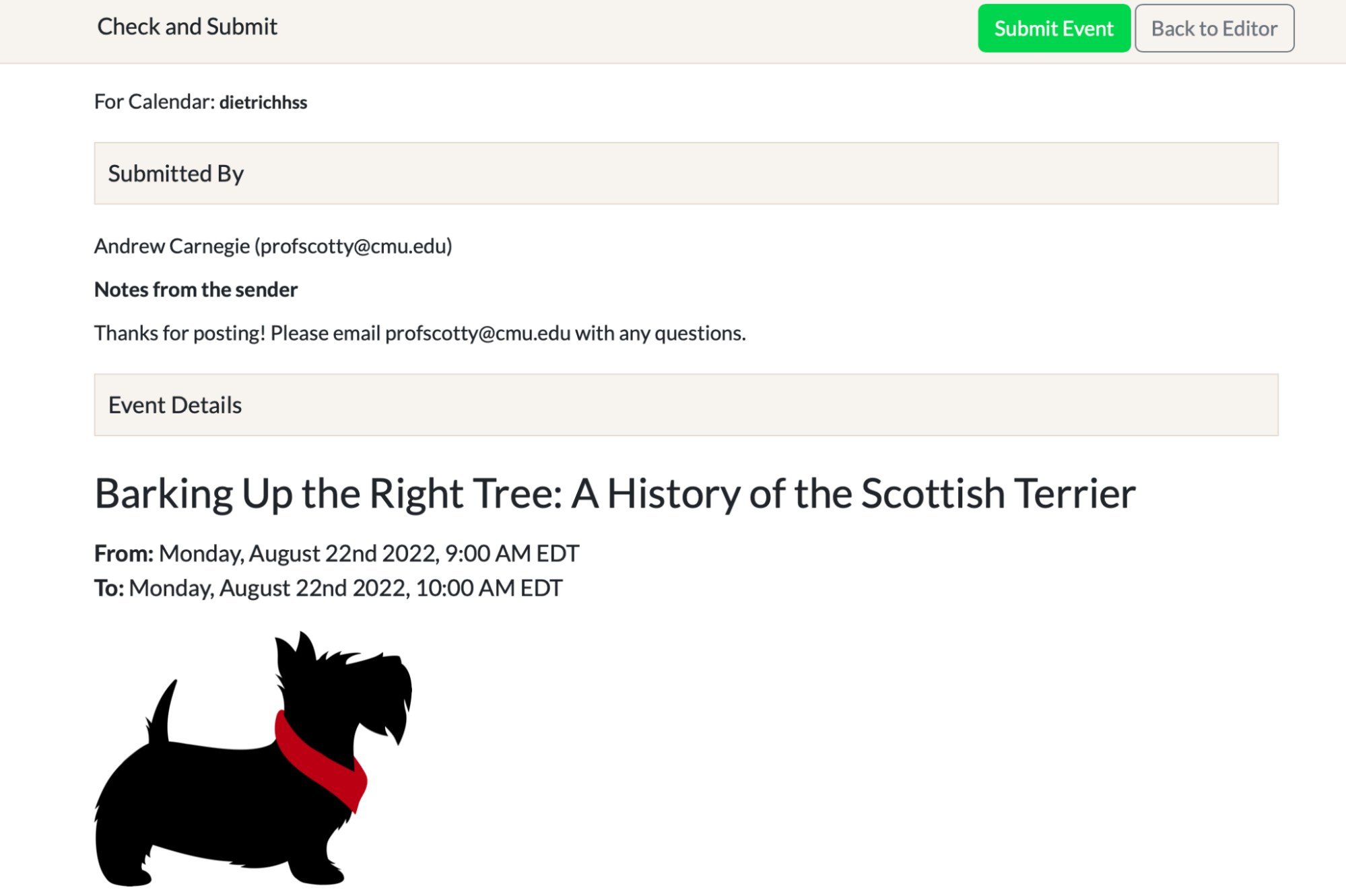 Step 6: Await Confirmation
Once your event has been submitted, you'll receive a pop-up confirmation. To submit additional events, click either Submit a similar Event  or Submit a new Event. If you are done with the process, click Finished.
You'll receive an email confirming your submission at the contact address you entered on the event form. You will receive another email when your event has been either approved or rejected. Please note that all events are subject to approval.