The Adamson Awards
An annual highlight of the Department of English is the Adamson Student Writing Awards.
---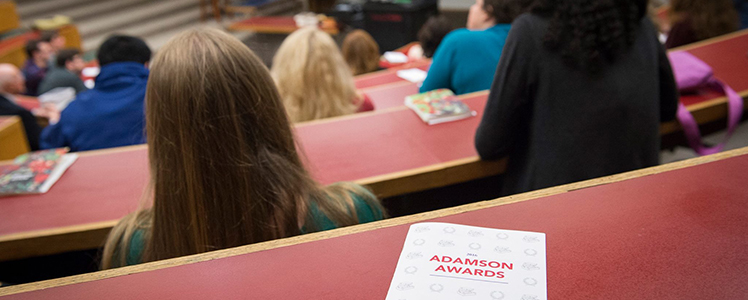 Run by the Creative Writing program, the Adamson Awards are presented for student excellence in fiction, poetry, screenwriting, and non-fiction, and are open to undergraduate students throughout the Carnegie Mellon University community. Student pieces are judged by professional writers, and to add to the sense of celebration, a prominent writer is invited to be the special guest speaker at the annual Awards.
In 1983, Clarence H. Adamson, a graduate of Carnegie Tech, gave Carnegie Mellon University and the Department of English several gifts in memory of his wife, Pauline, who had died three years earlier. One of these gifts was the Adamson Scholarship for undergraduate women majoring in English. Another was the Adamson Awards for Writing and a fund for the support of an annual series of lectures by distinguished authors. And another was the Pauline B. Adamson Wing in Baker Hall, where the Adamson Awards ceremony is held every spring. The gifts were intended by Mr. Adamson as testimonials to the 35 years of companionship he shared with his wife and to her interest in education, language, and literature. The Adamson Awards are intended to encourage students to pursue excellence in writing. The awards are open to undergraduate students only.
2022 Adamson Awards Submission Deadline
Submissions are now closed. Thank you for a wonderful year!


What Can You Submit and What Are the Guidelines?
There are four categories for which you can submit your work.

1. Nonfiction - Essays and articles for popular/literary journals

2. Fiction

3. Poetry

4. Screenplays
IMPORTANT: Please include the name of the category you are submitting to before the title of your piece.

Example: Nonfiction: "What It Means to Write"
Example: Fiction: "Midnight Train"
Example: Poetry: "Acid Rain and Other Poems"
Example: Screenplay: "Other Numbers"
How to Submit Your Work

You will be able to submit your work here via an online portal during the next submission period (mid-March 2023).
Other Important Details
Eligibility
The Awards are open to all currently enrolled undergraduate students at Carnegie Mellon University, regardless of major or minor.
Restrictions
To be considered for any category your work must be submitted by the posted deadline. All submissions must be typed and all work must be original. All previous winning submissions for any of the awards offered by the English Department are ineligible. Only one manuscript from each entrant can be accepted in each category. Entries cannot be returned.
Judging
Outside judges appointed by the Awards Committee of the English Department evaluate entries and choose the winners.
Prizes
At the discretion of the judges, monetary awards plus one honorable mention are given in each category to undergraduate students; $300 is given for first prize, $100 for second prize and $50 for third prize.
Presentation of Prizes
The Adamson Awards presentation ceremony typically takes place on the last day of classes each Spring semester. Details will be posted here in mid-March 2023.

*Winners are not notified ahead of time, so you should plan to attend the event.
---
2022 Adamson Award Winners
Poetry
First Prize Adamson Award: "Poetry" by Gaia Rajan
Second Prize Adamson Award: "Giving Myself Grace" by Ashni Mathuria
Third Prize Adamson Award: "Songs for Sappho" by Olya Sukonrat
Academy of American Poets Prize: "Before the Fifth Stage" by Cynthia Xu
CMU Press Prize: "Unripened" by Joan Song
Honorable Mention: "Having Overheard the Secrets of the World" by Divya Krishnan
Nonfiction
First Prize Adamson Award: Eating Disorder Recovery Workbook by Ashni Mathuria

Second Prize Adamson Award: The Cars Had Eyes by Roni Sosis
Third Prize Adamson Award: Eggs by Shenai Chen
Honorable Mentions: My Grandmother by Elizabeth Choi and Papa Dios by Matilda McDougall
Fiction
First Prize Adamson Award: Inheritances by Divya Krishnan

Second Prize Adamson Award: The Commuter by Emily Finger

Third Prize Adamson Award: Adrift by Riley Knavish
Honorable Mentions: Little King by Mikey Cao, Dear Comrade by Olya Kukonrat, and Be Here Now by Daniel Yeh
Screenwriting
First Prize Adamson Award: Got Milk by Morgan Boyd

Second Prize Adamson Award: Roots by Sophia Hill

Third Prize Adamson Award: 2020's by Emily Finger

Honorable Mention: Midsummer Night's Dream by Sarah Chung
The Edythe and Leon Nagin Award for Best Senior Honors Thesis
The Alchemist and the Apprentice by Matilda McDougall

Adamson Award Ceremony Speakers
| | |
| --- | --- |
| 2022 | CMU Creative Writing Students |
| 2021 | Alan Siegel |
| 2019 | Daniel Borzutzky |
| 2018 | Sarah Shun-Lien Bynum |
| 2017 | Peter Balakian |
| 2016 | Ron Carlson |
| 2015 | Tracy K. Smith |
| 2014 | Andre Dubus III |
| 2013 | Victoria Redel |
| 2012 | K. C. Constantine |
| 2011 | Wang Ping |
| 2010 | Thomas Lynch |
| 2009 | Denis Johnson |
| 2008 | Russell Banks |
| 2007 | Elizabeth Alexander |
| 2006 | Stewart O'Nan |
| 2005 | Alice Foulton |
| 2004 | Dennis Lehane |
| 2003 | Cornelius Eady |
| 2002 | James Crumley |
| 2001 | Jim Harrison |
| 2000 | Michael Cunningham |
| 1999 | Colleen J. McElroy |
| 1998 | Howard Horman |
| 1997 | Charles Simic |
| 1996 | Tobias Wolff |
| 1995 | Robert Creeley |
| 1994 | Jamaica Kincaid |
| 1993 | James Tate |
| 1992 | Nicholas Pileggi |
| 1991 | Carolyn Kizer |
| 1990 | Michael Ondaatje |
| 1989 | Philip Levine & Gerald Stern |
| 1988 | Hilma Wolitzer |
| 1987 | Stanley Kunitz |
| 1986 | Alison Lurie |
| 1985 | Carolyn Forche |
| 1984 | Raymond Carver |
| 1983 | John Leonard |
| 1982 | Donald Hall |