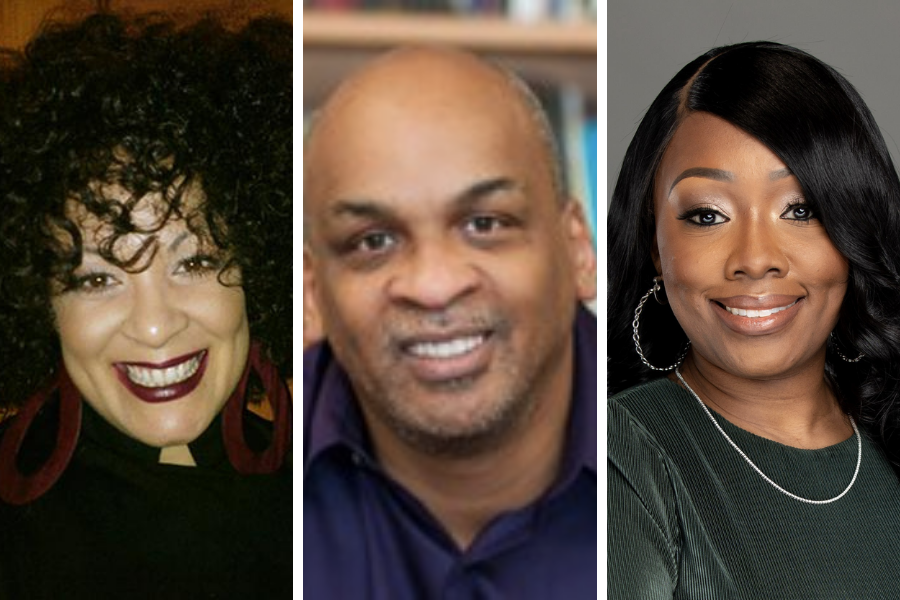 March 23, 2022
English Department Hosts Virtual Panel on Race and Pedagogy
By Ellie Michalik emichali(through)andrew.cmu.edu
On March 3rd, 2022, the Department of English's Diversity, Equity, and Inclusion Committee hosted a virtual panel on Race and Pedagogy. Panelists Carmen Kynard, Keith Gilyard, and April Baker-Bell shared their experiences with, and research on, systemic racism rooted in education. The speakers encouraged attendees to think critically about how educators can approach writing pedagogy and communication with students, specifically through the lens of Black linguistic justice. Their recommendations also speak to the general population, offering ways to self-reflect and advocate for anti-racist language.
Professor Joanna Wolfe moderated the panel, along with the Pre-Panel Virtual Reading Group on February 17th, and the Post-Panel Discussion on March 18th. 
Kynard is a professor of rhetoric and composition at Texas Christian University and the author of Vernacular Insurrections: Race, Black Protest, and the New Century in Composition-Literacies Studies. Gilyard is the Edwin Erle Sparks Professor of English and African American Studies at Penn State and has authored more than twenty books. Baker-Bell is an associate professor of language, literacy, and English education at Michigan State University and the author of Linguistic Justice: Black Language, Literacy, Identity, and Pedagogy.
Kynard's presentation, entitled "Heirloom: The Black Feminist Memory of Radical Reparative Justice & Our Pedagogical Futures," introduced the argument that the racial and colonial situation hasn't changed in pedagogy, or in society. She provided questions for educators and students to encourage awareness and kickstart efforts to change. Kynard stated:  "you won't upend racial harm if you don't recognize it, you won't offer an alternative to a situation you can't see. …We must imagine radical reparative justice."
Gilyard's presentation, "Race, Critical Ethnicity, & Pedagogy," highlighted pedagogical theories relating to race. He drew attention to White nationalism as "...a serious ideological threat to American democracy [that] can only be thwarted through the political process and the rhetorical process of the American people." He acknowledged that students can have a partial impact on our future as they consider the semantic borders of white nationalism in their rhetorical action.
Baker-Bell concluded the panel with her presentation, "Linguistic Justice from Theory & Anti-Racist Practice," focusing specifically on Black language and Black linguistic justice. 
"I am arguing for anti-racist pedagogies and Black linguistic justice. Like the mission of Black Lives Matter, I see Black linguistic justice as a call to action. A call to…imagine and create a world free of anti-Blackness. A call to create an education system where black students, their language, their literacy, their culture, their creativity, their joy, their imagination, their brilliance, their freedom, their existence, and their resistance matters."
Baker-Bell provided historical context behind the origins of Black language and identity, and the code-switching that is traditionally expected of Black students, before closing with prompts to rethink language and writing pedagogy to accommodate all learners.