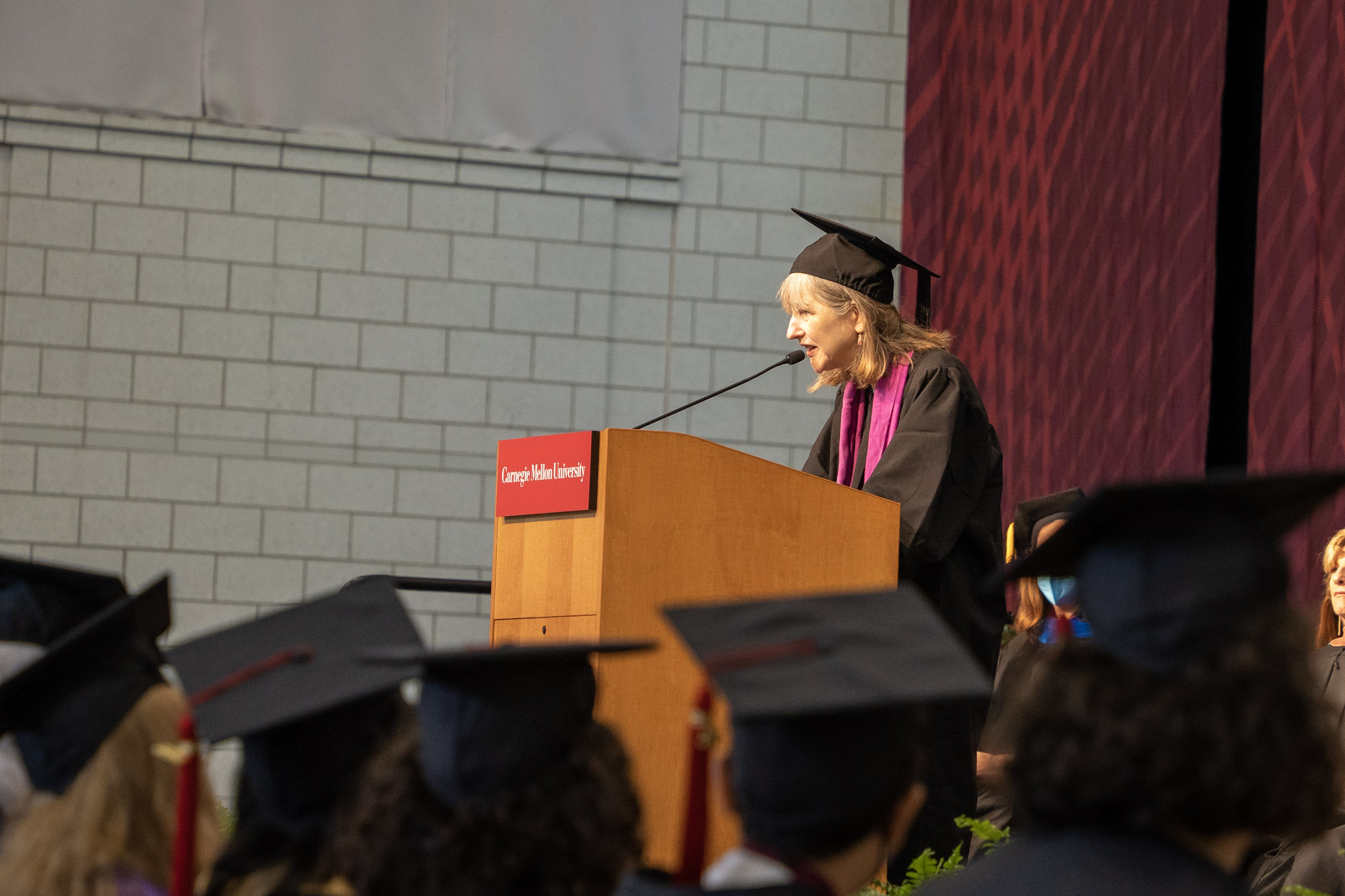 June 02, 2022
English Department Celebrates Classes of 2020, 2021, and 2022
By Ellie Michalik emichali(through)andrew.cmu.edu
On the morning of Friday, May 13th, 2022, the Department of English hosted its first in-person diploma ceremony since 2019. The ceremony celebrated 143 undergraduates, graduates, and PhDs who completed their programs between the onset of Covid19 in early 2020 and the summer of 2022. These students, along with their families, faculty, and staff, came together on campus to celebrate their accomplishments with the English Department.
Department Head and Professor Andreea Ritivoi welcomed the graduates, their families, and friends. She congratulated the Classes of 2020, 2021, and 2022 on their hard work and determination in their wide range of programs, and welcomed them as the newest CMU English alumni.
"We eagerly await what your journey will hold and hope to remain partners with you in your careers going forward. Your success is our success. Our faculty and staff are proud of you and will miss you," said Ritivoi. She continued: "it takes hard work to earn a degree in English at Carnegie Mellon, and [our students] could not have done it without support - emotional and practical - from all of you, friends and families."
Three featured graduate student speakers kicked off the presentation of student diplomas: Anne Soucy, who graduated with an M.A. in Literary & Cultural Studies; Emilee Tkacik, who graduated with an M.A. in Professional Writing; and Keilan Lewis, who graduated with an M.A. in Rhetoric. Natalie Hon, a Professional Writing and Literature & Culture double major, was the featured undergraduate speaker.
Laura Donaldson, Assistant Director of Undergraduate Programs, provided moving remarks to her students. Jane McCafferty, Professor of English & Director of Creative Writing, then recited her poem entitled "You're Here" before Ritivoi concluded the ceremony. Faculty, staff, friends, and family then gathered with the students for a reception.
To accommodate those who were unable to attend the event in person, the ceremony was also live-streamed courtesy of Three Rivers Entertainment. Photographer Pablo Anton took photos of our graduates and their families to celebrate the occasion. His photos are available for free download on his website. Videographer Enzo Sica created a video collage of the diploma ceremony.

Congratulations, Graduates!
PH.D. IN LITERARY & CULTURAL STUDIES

Steven Gotzler
Robert Kilpatrick
David Nathan Pensky
Avery Wiscomb

PH.D. IN RHETORIC

Emily DeJeu
Maria Poznahovska Feuer
Alexander Helberg
Calvin Pollak

M.A. IN GLOBAL COMMUNICATION & APPLIED TRANSLATION
Adam Hrycho
Emma Jones
Katherine Zhang
M.A. IN LITERARY & CULTURAL STUDIES
Gillian Bullock
Emily Casey
Amy George
Kiera Gilbert
Megan Hamilton
Elise Hoffman
Darrell Hughson
Sana Fatima Hussain
Rebecca Kahn
Sarah Kaplan
Lindsay Laverty
Ziyuan Lin
Jillian Malcolm
Chap Morack
Emma Derenda Pabst
Anne Soucy
Carina Stopenski
Monica Taft
Skyllarr Trusty
Grace Walton
Yang Zhao
M.A. IN PROFESSIONAL WRITING
Elizabeth Donaldson
Kirsten Heuring
Alexandra Kirsch
Trevor Lazar
Madeline Liu
Sydney Mayer
Kelley Northam
Emily Payne
Supti Roy
Emily Schneider
Emilee Tkacik
Sarah Voorhees
M.A. IN RHETORIC

Olivia Maria Ascarelli Broderick
Kenneth Butterfield
William Fowler
Alexandra Grimm
Keilan Lewis
Martina Manicastri
Sarah Mansfield
Makenzie Petersen
Jessica Remcheck
Eric Ricci
Jessica Sgambati

CREATIVE WRITING
Primary Major
Leslie Jordan Berger
Erika Isis Brooks
Teresa Dietrich-O'Donnell
Matilda McDougall
Martina Lee Rethman
Katherine Sabel
Noni Faith Shelton
Additional Major
Elsie Goren
Riley Knavish
Victoria Fong-Wei Kuo
Augustus Saalfeld
Matthew Wang
Minor
Vidyashree Jayanthi
Andy Kim
Ana Lulushi
Akwelle Quaye
Kevin Quigley
Anthony Ramirez
Ethan Anthony Alexander Rhabb
Roni Sosis
Joshua Turney
Gabriel Whitney


FILM & VISUAL MEDIA

Primary Major
Elizabeth Rodriguez

BHA Concentration
Olivia Cunnally

Minor
Leila Berger
Jackson Eick
Riley Knavish
Robert Lewis
Matilda McDougall
Khushi Nandgaonkar
Elle Norman
Katherine Sabel
GENDER STUDIES 

Minor
Lily Kincannon
Sanna Legan
Megan Naji
Bethany Nicole Sanov
Calvin Issac Wamser
HUMANITIES ANALYTICS
BHA Concentration
Shambhavi Mishra

Minor
Uma Kommineni
Alexandra Wojciak

LITERATURE & CULTURE

Primary Major
Baris Denizli

Additional Major
Natalie Hon

Minor
Nick Grosso
Xinyi Hu
Robert Lewis
Elle Norman
Sabrina Zanello Jackson
Kathryn Zapanta
PROFESSIONAL WRITING

Primary Major
Iris Chang
Natalie Hon

BHA Concentration
Emily Stark

Additional Major
Estella Aditirto
Alayna Tillman

Minor
Eunice Chen
Jamie Dorst
Carolyn Song

TECHNICAL WRITING & COMMUNICATION

Primary Major
Dawn Butler
Ean J. Grady
James Hagerty
Christy Joo
Matthew Wang
Minor
Caleb Anthony Felton
Weichu Yu