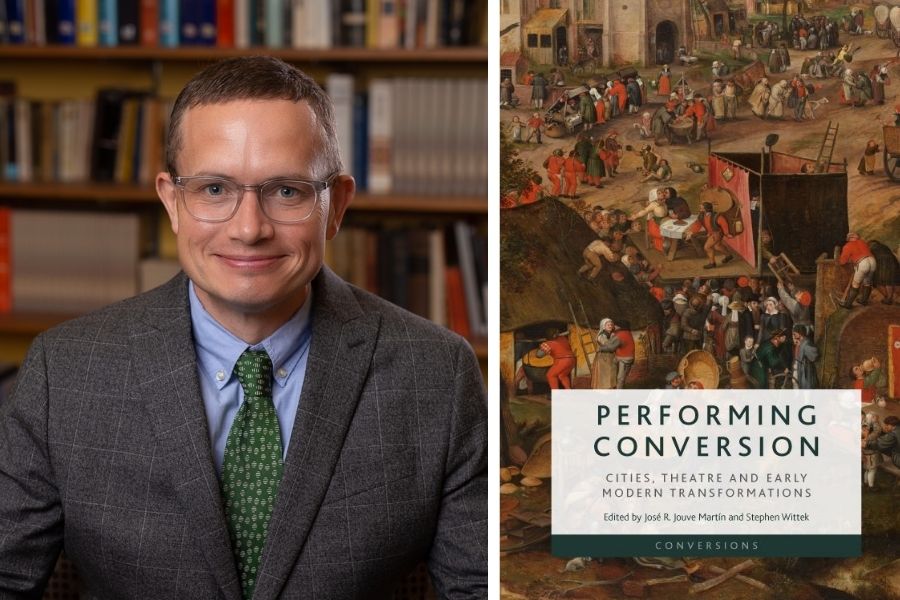 March 30, 2021
Stephen Wittek Edits New Book on Early Modern Theatre
Assistant Professor of English Stephen Wittek edited a new book, Performing Conversion: Cities, Theatre and Early Modern Transformations, which will be released in March 2021. Wittek edited the book with José R. Jouve Martin, a professor of Hispanic studies at McGill.
Performing Conversion explores how theatrical practices shaped the various forms of conversion that emerged in early modern Europe. Early modern Europeans converted their religious, social, political, epistemological, and sexual identities. In Performing Conversion, scholars investigate early modern theatre as a site where people could reimagine their religious, social, and political identities.
Each chapter of the book focuses on a specific city or group of cities in Europe or Latin America and investigates how theatrical practices influenced the citizens' experience of conversion. The contributing writers explore a wide range of subjects, including literature, philosophy, economics, colonialism, and cross-cultural exchange.
These scholars discuss both established canonical authors and lesser-known writers and provide new readings of classic plays by Middleton, Lope de Vega, and others.
Performing Conversion
, published by Edinburgh University Press, will be available for purchase on March 31, 2021.