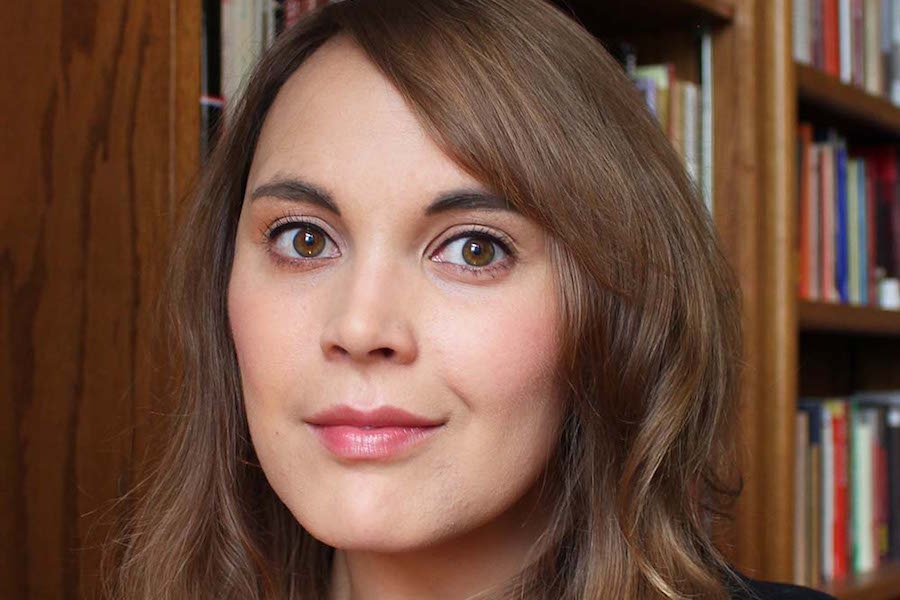 January 24, 2020
A Conversation with Literary & Cultural Studies Alumna Sheila Liming
By Angela Januzzi ajanuzzi(through)andrew.cmu.edu
Sheila Liming (M.A. 2007; Ph.D. 2014) received both her M.A. degree and Ph.D. in Literary & Cultural Studies from Carnegie Mellon University's Department of English. Originally from Seattle, Washington, Liming is currently Assistant Professor of English, University of North Dakota.

What are you working on right now? What's a project you are particularly excited about and why? 
I just finished up work on two books projects: the first is an academic monograph that examines the American writer Edith Wharton and turn-of-the-century legacies of hoarding (particularly the hoarding of books, otherwise known as bibliomania), which is forthcoming from the University of Minnesota Press; the second is a work of popular nonfiction that surveys the history of office spaces in history, architecture, culture, and society, which is forthcoming from Bloomsbury. Moving forward, I'm in the beginning stages of a new project that looks at the history of the New York Review of Books and, in particular, about canonizing forces at work in its NYRB Classics Editions series, which recovers "lost" literary classics and puts them back into print.  
How did the M.A. Literary & Cultural Studies program help you prepare for your Ph.D. and also the work you are currently doing? 
I knew I wanted to get a Ph.D. in English when I entered the M.A. program at Carnegie Mellon, I just didn't know where, initially. My time in the M.A. program was fast-paced and intensive, but it provided a depth of exposure to scholarly work that solidified those original inklings. In particular, I was attracted to the way that the program took theory and criticism seriously, placing it at the center of the curriculum. While that design encouraged methodological specificity, on the one hand, it also allowed for a lot of flexibility with regards to specific areas of study. This resulted in my being able to take a wide range of courses that were methodologically unified yet very broad in terms of subject matter, time period, etc. I put a lot of work into developing my critical vocabulary and learning to speak the language of literary scholarship, which paid off when I applied to Ph.D. programs. Eventually, though, I decided to stay at Carnegie Mellon for my Ph.D., bolstered by the relationships I had developed with faculty members, students, and staff.
When you first came to study LCS program (starting with the M.A. program), what did you hope to get out of it? Did those goals change over your time here? 
I wanted a rigorous introduction to advanced scholarly work in the fields of literary and cultural studies that I could put towards my ultimate goal of placement in a Ph.D. program, and I definitely got that. What I had not counted on was gaining a lot of exposure to historical research as well, but that ended up serving me, in the end. A lot of the courses I took as an M.A. were historically focused, which caused me to rethink some of my own scholarly priorities and become interested in earlier periods. Now, in my own research and writing, I work as much from history as I do from literary texts, owing to the disciplinary flexibility that I developed while studying at Carnegie Mellon.
Is there anything you think current or prospective students should know about the LCS M.A. and Ph.D. programs that's not immediately apparent? 
It's already apparent to 98% of the people who live there, but Pittsburgh is the greatest city on earth.
And finally: What's your favorite memory of life at CMU? 
During the winter of my year as an M.A. student in the program, a movie was shot on location in Baker Hall (including the English Department). It was called Smart People and starred Dennis Quaid and Sarah Jessica Parker: it premiered a few years later to very little acclaim. What I remember about the filming, though, was the experience of seeing Dennis Quaid strolling through Baker Hall with a leather satchel and a stack of books, dressed in corduroy and tweed—in effect, playing the Hollywood version of the real-life people I was learning from and studying under. The movie prompted a lot of introspection amongst students in the department, especially, along the lines of "Is that what we look like?" or "Is that what people think we do, as lit scholars?" But it also provided a fascinating case study as we saw Hollywood film actors attempting to portray a version of the lives that we, ourselves, were actually living.