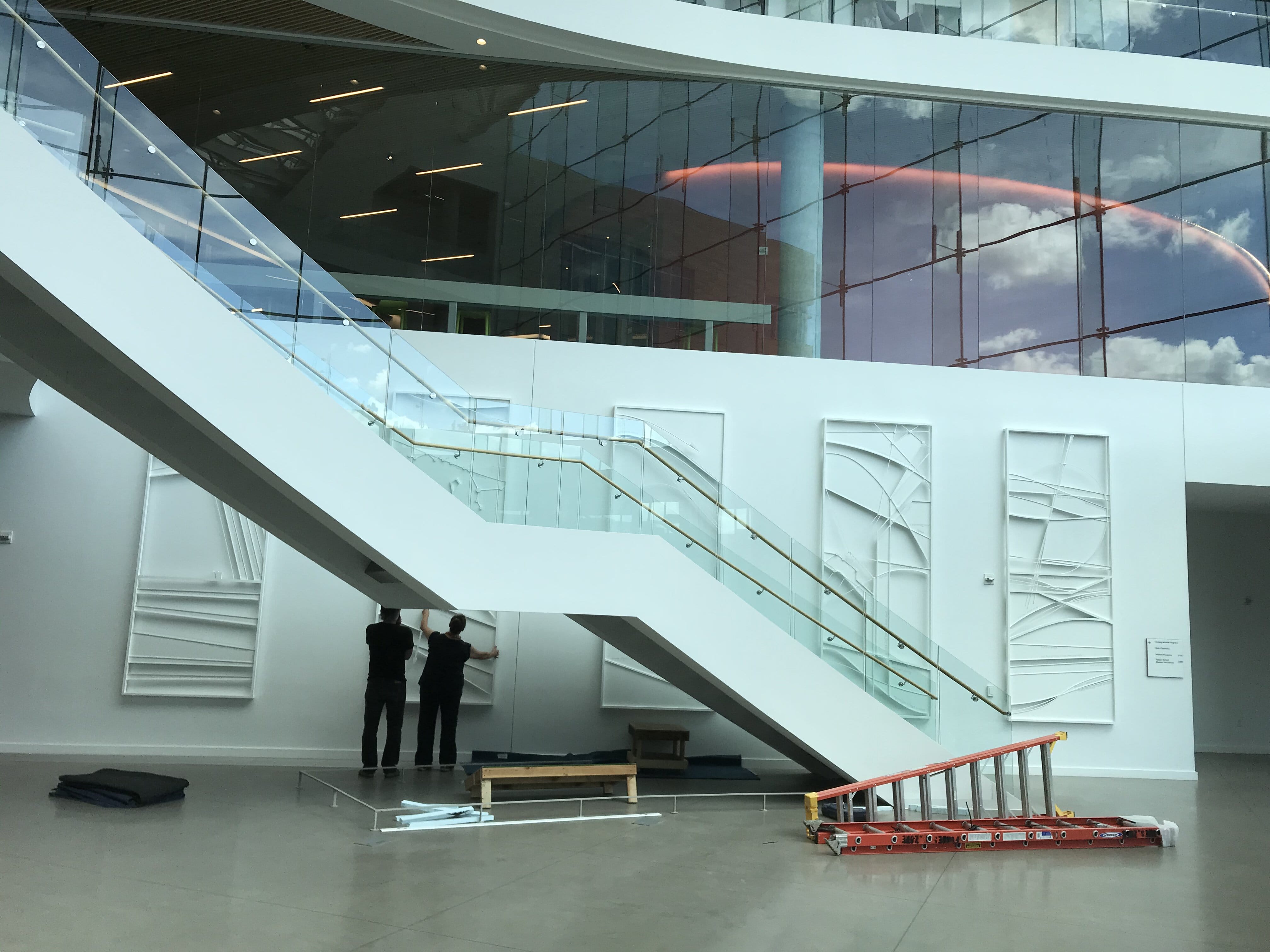 June 30, 2020
"Reliefs II" Installed in Tepper Building Quad
By Shun-Sho Carmack shunsho(through)cmu.edu
A collaborative mural entitled "Reliefs II" has been permanently installed in the Tepper Building Quad this summer. This artwork serves as an extension from and interpretation of the Robert Lepper piece in GSIA. Located on the North Atrium Wall, this piece is a joint creation by Jim Daniels and Mark Baskinger and fabricated by Dee Briggs. Jim is the Thomas Stockham Baker University Professor of English and Mark serves as an Associate Professor in the School of Design. Dee is a local and nationally recognized artist who has also taught in the School of Art and the School of Architecture and Design.
The work spans a 16' x 50' space and provides a visual representation of the connections between modern business concerns and their impacts on the local, national, and global communities. The piece is comprised of five thematic panels on ethics, synergy, empathy, discovery, and perseverance. Jim contributed five poems to the project, working with his partners to identify themes, arrange elements on the panels, and consider the technical aspects of the finished work.
"Figuring out how to make the poetry readable and at what distance was a challenge," shared Jim in an e-mail interview. "But, if you go anywhere near the staircase, you will notice text sprinkled throughout the panels."
Jim and Mark began working on this project in 2017 with Dee joining to provide additional artistic vision and fabricate the five panels.  Created from aluminum, each panel covers a 144"x 54.5" rectangle. The powder-coated white metal forms blend visual art with poems, utilizing 3D linear design and imprinted words to create the whole. The work also incorporates the existing natural lighting, using the shifting light and shadows to provide viewers with varying shades of nuance throughout the day. 
"In all of my artistic collaborations, I've been interested in creating a "third thing"—the art is one thing, the poetry is another, and the combination offers the third thing—text doesn't explain the art, art doesn't explain text. They play off of each other," said Jim.
While there are no current plans for additional panels, the opportunity for adding to and rearranging the existing panels was purposefully maintained to encourage as much flexibility and dynamism as possible. The mural has been installed and will be ready to view upon the reopening of the Carnegie Mellon University campus. Due to the uncertainty of social gatherings during the current pandemic, no official unveiling has been announced.