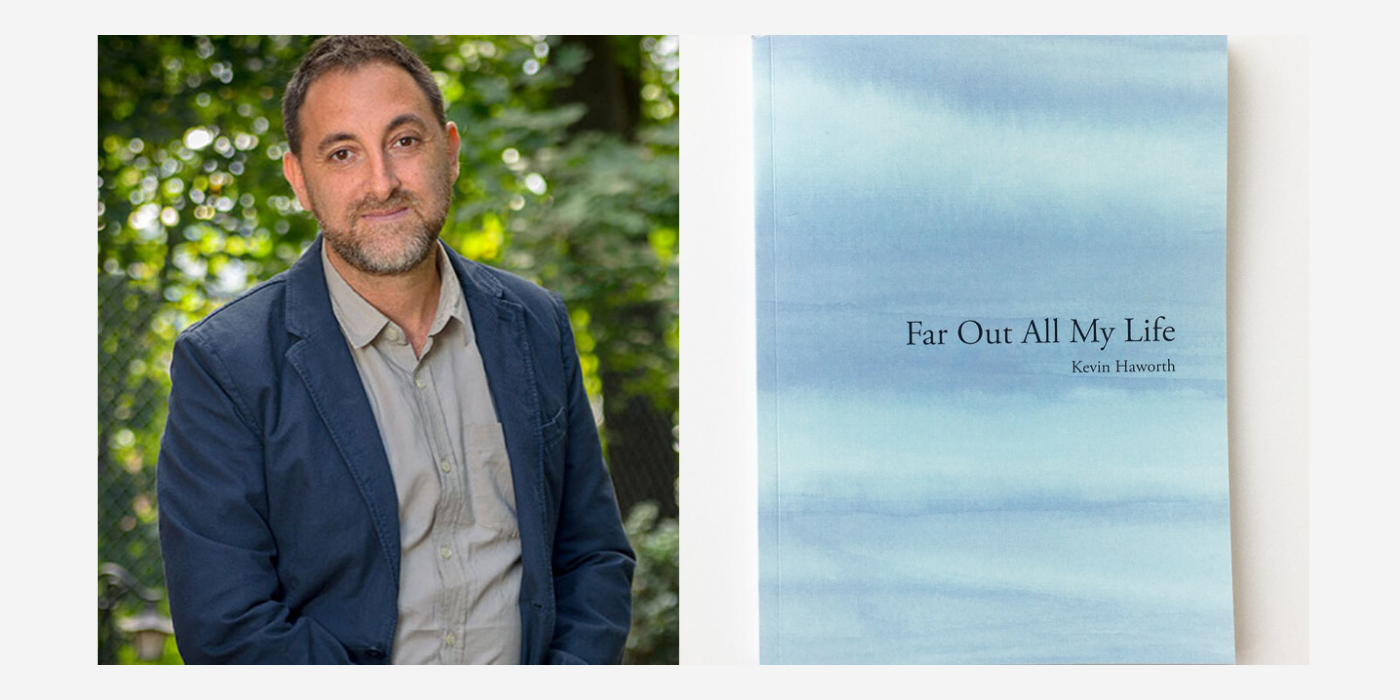 January 31, 2020
Kevin Haworth, Visiting Assistant Teaching Professor, Celebrates Local Pittsburgh Students and New Edition of "Far Out All My Life"
By Angela Januzzi ajanuzzi(through)andrew.cmu.edu
Books are not often given second life just a few years after original publication. It's even rarer for second book launches, of any genre, to positively inspire local student writers. Kevin Haworth, visiting assistant teaching professor in the Department of English, has recently been able to do both.
Haworth's memoir of experimental creative nonfiction "Far Out All My Life" was originally published in 2012 by the local Pittsburgh BatCat Press. The collection features work such as winners of the Columbia Nonfiction Prize, and two Ohio Arts Council grants, as well as several pieces which led to Haworth's NEA Fellowship. 
Founded by CMU alumna Deanna [Mulye] Baringer, BatCat Press is truly unique: Located in Lincoln Park Performing Arts Charter School, it is the only fully-functioning independent press located within a high school, and doubles as a high-quality literary press and publishing lab for students. The press publishes just a few original books a year, individually handmade.
In the years between the first edition of "Far Out All My Life" and his work now at CMU, Haworth began visiting local high schools, discussing writing craft and revision with students. Haworth continued his work in local Pittsburgh classrooms, including Pittsburgh public magnet school Science and Technology Academy, through partnership with Heidi Simpson, a literary arts teacher and one of his own former students. He has since also found himself invited deeper into community youth writing work, such as judging the 2019-2020 Waldman International Arts and Writing Competition for the Holocaust Center of Pittsburgh.
Haworth explained since BatCat's books are individually crafted and beautiful art objects, they sell out quickly. Within the last year, Baringer and Haworth agreed to reprint "Far Out All My Life" in paperback. A "re-launch" party was held in late November 2019 at Pittsburgh's White Whale Books, including five high school students reading their creative work alongside Haworth. 
"We wanted it to be a celebration of the press and the project," said Haworth. "The point of the event was to maximize the opportunity for the students."  
It has been a full last two years for Haworth: In addition to the relaunch of the collection, continuing visits and work with local high schools, and his own CMU teaching work and research, other publications include a book-length study of Israeli artist "The Comics of Rutu Modan: War, Love, and Secrets" (University of Mississippi Press), and an essay on the opioid crisis for the Rockefeller Institute of Government.
The students' own feedback can perhaps best voice why Haworth feels motivated to continue his work throughout Pittsburgh schools. "Mr. Haworth said that if you can't focus on something, then you're scared to write it," wrote one student. "If you push through it, you'll be able to endure harder challenges. The parts where you get afraid are the most significant ones."
-----
Related story:
https://www.cmu.edu/dietrich/english/news-and-events/2019/kevin-haworth-rutu-modan.html