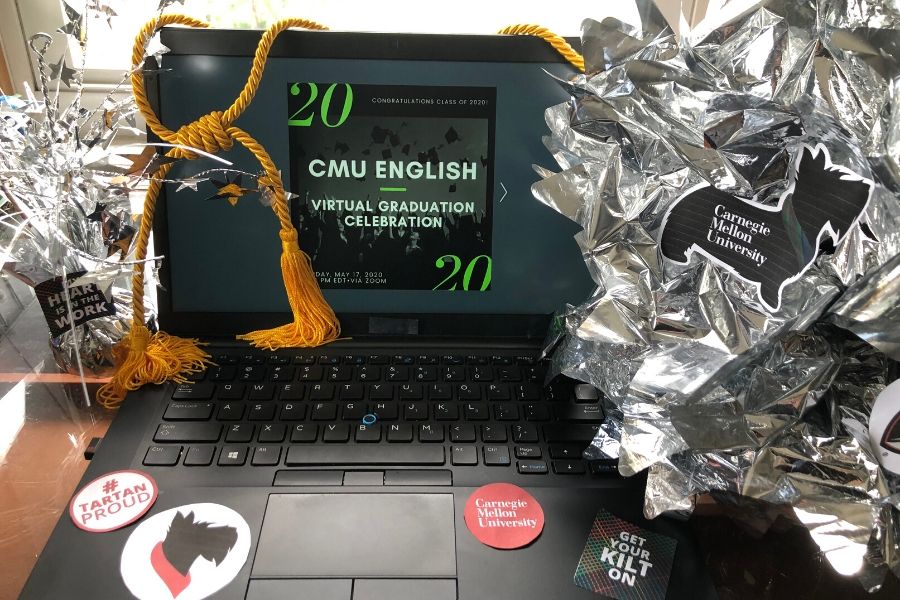 May 20, 2020
Celebration Honors English Department Graduates of 2020
By Shun-Sho Carmack shunsho(through)cmu.edu
On Sunday, May 17, the Department of English hosted a departmental graduation celebration for the Class of 2020. Staff and faculty welcomed students and their families and friends to the virtual occasion with the sound of bagpipes, the long-revered university tradition. Almost 100 devices connected to the session with more than that number of people participating on shared devices.
Donning a graduation cap for the festivities, Department of English head and professor Andreea Ritivoi congratulated students on their accomplishments and their tenacity through the semester's changes. She also welcomed graduates as the newest individuals to the network of CMU English alumni, emphasizing the bonds between them and their now alma mater.
"In many ways, you're not leaving us behind. We believe so strongly in you, not just now, but in who you will become. This is definitely not goodbye. You will always be our students; you are now our alumni," said Ritivoi.
Marika Yang, a major in Professional Writing with additional majors in Creative Writing and Social & Political History and a minor in Film & Media Studies, was the featured student speaker for the celebration. Sharing her perspective as a graduating student, she spoke on growing in her writing skills and as a person, emphasizing an overall feeling of appreciation for her time at CMU.
"In the English Department, I found a community of students, faculty and staff that has been so incredibly supportive and it's been so freeing to be able to explore many different disciplines within writing and English," said Yang.
Other attendees shared messages of congratulations, thanks, and greetings with each other, speaking through microphones and typing in the chatbox. A special video was the event's capstone, collating the thoughts, well-wishes, and advice from faculty, staff and surprise contributions from the graduates' families and friends.
See the special video created for graduates below.