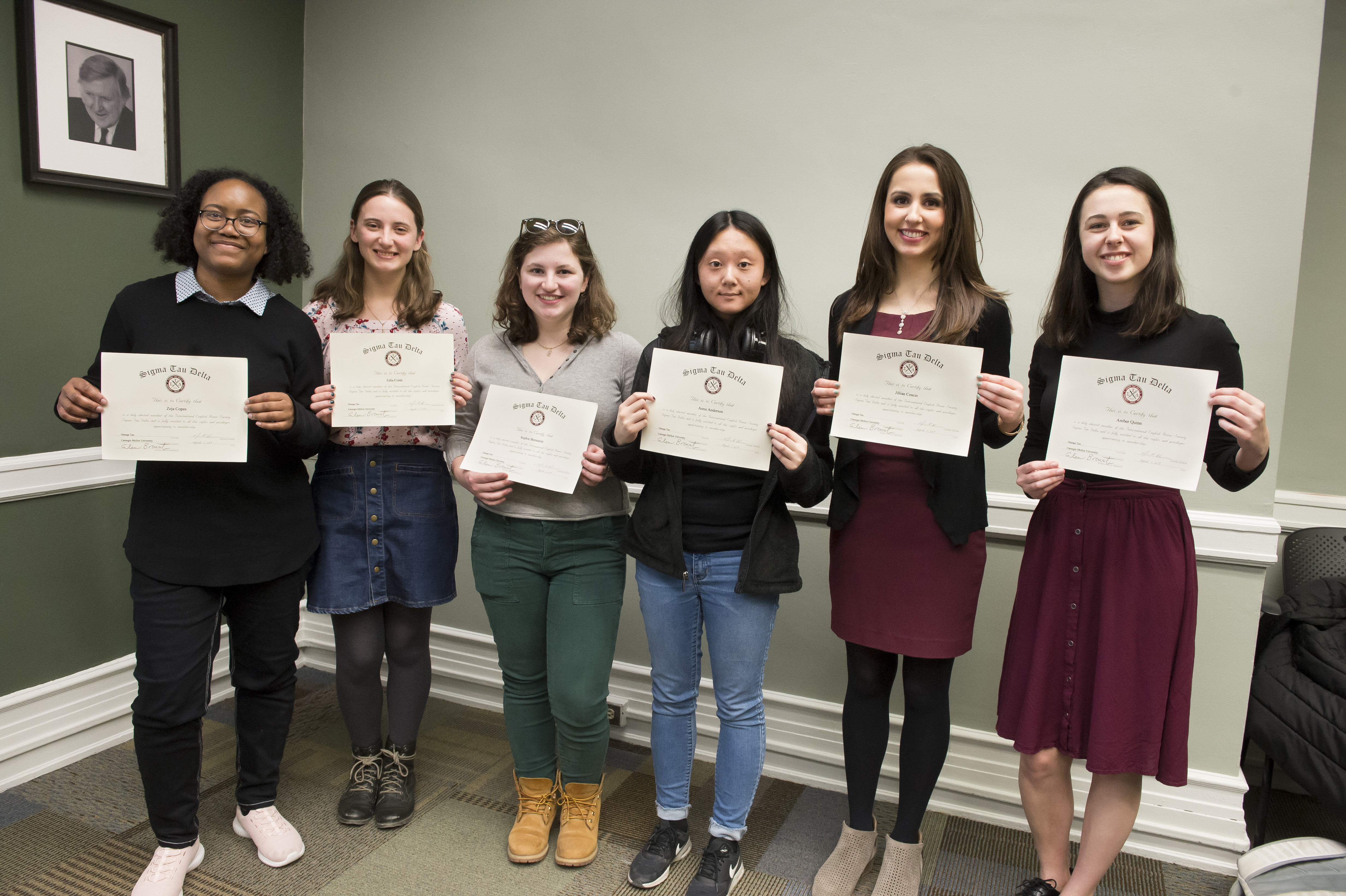 May 16, 2019
2019 Inductees Join Sigma Tau Delta Honor Society
By Angela Januzzi ajanuzzi(through)andrew.cmu.edu
In an induction ceremony in April, 12 students from the Department of English joined the ranks of the Omega Tau Chapter of Sigma Tau Delta, the International English Honor Society.
Established in 1924, the Sigma Tau Delta Society honors academic excellence in English and is dedicated to fostering literacy in all aspects of the English discipline. Dozens of Department of English students have been inducted to the society since the CMU chapter's founding in 1986.
"As a national organization, Sigma Tau Delta recognizes excellence and commitment in the areas of literature, writing, and the humanities," said Necia Werner, Associate Teaching Professor of English, Director of Undergraduate Studies, and Director of Undergraduate Professional & Technical Writing.
"The members of our Omega Tau chapter here at Carnegie Mellon are very special, as they serve as student ambassadors in these areas on a campus more often known for its strengths in STEM disciplines. English is here! Having deep knowledge of texts has never been more relevant. Texts of all shape and form–novels, films, poetry, plays–teach us about what it means to be human."
This year's inductees include majors in Business Administration, Creative Writing, English, Professional Writing and Technical Writing & Communication.

----------
The 2019 Sigma Tau Delta Omega Tau Chapter Inductees:

Anna Anderson - Creative Writing primary major, Professional Writing additional major, Film & Media Studies minor
Sophie Bernstein - Creative Writing primary major, Social and Political History additional major, Environmental and Sustainability Studies minor
Julia Conti - Professional Writing primary major, Hispanic Studies minor
Zeja Copes - Art primary major, Creative Writing additional major
Jillian Coscio - Flute Performance primary major, Professional Writing additional major
William Gradisek - Business Administration primary major, Professional Writing minor
Mel Kerber - Technical Writing & Communication primary major, Human-Computer Interaction, additional major
Olivia Olshevski - Dual Degree student in Technical Writing & Communication and Chemical Engineering, Biomedical Engineering and English additional majors
Amber Quinn - Professional Writing primary major, Creative Writing additional major, International Relations & Politics and Music minors
Maija Ranta - English primary major, Hispanic Studies minor
Cassandra Scanlon - International Relations & Politics primary major, Professional Writing additional major
Elizabeth Van Buskirk - Creative Writing primary major, Technical Writing & Communication additional major