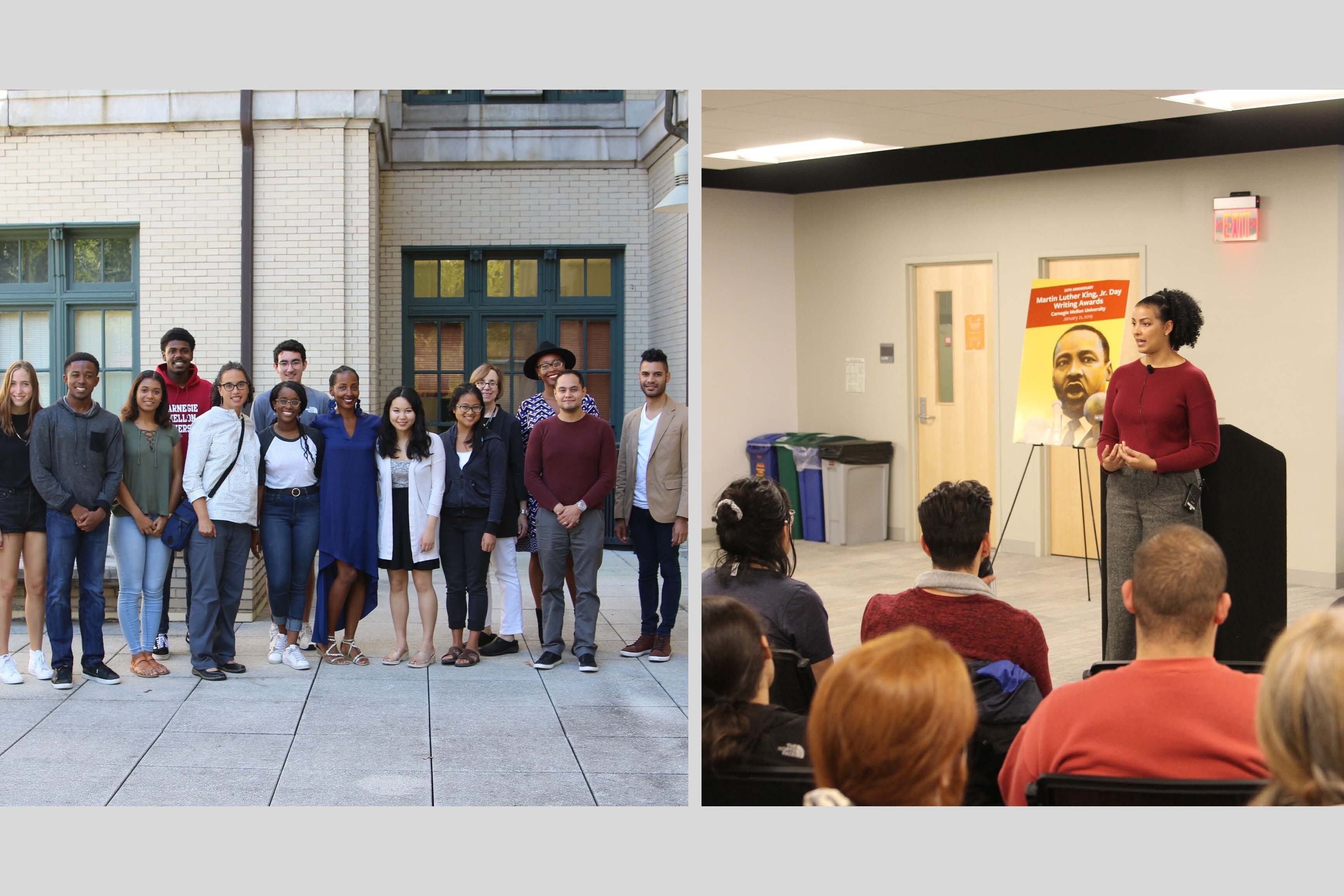 November 12, 2019
Fall Speaker Series from the Martin Luther King, Jr. Day Writing Awards Welcomes Two Prestigious CMU Alumnae
By Angela Januzzi ajanuzzi(through)andrew.cmu.edu
For the second year, Carnegie Mellon University's Martin Luther King, Jr. Day Writing Awards brought two distinguished writers to campus for the Fall Speaker Series.
Initiated in 2018, the Fall Speaker Series brings to campus two nationally-recognized authors whose works reflect the goals and values of the Martin Luther King, Jr. Day Writing Awards. The writers interact with students in classes, informal small group conversations, and share their work in readings that are free and open to the public.
"The Speaker Series has been an exciting addition to the Writing Awards," said professor Jim Daniels, Thomas Stockham Baker University Professor of English and the Awards' director. "We bring in writers who address topics relevant to the awards in the hope that they help increase awareness of the our activities both on campus and in the community and inspire students to write about their own experiences and submit their work."
Department of English alumnae Shannon Gibney (DC 1997) and Sarah Valentine (DC 2000) were this year's featured speakers. Both Gibney and Valentine held readings and Q&A sessions on their work. Also as part of the visit, Gibney participated in a "Dietrich Dines" lunch with Ayana Ledford, director of diversity and inclusion at the Heinz College of Information Systems and Public Policy and Dietrich College of Humanities and Social Sciences. During her time here, Valentine visited and spoke with students at Pittsburgh CAPA K-12.
"It was wonderful to bring former students back to campus who are writing about these important issues of identity and difference and becoming part of the national conversation," said Daniels. "Through their class visits, informal discussions, community outreach, and public readings, they engaged with a wide range of students, faculty, and community members and inspired lively discussions and personal reflections. Shannon and Sarah serve as inspiring role models for current students and also are products of a strong liberal arts education in Dietrich."
Gibney majored in creative writing and Spanish at CMU. The first speaker in this year's series, Gibney writes extensively about the intersection of race, gender, class, family, power, identity and her life as a transracial adoptee. Her novels "See No Color" (2015; Lerner) and "Dream Country" (2018; Dutton) have been widely praised, and she is also the co-editor (with Kao Kalia Yang) of the literary collection "What God Is Honored Here: Writings on Miscarriage and Infant Loss by and for Native Women and Women of Color" (2019; University of Minnesota Press). Gibney lives in Minneapolis and  teaches English at Minneapolis College.
A widely published author and translator, Valentine majored in creative writing and Russian studies at CMU, and returned to campus for the second Fall Speaker Series event. Valentine's  acclaimed new memoir "When I Was White" (2019; St. Martin's Press) recounts her upbringing in suburban Pittsburgh as a mixed race African American in a white family. Valentine is also the author of "Into the Snow: Selected Poems of Gennady Aygi" (2011; Wave) a collection of poems translated from the Russian-language poetry of the noted Chuvash author.  A 2013 Lannan fellow, Valentine has taught literature and creative writing at Princeton, UCLA, UC-Riverside, and Northwestern.
The 2019 Fall Speaker Series was co-sponsored by the CMU Center for Student Diversity and Inclusion, Dietrich College of Humanities and Social Sciences, the Department of English, the Department of Modern Languages, Student Affairs, and the Vice-Provost for Education.
Last year, the Fall Speaker Series held its first set of events with visits from acclaimed writers Hanif Aburraqib and Cameron Barnett.
When asked about returning for the Series, Valentine told The Tartan, "The [Martin Luther King, Jr. Day Writing Awards] program started when I was a student." She also noted, "I graduated almost 20 years ago, and it's great to see how much the university has grown in terms of engagement with diversity. Even then, the English Department was ahead of the curve."  
"To be able to share in the ongoing dialogue around race, identity, and equity in this country and beyond was one of my fondest goals while I was at CMU," Gibney said of her own visit. "It is so heartening to see and be a part of this continuing legacy."
To submit to the Martin Luther King, Jr. Day Writing Awards as a student, or to encourage a Western Pennsylvania student to enter the contest, find more information here: https://www.cmu.edu/dietrich/english/mlk/submit-your-work.html
The Awards will be presented on Martin Luther King, Jr. Day, Monday, January 20, 2020 on the Carnegie Mellon University campus.
---
Pictured above: CMU English alumna Shannon Gibney (fifth from left), with students; CMU English alumna Sarah Valentine, during a Fall Speaker Series event from the Martin Luther King, Jr. Day Writing Awards.