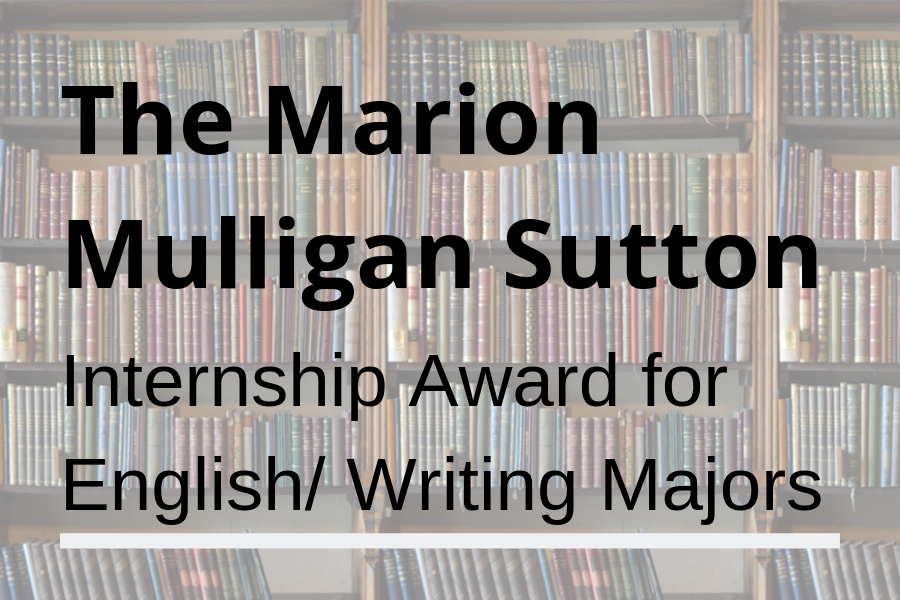 April 12, 2019
English Alumna Marion Mulligan Sutton Meets Student Recipients of Her Internship Award
By Angela Januzzi ajanuzzi(through)andrew.cmu.edu
Carnegie Mellon University's Department of English is fortunate to host ongoing visits from distinguished authors and experts in humanities, but in April 2019 several students had the chance to meet an alumna who is directly helping support their work, too.
On April 1, English alumna Marion Mulligan Sutton (MM 1965) visited the Department of English to meet the current student recipients of her generous scholarship award, The Marion Mulligan Sutton Internship Award for English/ Writing Majors.
Every year, chosen students in the Department of English receive between $1,250 and $2,500 through the Marion Mulligan Sutton Internship Award for English/ Writing Majors, made possible by Mrs. Sutton, through the Marion Mulligan Sutton Internship Fund.
The Awards are designed to enrich undergraduate education, particularly when these internships are low-paid or unpaid, by providing support for students with semester-long or summer internships in English and writing-related work.
"Yesterday was a wonderful opportunity to meet students and learn how the internships add value to their experience at CMU," said Sutton about her visit with the English major students receiving her fund's award. "[My visit] made me very proud to be associated with the English Department…."
One of the recent student winners, Amber Quinn, was just as thrilled to meet Mrs. Sutton. "I am immensely grateful for the opportunity that Mrs. Sutton has given me through her award. The donated fund allows me to pursue an unpaid experience in the professional realm of writing while I work towards paying off my debts," said Quinn. "After meeting with Mrs. Sutton I was struck by just how much she appreciates the students at CMU -- after all, she's been in our position! Her compassion and encouragement made me all the more thankful to be a recipient."
The most recent 2018-19 recipients of the Sutton Internship Award include Quinn, a sophomore (Professional Writing and Creative Writing double major, with minors in International Relations and Linguistics; Intern in City Research and Media Content Intern with Pack Up + Go); and Kathryn Reilly, a junior (Professional Writing major with a minor in Business Administration; Editorial Intern at CMU School of Architecture).
Earlier 2018-19 winners from fall include: Emma McIntosh, a current senior (Dramaturgy major with a Creative Writing minor; Literary Intern with City Theatre in Pittsburgh); Abigail Salmon, a current senior (Professional Writing major and German Studies additional major with a Linguistics minor; Intern at Autumn House Press in Pittsburgh); Juliana Schnerr, a current senior (Design and Creative Writing BHA major; City Research + Media Content Intern at Pack Up + Go in Pittsburgh); and Marika Yang, a current junior, (Professional Writing major and Social & Political History and Creative Writing additional majors with a minor in Film & Media Studies; Writing and Communications Intern at Carnegie Mellon College of Engineering).
The 2019-20 academic year will be the 15th year for the Sutton Awards. Students receiving the award in previous years have interned with organizations such as the International Strategy & Investment Group (ISI), Simon & Schuster, ABC News, The Women and Girls Foundation of SWPA, the 13th Street Repertory Company, Sinuate Media, WQED Multimedia and the Grameen Foundation.
All winners are also asked to be in touch with the English Department to express to Mrs. Sutton how the internships will have supported their professional development and to thank her for making the awards possible.
The next application period is for the Fall 2019 semester. CMU English Majors interested in applying can visit the following link for more information: https://form.jotform.com/CMUEnglish/sutton-internship-fund-award
-----
More related to this story here: https://www.cmu.edu/dietrich/english/news/2018/sutton-award-winners-2018.html